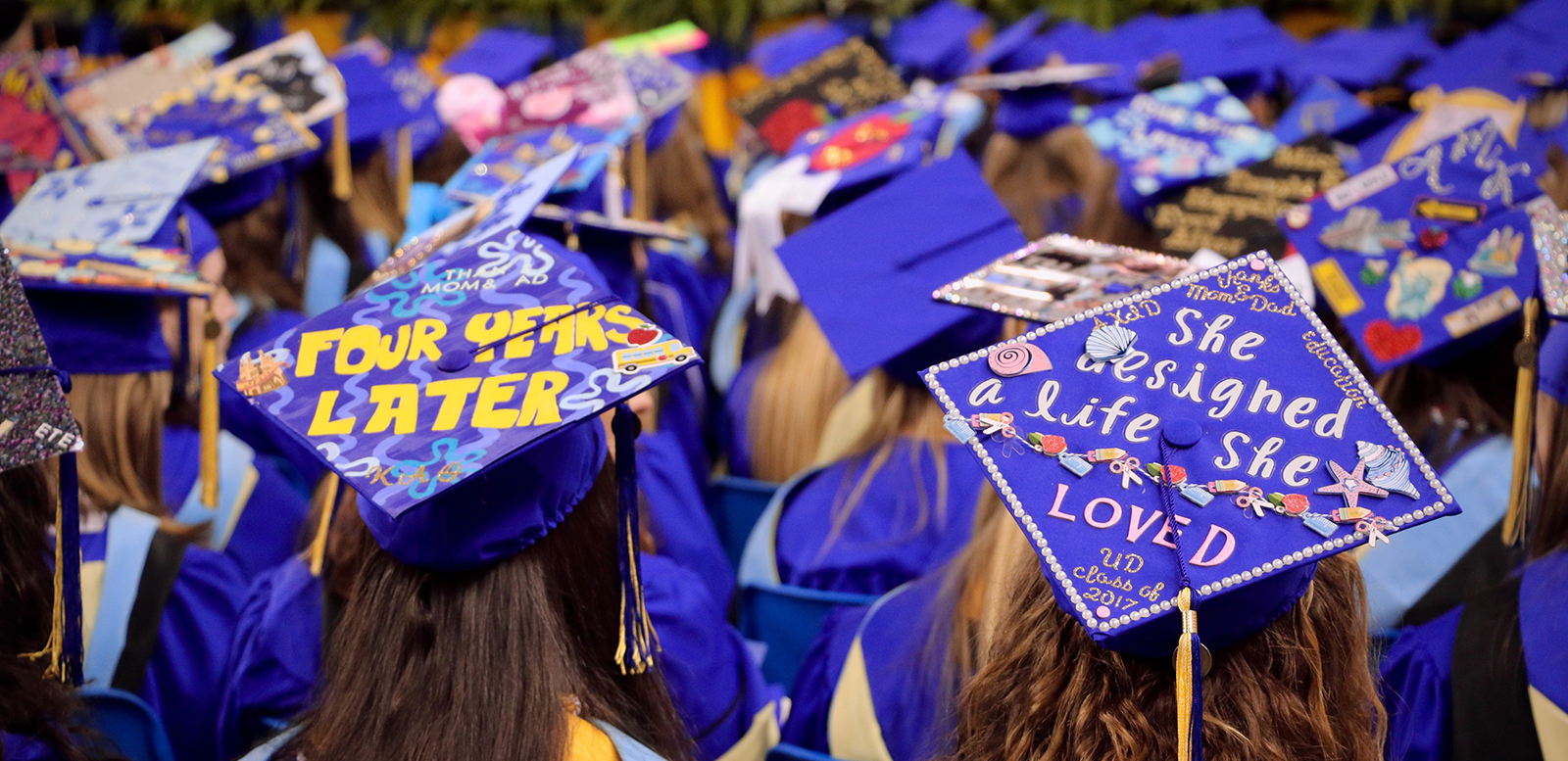 COMING SOON
Details on the 2018 CEHD Convocation and UD Commencement ceremonies will be posted on the UD website. 
CEHD Convocation for undergraduate and graduate students earning a degree from the College of Education and Human Development is tentatively slated for Friday, May 25 at 1:00 p.m.
UD's Commencement ceremony will be held on Saturday, May 26 at 9:00 a.m.
The CEHD Convocation is a personalized ceremony for our College.
Unlike at UD's Commencement ceremony the following day, all degree candidates and certificate recipients' names will be called and participants will walk across the stage while being recognized.
Friday, May 26, 2017
1:00 pm
Bob Carpenter Sports/Convocation Center
No tickets are required
There is ample parking at the Bob Carpenter Center.
Further parking information and directions will be available on the Commencement UD website.
Convocation will be webcast live on May 26, from 1:00 to 3:00 pm at www.udel.edu/udlive.
Information for Degree Candidates
12:00 pm: Doors open, audience members enter through the glass doors to the lobby and graduates enter the door to the left, by the flagpole
12:15 pm: Degree candidates and certificate recipients must be assembled in the Bob Carpenter Center corridor area by this time.
1:00 pm: Ceremony begins
Students invited to participate include those who have completed their degree in Summer 2016, Fall 2016, Winter 2017, or who expect to complete in Spring 2017 or Summer 2017.
Convocation is a dignified occasion and academic regalia (cap and gown) is required.
Academic regalia must be purchased through the UD Barnes & Noble Bookstore (no later than May 15). Contact the UD Bookstore with questions: 302-831-2637.
 No food or drink is allowed.
Doctoral, masters and specialist degree candidates MUST report to Room 102 in the Bob Carpenter Center (the "Big Bob") by 12:15 p.m. for line-up instructions. Graduate student process in first so it is imperative that you arrive on time!
Signs will be posted on the corridor walls designating an area for each department to line up.  See the seating chart for a diagram.
Form a single file line, keeping in mind that you will be seated with those in front of and behind you.
Deans, department chairs and the platform group will lead the procession. The platform group will be followed by the departments/schools, which should be arranged as follows:  faculty, doctoral students, master's students, certificate recipients, and undergraduate students. Faculty and degree candidates will follow in single file lines, joining the other degree candidates lined up in the opposite corridor.
Undergraduate student name cards: Once seated, each undergraduate must complete the index card on his/her seat. Pencils will be provided. Please write your name phonetically on the card. This will be collected as you approach the stage to be recognized and your name will be read from this card.
Graduate student name cards: Master's, Ed.S., and doctoral students only should fill out the online RSVP form. (Sign-in to Google using your UD credentials.) We will prepare a name card for graduate students, including your dissertation/EPP/thesis title (if applicable) and give it to you in Room 102 during the line-up. The card will be collected as you approach the stage to be recognized and your name will be read from this card.
Certificate recipients (CLSC) and then degree candidates (doctoral, masters, specialist, and undergraduate) will be called forward by departments to be recognized.
Graduates will process out the side doors to the outside and should meet their families in the parking lot, so families might want to designate a meeting spot.
If you need a sign language interpreter or other accommodations, please contact David Hannah as soon as possible at dhannah@udel.edu or 302-831-2396.
Information for Families & Guests
Family members and guests are encouraged to arrive no later than 12:15 pm. The ceremony will begin promptly at 1:00 pm. Please be aware there will be traffic and plan your arrival accordingly.
Please note the CEHD Convocation is at the Bob Carpenter Sports/Convocation Center at 631 South College Ave.

Doors open at 12:00 noon.
Any bags carried in will be checked by security. No noisemakers like air horns or cowbells, or outside food or beverages will be allowed.
As you enter, please proceed through the lobby to the stairs on the left, which lead to the upper level. An elevator to the upper level is also available.
We ask that families and guests use the restrooms upstairs, to leave the restrooms on the ground level available for graduates and those in special seating.
We suggest you sit in a section of the arena closest to your student's seating area. See the seating chart diagram for further information.
Special seating: People with disabilities or difficulty walking and guest(s) can enter on the ground level through the doors to the left as you enter the lobby. If you need assistance, please see one of the ushers or Bob Carpenter Center staff.
If you need a sign language interpreter or other accommodations, please contact David Hannah as soon as possible at dhannah@udel.edu or 302-831-2396.
Official photographers from Grad Images will photograph each degree candidate or certificate recipient as he or she is recognized on stage.
This convocation ceremony will last approximately 1 hour and 45 minutes.
Only water will be sold at the Bob Carpenter Center concession stands. Families may want to make meal plans accordingly.
Audience members will be asked to refrain from exiting until all degree candidates have recessed out of the arena. At that point, audience members will be asked to exit by going up the stairs in the arena and exiting at the designated staircases. Guests who are in special seating may exit at ground level once degree candidates have finished the recessional.
We urge family to meet their degree candidates outside the building rather than in the lobby area. Please designate a meeting spot outside before the ceremony begins.
Another convocation event is held immediately following ours, and we appreciate your cooperation by leaving the Bob Carpenter Center promptly.  Thank you and enjoy this special day!
This information was last updated on 3/15/2017. Please check back for further updates as the event comes closer. If you have any questions about CEHD Convocation, please contact the CEHD Dean's Office at 302-831-2396.

Additional information is also available on the UD Commencement website.
Doctoral Hooding Ceremony
Ph.D. and Ed.D. candidates will have the doctoral hooding ceremony on Friday, May 26, 2017, at 8:00 am on The  North Green in the North Tent.
The North Tent will be located on the North Green between Gore Hall and DuPont Hall.  Doctoral graduates and faculty should be there by 7:00 am to line up. Questions about the doctoral hooding ceremony should be addressed to the Office of Graduate and Professional Education, 302- 831-8697.
Associate of Arts Convocation
Students earning  an Associate in Arts degree in Elementary Teacher Education from our Georgetown/Dover campuses are invited to attend the Southern Delaware Convocation ceremony at the Rollins Center Ballroom at Dover Downs on Wednesday, May 24, 2017, at 7 p.m.
On May 27, you will join the entire Class of 2017 at Delaware Stadium for the University's Commencement Ceremony. Degree candidates are encouraged to attend and participate in this very special ceremony.
COMMENCEMENT:9:00 a.m. — Saturday, May 27, 2017, Delaware Stadium, rain or shine
Gates open at 7:00 am. Degree candidates must be assembled on the field north of the football stadium, behind the College of  Education and Human Development sign, no later than 8:00 a.m. We suggest that you and your family arrive early to avoid traffic congestion.
Please note the following:
No food or drink is allowed.
Commencement is a dignified occasion and academic regalia is required.
Academic regalia must be purchased through the UD Barnes & Noble Bookstore. Degree candidates planning to attend the ceremony in May need to order their commencement materials as soon as possible. Place your order through www.HerffJones.com/college/ud. Other graduation supplies can be ordered at that web site. Contact the UD Bookstore with questions: 302-831-2637.
Faculty ushers will direct degree candidates into the stadium at the appropriate time.
For additional information on UD's Commencement ceremony, visit:  UD Commencement