2019 Alumni Award Winners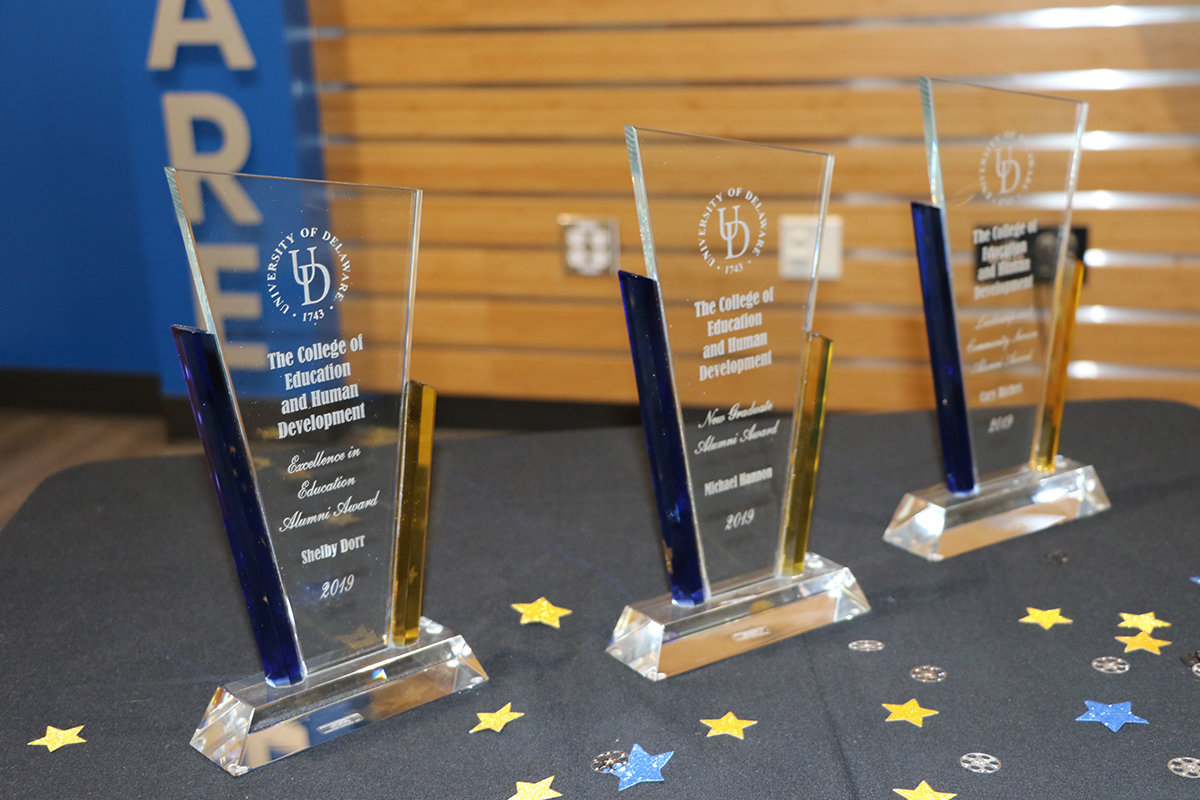 On June 7, 2019, CEHD presented three awards during our Alumni Weekend reception. These awards recognize alumni for their remarkable contributions to the community and commitment to making a difference in people's lives.
Shelby Dorr
The 2019 Excellence in Education Award went to Shelby Dorr, nominated by Josh Wilson. Shelby earned a BS in Education in 2015 and her Master in Education in Exceptional Children and Youth the following year. But her UD roots go back even further than that. She attended the Laboratory Preschool as a child.
Knowing Shelby would become a talented educator, we selected her to be our convocation student speaker in 2016. And she has not let us down.
Although only three years out of school, she has proved to be a remarkably innovative, creative and successful educator, earning the respect of her administrators, colleagues and most importantly her students.
Shelby is a fourth grade teacher at Wilbur Elementary School. She knew she'd need to create an atmosphere of respect, tolerance and kindness to spur academic success, so she created and implemented a number of initiatives into her classroom:
The Dazzling Dorr Club is a positive 'gang' that celebrates students who exhibit positive behaviors and act as role models for those who don't. Club members earn special treats and are recognized throughout the school by their coveted lanyards.
Her daily Responsive Classroom Morning Meeting and Closing Circle encourages students to share experiences, discuss their diverse backgrounds and reflect on their life choices.
To ensure student engagement and promote academic excellence, Shelby developed Breakout Boxes, modeled after "Escape Rooms" where students must solve cryptic codes made up of challenging math problems to unlock the final puzzle.
She encouraged her students to create a wax museum, posing as characters they'd researched in front of self-created backdrops. When a viewer pushed a light near the wax figure, the student would come to life and describe their research.
"Coach" Shelby helped introduce the Girls on the Run program, inspiring girls to be joyful, healthy and confident through a fun curriculum that integrates running. She then brought Let Me Run to Wilber to inspire boys to embrace healthy relationships and lifestyles. Both programs have made significant gains in developing student socio-emotional competencies.
To keep parents engaged, Shelby maintains an active Twitter page with photos of the students' activities. Parents are invited into the school for presentations, and Shelby she even mails postcards home to recognize a child's effort.
Shelby's creative and innovative teaching practices inspire everyone around her. Many of the other teachers have begun to replicate her programs in their classrooms.
Michael Hannon
Dr. Michael Hannon received the 2019 New Graduate Award for distinguished service in education. Michael was nominated by Norma Gaines Hanks. He earned two degrees at UD: a Bachelor of Science in Human Development and Family Processes and a Master in Education in Student Affairs Practice in Higher Education. He subsequently earned his PhD at Penn State.
Dr. Hannon has worked in student affairs and as a school counselor in urban high schools, career and technical education high schools and college access programs, and is now Assistant Professor of Counseling in the Department of Counseling and Educational Leadership at Montclair State University.
The primary focus of his research is on Black men in various roles as fathers and partners in their children's educational/therapeutic experiences and as counselors, counselor educators, and community leaders.
His secondary and related area of research is about school counseling practice in racially and ethnically diverse and urban schools. His research has been funded by an array of institutions including the Association for Counselor Education and Supervision, Montclair State University, Penn State University's College of Education, and the City University of New York. He was presented the Association of Humanistic Counseling Humanistic Dissertation Award and named a Chi Sigma Iota Leadership Fellow.
Dr. Hannon's research about fathering, autism, and school counseling has been featured in countless counseling and educational journals, with his most recent publication, "Microaggression Experiences of Fathers with Children With Autism Spectrum Disorder".  He has also been a featured contributor to numerous media outlets – including Thrive Global, Fusion and Huffington Post.
His forthcoming book, Black Fathering and Mental Health: Black Fathers Discuss the Needs of Men and Fathers Across the Family Life Cycle, will be published by Peter Lang in September 2020.
Dr. Hannon and his wife, LaChan, are the co-founders of the Greater Expectations Teaching and Advocacy Center for Childhood Disabilities. This organization is dedicated to supporting families raising children with developmental differences through education, advocacy and counseling.
We are pleased to recognize Dr. Hannon for his exceptional contributions to research related to fathers.   
Cary Riches
Dr. Cary Riches received the 2019 Leadership and Community Service Award in recognition of her exceptional school-based instructional leadership.  Cary earned a Master in Instruction here at UD and a PhD in Educational Leadership in 2016. She was nominated by Sharon Walpole
Dr. Riches has made substantive contributions to leadership in educational settings through her tireless focus on design and delivery of evidence-based professional learning and her work with Response to Intervention for adolescents.
Early in her career, as an Instructional Coach at Howard School of Technology, she provided essential leadership on a pilot of Peer-Assisted Learning Strategies—known as PALS—in a small set of 9th grade classrooms.  She rewrote the training materials produced by the Vanderbilt team, and engaged football players in making videos to demonstrate the procedures.
When she moved to a position as Assistant Principal at Delcastle Technical High School, Dr. Riches continued to implement interventions for struggling 9th grade students, employing PALS and text-based writing. During her time at Delcastle, the school was awarded a State Academic Achievement Award for significantly closing the achievement gap.  Delcastle was the only high school in the state to earn this award.
PALS is now a fairly typical intervention in Delaware middle and high schools, in large part thanks to Dr. Riches' implementation efforts and her willingness to go to other districts and schools to share what she has learned.
In Delaware and beyond, she has worked with other educators and shared her insights about the need for administrators to read research and to partner with research institutions to design and evaluate their teachers' efforts.
Currently, Dr. Riches serves as Director of Curriculum & Instruction in the Brandywine School District, where she is a passionate advocate for children, especially those from typically underserved groups. She has recently led the charge to replace her district's literacy curriculum with Bookworms, and because of her dedication of bringing research to practice, she was invited to coauthor a chapter with Sharon Walpole in the upcoming book, Best Practices in Professional Development for Literacy.
In addition to her work in schools, Dr. Riches has served on the Executive Board for the Claymont Community Center for the past four years.
For her ongoing and consistent advocacy for children, especially those from typically underserved groups, we applaud Dr. Riches' service and leadership in education.