Congratulations to the Class of 2015!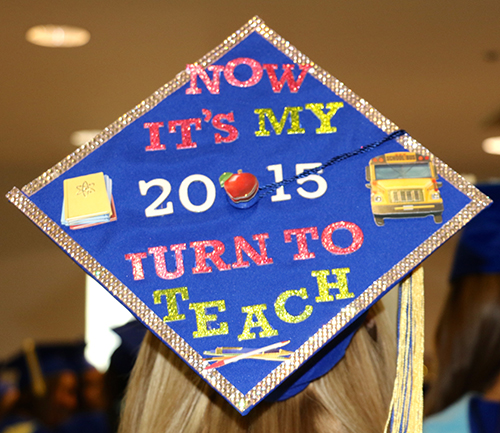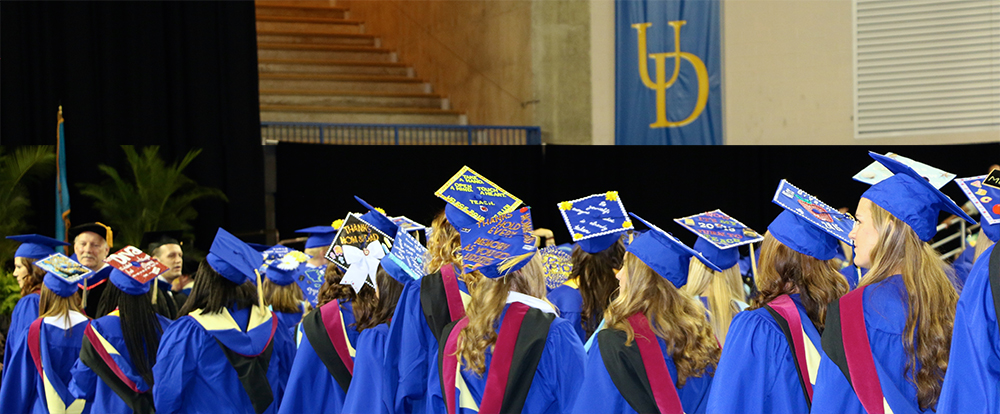 Friday, May 29, the College of Education and Human Development (CEHD) recognized 337 graduates during its Convocation ceremony. We congratulate them on their achievements and wish them all the best as they embark on a life full of opportunities, challenges and success.
CEHD bestowed undergraduate degrees in Early Childhood Education, Elementary Teacher Education and Human Services. Fifteen of our graduates earned an Honors Degree off an Honors Degree with Distinction. We also recognized graduates receiving Masters of Instruction, Masters of Education, Masters of Science, Master of Arts, Educational specialist, PhD and EdD, and a Career and Life Studies Certificate (CLSC). UD's doctoral graduates were also honored at the Doctoral Hooding ceremony on The Green Friday morning.
Our education students have  completed coursework making them eligible for a second certification in middle school English, middle school math, middle school science, middle school social studies or special education. All of our students serve hundreds of hours in classrooms, community organizations and health agencies, preparing them for their future. As a result, many of our newly-minted alumni already have jobs or have been accepted to graduate schools.
Employment:
Children Youth and Families
Easter Seals
Family Foundations Academy
AmeriCorps
Teach for America
School districts in Delaware, New Jersey, Maryland, New York and Virginia
Teaching positions in Europe and South America
Graduate Schools:
Columbia University
George Washington University
Villanova University
University of Pennsylvania
Hofstra University
Temple University
University of Delaware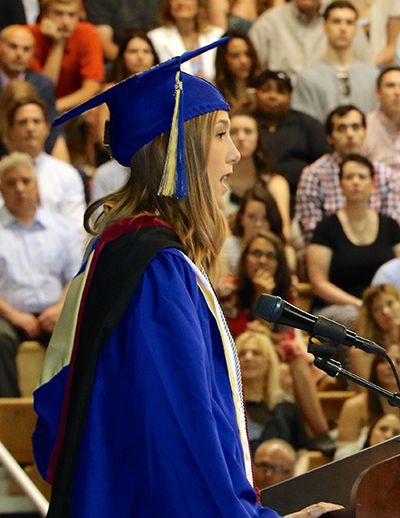 This year's Convocation student speaker was Carolyn Cameron. Caroline graduated with a 4.0 GPA, earning a Bachelor of Science in Human Services and a minor in Psychology. She was a Blue Hen Ambassador, member of the Sigma Kappa sorority and participated in UDance. In recognition of her academic and research prowess, she has received the Catherine Bieber Scholarship, the Irma Ayers Scholarship, the Steele Symposium Top Undergraduate Paper award and was on the Dean's List Honors every semester. She was one of eight UD students honored at Commencement for her high index GPA.
Soloist, Ariel Root, provided an awe-inspiring rendition of the national Anthem, before receiving a Master of Arts in Teaching English as a Second Language.
UD's commencement ceremony, took place on Saturday, May 30 at the UD stadium. UD alumnus David G. DeWalt, served as commencement speaker. Several  members of our CEHD family commented on on their time at UD.
Kendell Daughtry, a human development major from Philadelphia, shared, "It took me just over eight years to get here while working and taking care of my family. Our first child, Jaycen, was born eight years ago, and my wife Shenise and I are expecting our second child later this summer. I'm going to graduate school at UD to get a master's in nonprofit leadership and eventually go into campus ministry. It has been great being able to meet so many people and to be able to touch their lives."
Frank Murray, H. Rodney Sharp Professor of Educational Studies and Psychology, said, "I came out today because I have a doctoral student graduating. This will be my last Commencement, as I am retiring after 46 years. I enjoy the festive atmosphere and the enthusiasm of the students for what they have accomplished. It's a great time for families and friends, too."
Congratulations to all our graduates! We urge you to keep in touch with us, so we can share your accomplishments. Be sure to follow us on Facebook (UDCEHD), visit our Alumni webpage and sign up for the CEHD Alumni e-newsletter, Aluminations.