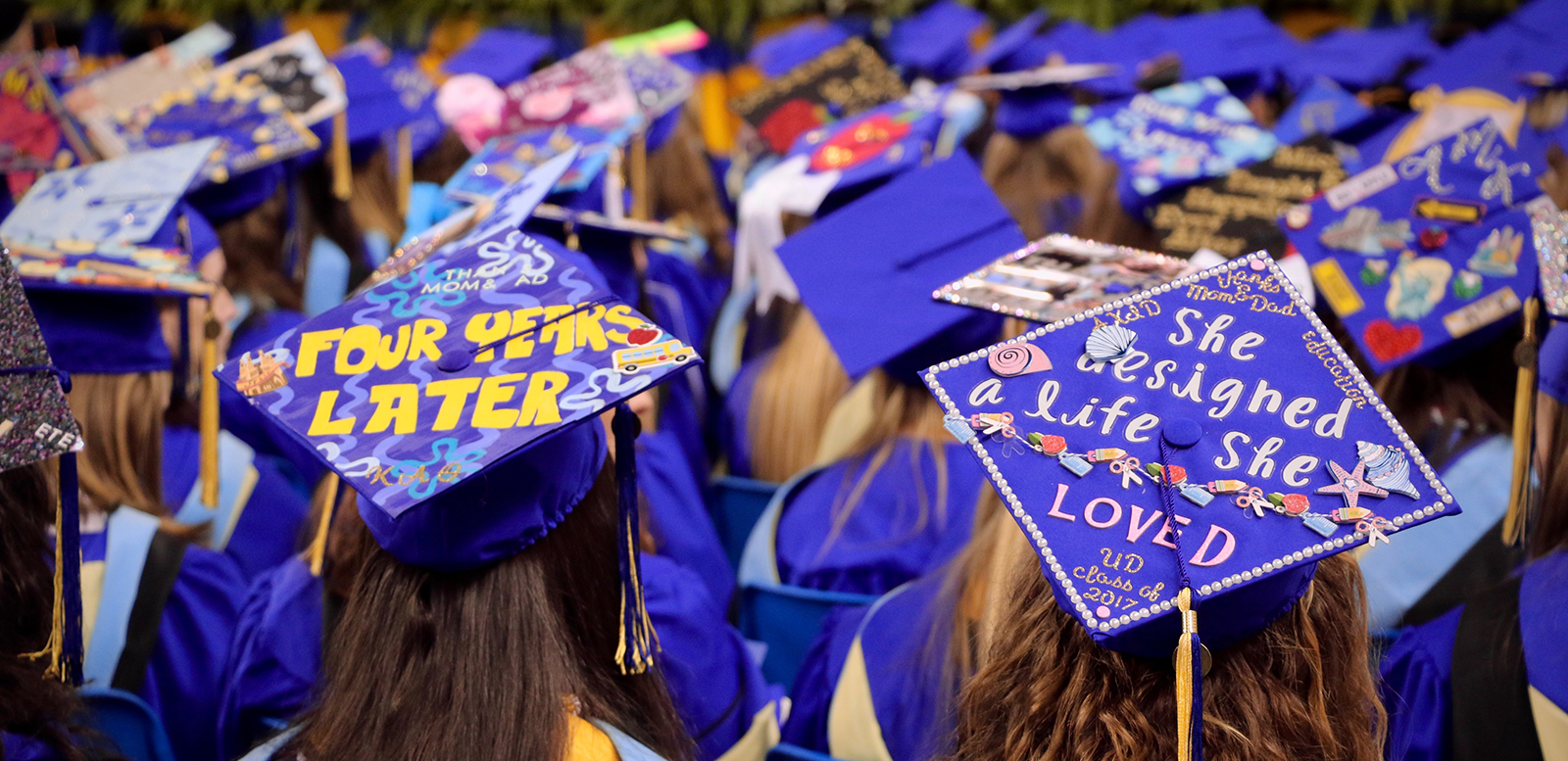 Congratulations to our CEHD Graduates!
Graduation week at UD consists of a number of ceremonies. Graduates are welcome (and encouraged) to participate in their individual ceremonies as well as UD Commencement. Separate tickets are required for each event for both degree candidates and guests.
Click here for information about schedules.
Friday, May 27, 2022 | 10:00 a.m. | Tent on The Green
Tickets are required for both degree candidates and guests. Parking information and directions will be available on the UD Commencement website.
Photography and videography from this event may be used by UD for promotional purposes. Please notify the event photographer if you prefer not to be photographed.
Convocation will be webcast live on May 27, from 10:00 a.m. to 12:00 noon at www.udel.edu/udlive.
Information for Students
Prepare for Graduation
Students invited to participate include those who have completed their degree in Summer 2021, Fall 2021, Winter 2022, or who expect to complete in Spring 2022 or Summer 2022.
If you have questions about your graduation status, please contact your Academic Advisor.
Convocation is a dignified occasion and academic regalia (cap and gown) is required. Regalia must be purchased through the UD Barnes & Noble Bookstore. Contact the UD Bookstore with questions: (302) 831-2424.
9:00 a.m.: Students, please report to Gore Hall to line up.
9:15 a.m.: Degree candidates and certificate recipients must be assembled in Gore Hall by this time.
10:00 a.m.: Ceremony begins
Tickets are required for degree candidates.
No food or drink is allowed.
Signs will be posted in Gore Hall designating an area for graduate students and undergraduates from each department to line up.  See the lineup information below.
Human Development and Family Sciences (HDFS) undergraduates (Early Childhood Education, Human Services, and Human Relations Administration majors) will line up in the Gore Hall rotunda on the LEFT side as you enter the building.
School of Education (SOE) undergraduates (Elementary Teacher Education) will line up in the Gore Hall rotunda on the RIGHT side as you enter the building.
Graduate students (master's, Ed. S., and doctoral students) from both departments will line up by program in 116 Gore Hall.
Faculty robing and platform party will line up in 117 Gore Hall.
CLSC certificate recipients will line up in 103 Gore Hall.
There are no facilities to store your belongings so please plan accordingly. If you must carry keys or other essentials, think about pockets or a small crossbody purse or similar to be worn under your regalia. Students can carry their phone to access the QR code needed for the name reading system.
Form a single file line, keeping in mind that you will be seated with those in front of and behind you. Students will enter the tent with their department in the following order: doctoral students, master's students, CLSC certificate recipients, and undergraduate students.
Your name will be read on your cell phone using a QR code issued by Marching Order. Graduates had the opportunity to review and alter how their names are pronounced in late April.  There will be additional cards available in Gore Hall at the Information Table inside the entrance for anyone who needs it.
After the ceremony, graduates will process out of the tent. Please arrange a meeting spot outside of the tent with your families ahead of time.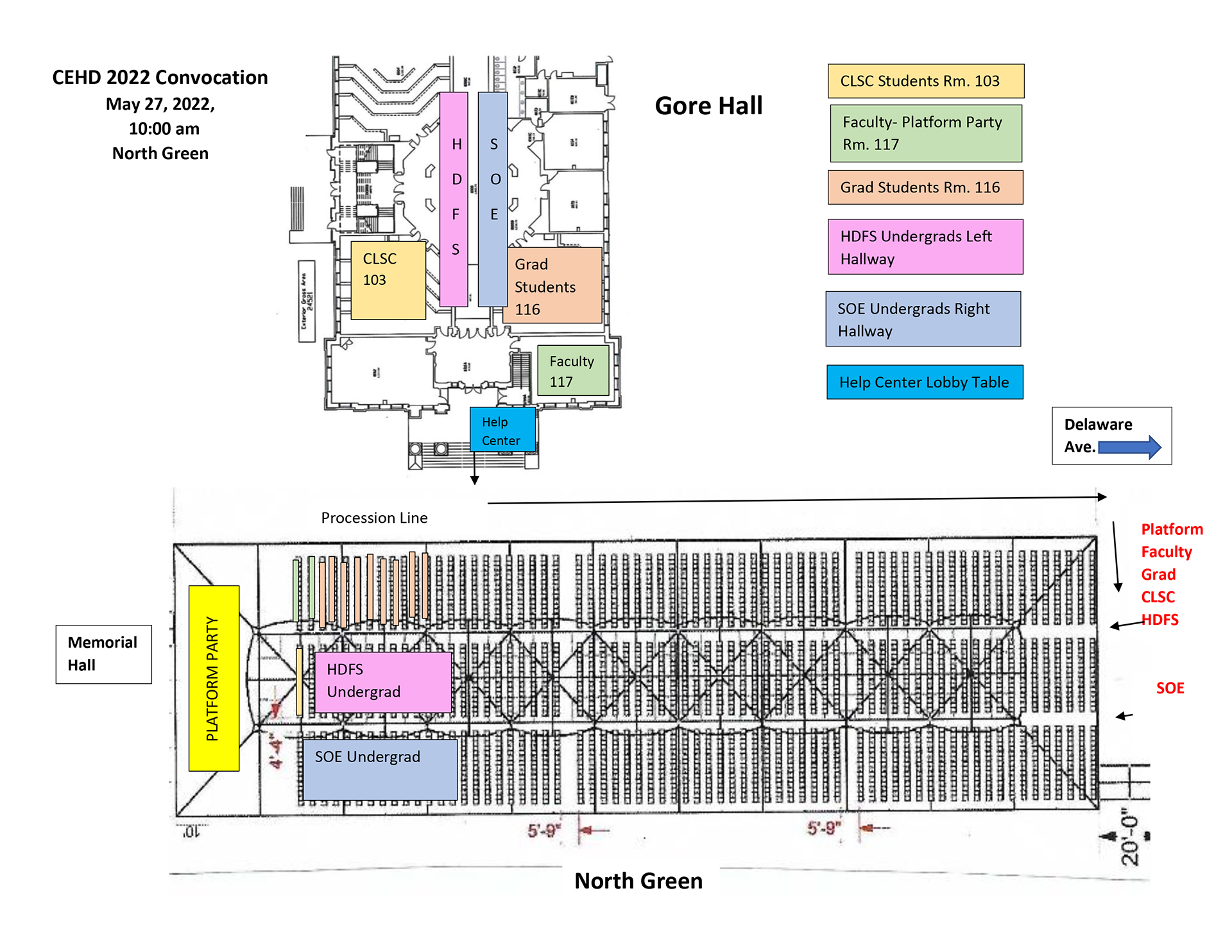 Parents and Families
Family members and guests are encouraged to arrive no later than 9:15 a.m. The ceremony will begin promptly at 10:00 a.m. Please be aware there will be traffic and plan your arrival accordingly.
Tickets are required. 
The tent will open at 9:00 am.
The ceremony will last approximately 1 hour and 45 minutes.
No noisemakers like air horns or cowbells, and no food or beverages will be allowed. Water stations will be provided.
Restrooms are available in the buildings along The Green. We suggest using Wolf Hall or Sharp Lab and ask guests to please avoid Gore Hall because the graduates will be using those facilities.
The ceremony will be best viewed on the video screens throughout the tent. If you wish to sit on the same side as your student, see the seating chart above.
Special seating: If you need assistance with ADA seating, please see one of the ushers or event staff. ADA parking will be in the Alison Hall parking lot and golf carts will be available to give rides to those who need assistance.
Official photographers from Grad Images will photograph each degree candidate or certificate recipient as they are recognized on stage.
At the conclusion of the ceremony, please wait until after the recessional to exit the tent. Families will meet their degree candidates outside the tent. Please designate a meeting spot before the ceremony begins.
Thank you and enjoy this special day!
This information was last updated on 5/16/2022. Check back in case of updates. Contact the CEHD Dean's Office at 302-831-2396 if you have any questions.
Additional information is also available on the UD Commencement website.