Excellence and Equity in Teacher Preparation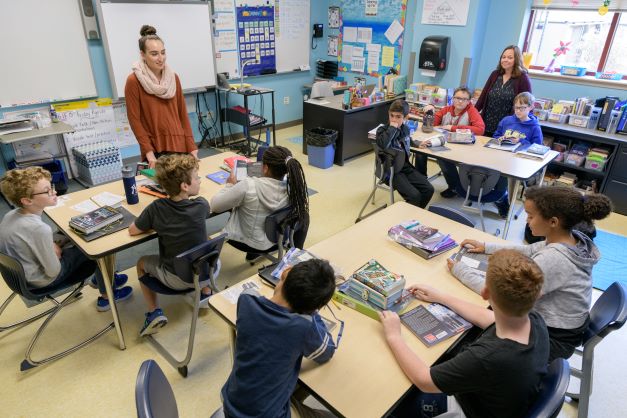 UD service center new name reflects continued commitment to teacher preparation
November 15, 2022
University of Delaware's Delaware Center for Teacher Education (DCTE) provides support services for students and faculty across 28 education programs throughout the university, and partners with schools and districts throughout the region. 
In an effort to better reflect DCTE's expertise in teacher preparation and its commitment to diversity, equity and inclusion, the center will now be named the University of Delaware Center for Excellence and Equity in Teacher Preparation (CEETP). 
Under its new name, the center will continue to implement initiatives and develop new opportunities to increase equity, diversity and inclusion in the teaching field. These initiatives include the College of Education and Human Development's (CEHD) Teachers of Tomorrow pipeline program, UD's teacher residency programs and the active recruitment of high school students from underrepresented backgrounds under the direction of Jamie Bailey, CEETP's new student recruiter for teacher preparation programs. 
"Our name change reflects our enhanced focus on excellence and equity across all teacher preparation programs at UD," said Kristina Najera, director of CEETP and assistant professor in CEHD's School of Education (SOE). "We've been working closely with the state, school districts and other institutes of higher education to align initiatives designed to welcome students of color onto campus and encourage them to enter the teacher pipeline. We've also been working to support them while on campus and into their induction years.  Additionally, we hope to continue to ensure that programs are aligned to our strategic goals of increasing teacher preparation programs' enrollment, diversity and retention."
Diversity, Equity and Inclusion in Teacher Preparation
Diversity, equity and inclusion serve as core values and guiding principles in CEHD's mission to prepare students to educate, serve and lead in diverse schools and communities. Schools across the nation are becoming increasingly more diverse, and research has often demonstrated that students show greater academic and social growth when they share a racial or cultural identity with their teachers and school leaders. 
Through several new and ongoing initiatives, CEETP will continue to affirm these core values and work to diversify the UD student body and the teaching workforce. For example, CEETP will now house the Teachers of Tomorrow pipeline program, which is designed to support students from underrepresented backgrounds in pursuing a teaching degree. First established in 2018, the program invites high schoolers from underrepresented backgrounds to directly experience the academic, social and relational aspects of college life during a two-week institute at UD each June. In addition to learning about CEHD's education majors, participants stay in UD residence halls, enjoy meals at campus eateries, meet with faculty, staff and students and receive support in completing their UD college applications. 
CEETP will also continue to develop teacher residency programs, which UD teacher candidates may pursue in place of traditional student teaching experiences. These programs allow education students to engage in yearlong, paid residencies in high-needs Delaware schools, which often serve culturally diverse student bodies. UD teacher candidates gradually accept teaching responsibilities as they work closely with a UD coach and an experienced mentor teacher, who provide feedback and formal evaluations throughout the year. Upon graduation from UD, many of these residents accept full-time positions within their resident school or district. 
Under the direction of Jaime Bailey, student recruiter for teacher preparation programs, CEETP will also actively recruit students of color into the teacher education programs at UD. In this new role, Bailey will work with teacher education programs across CEHD and the College of Arts and Sciences (CAS) to develop and implement a coordinated plan for outreach to teacher academies, high schools and other potential UD applicants.
"Under its new name, CEETP emphasizes our college's commitment to high-quality teacher preparation programs and our commitment to equity, diversity and inclusion in the teaching field," said Gary T. Henry, dean of CEHD and professor in the SOE and Joseph R. Biden School of Public Policy and Administration. "Through this center and other initiatives in our college, our faculty and staff are working to alleviate the barriers to teacher education for Delaware students, increase the diversity of the teacher workforce and support our Delaware schools in the ongoing teacher and administrator shortage. I'm proud of the work that CEETP has accomplished to date and I'm looking forward to continued partnerships with Delaware schools in these endeavors." 
Excellence in Teacher Preparation
Housed within CEHD, CEETP brings together three units to support undergraduate and graduate students in teacher education programs across UD, including the secondary programs housed in CAS.
These units work together to ensure excellence in teacher preparation, supporting students, faculty and clinical educators as students engage in field experiences and student teaching, complete their degrees and meet the requirements for teacher certification. 
The Office of Certification and Accreditation provides information about educator certification requirements for students and faculty and supports all educator preparation programs in the state approval and national accreditation process.
The Office of Clinical Studies works with faculty and school districts to secure valuable early field experiences and student teaching placements for teacher candidates. The office also ensures that candidates have completed their clearances to enter the field.
The Alternative Routes to Certification program allows qualified individuals to complete certification requirements while they are employed as full-time teachers through a state-approved program.
Under its new name, CEETP will continue to provide and enhance these critical support services for all students, staff and faculty in teacher education programs across UD.
To learn more about CEETP's services and initiatives in teacher preparation or to partner with UD, visit CEETP's website.
Article by Jessica Henderson and image by Kathy F. Atkinson.