Gaining a new perspective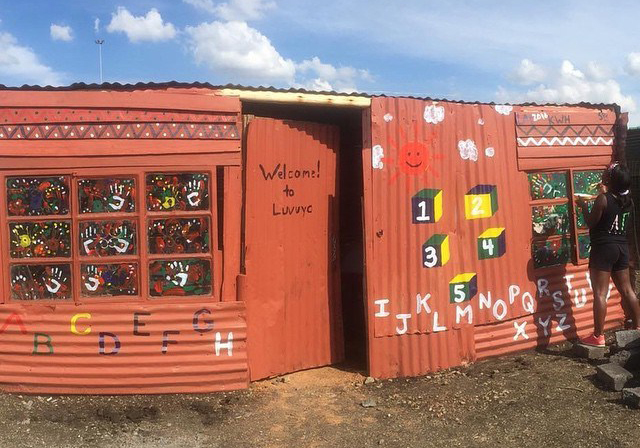 This Winter Session, CEHD offered two Study Abroad programs, providing students the opportunity to integrate coursework with unique experiences in a global environment.
South Africa
For more than ten years, Norma Gaines-Hanks, HDFS professor, has coordinated a trip to South Africa, where students examine the cultural values of South Africa, visiting schools, health care facilities, community service agencies and child care centers to increase cross-cultural awareness and sensitivity.
Thanks to the amazing powers of the internet, we are able to bring you posts and pictures (above) of Soshanguve where Ayanna Gill shared her experiences on MLK Day. "Working on remodeling and painting a day care center in Soshanguve, South Africa was an amazing experience. Education is of utmost importance in this country and I was thankful to take part in serving and learning from this community."
No matter what the day, we are  proud to see our UD students giving back to the communities, giving them a brand new perspective.
Turkey
This year, Brad Glass, School of Education professor, coordinated a program in Istanbul, Turkey, providing education students insight into innovative ways of teaching curricula, using architecture, art and historic sites to apply concepts in elementary and middle school mathematics.
Students visited Bahçeşehir Koleji, a private K-8 school, and met with representatives from Bahçeşehir University and the MEF International School to learn about their educational structures, and explore opportunities for teaching abroad. As part of their journey, each student compiled a portfolio of photos highlighting the symmetry and geometric characteristics in the world around them, to demonstrate an interactive, hands-on method of teaching math.
There was an anxious moment when we learned of a bombing in Turkey during their stay, but fortunately all our students were safe. ETE student Christine High offered this reassurance, "The recent attack on Istanbul has taught me to be more aware and cautious, but also to be resilient in sticky situations. This study abroad pushed all of my boundaries and comfort zones and I couldn't be more thankful for it."
"The most valuable lesson I have learned on this adventure," said High, "is that life and events can be seen through an infinite number of lenses. What truly matters is the perspective you choose."
To read more about CEHD's Study Abroad, see UDaily's A Global Angle.