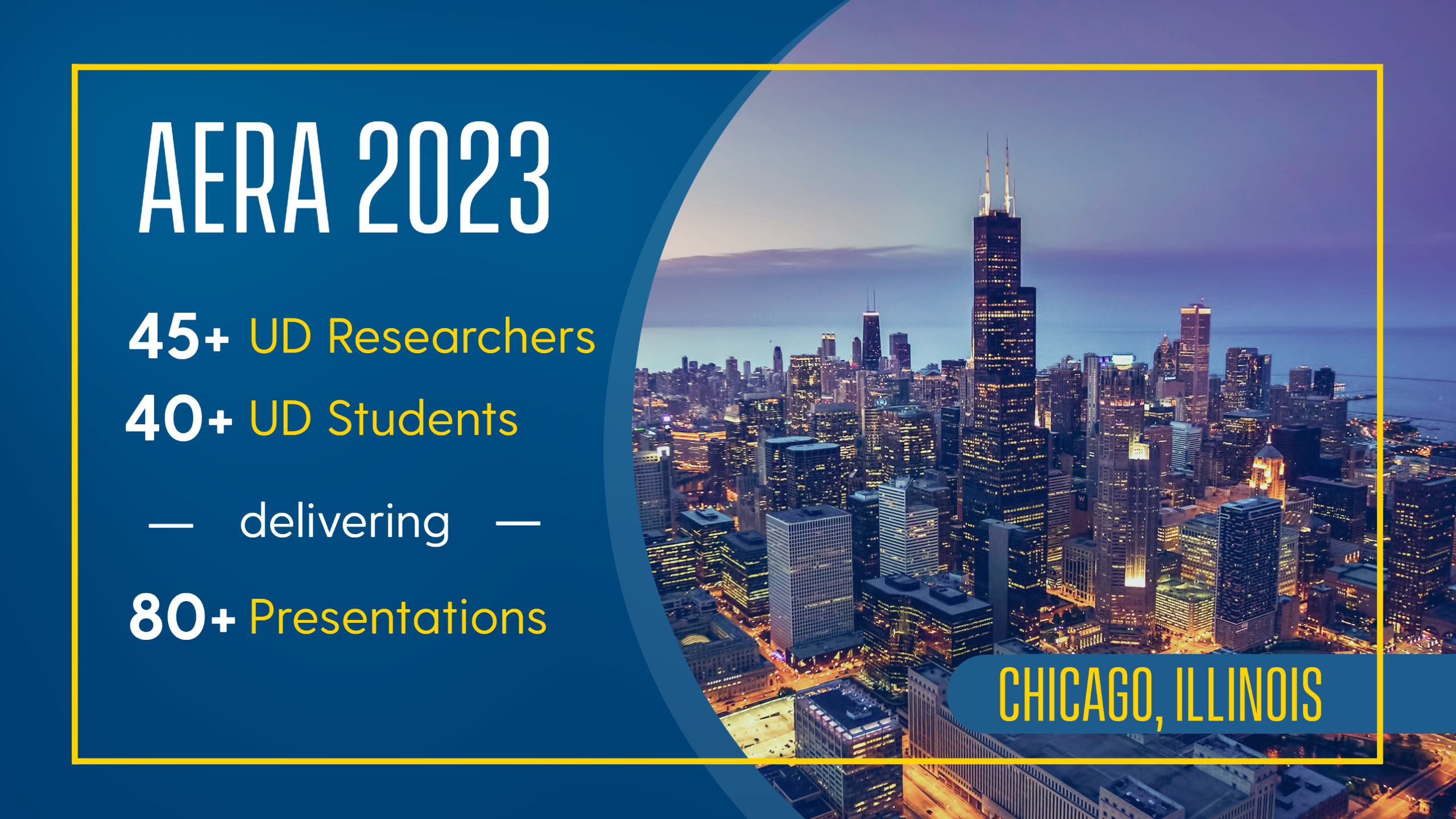 University of Delaware AERA Reception
Join Dean Gary T. Henry and members of the CEHD faculty and graduate student body for delicious hors d'oeuvres, wine and beer, and beautiful views of Chicago's night skyline.
Regarded as one of the oldest and most unique dining locations in Chicago, The Sky-Line Club sits atop the landmarked Old Republic Building and features breathtaking views of the city from its 24th-floor terrace. It is located just steps away from AERA Conference lodging and activities at 307 North Michigan Avenue, Chicago, Ill., 60601.
RSVP by March 31, 2023, is encouraged, but not required.
University of Delaware AERA Participants
Steven J. Amendum
Efficacy of the Bridging English Language Learning and Academics Professional Development: Lessons Learned During COVID
Samantha Akridge
Nicholas Steven Bell
Laura M. Desimone
Erica Litke
The Distribution of Culturally Responsive Instructional Practices Among Middle and High School Mathematics Teachers
Bataul Alkhateeb
Examining Teacher Educators' Culturally Relevant Computational Modules for Preservice Teachers
Ann M. Aviles
Transient Zip Codes: Utilizing Counternarratives to Examine the Compounded Effects of Structural Racism and Housing Insecurity
Lauren P. Bailes (chair)
Leading Through the Pandemic: Serving Students Through Different Leadership Channels, Moving Online, and Mitigating Disruption
Lauren P. Bailes (discussant)
System Change, Well-Being, and Affect: Voices From the Ground Up
Lauren P. Bailes (chair)
Understanding Assistant Principal Roles, Development, and Resources
Lauren P. Bailes (discussant)
Unearthing Educators' Voice and Perspectives: Analyzing Conditions in the Classrooms and Schools
Lauren P. Bailes
Sarah Clerjuste
Assistant Principals' Practical and Cognitive Resources: Task Assignment, Psychological Needs Satisfaction, and Promotion to the Principalship
Christina Areizaga Barbieri
Sarah Clerjuste
Kamal Chawla
Jenna Landy
A Meta-Analysis Exploring the Effect of Worked Examples on Mathematics Performance
Christina Areizaga Barbieri
Jason Hustedt
What State-Level Policies Impact Early Education Centers' Enrollment of Children Using Subsidies? A Nationwide Investigation
Christina Areizaga Barbieri
Elena Silla
Evoking Learning by Examples Through Reducing Misconceptions and Highlighting Procedures
Tia Navelene Barnes
Incorporating Skills for Actions Against Racism in Interventions to Promote Educator Well-Being
Tia Navelene Barnes
Melissa Stoffers
Jurni Jackson
Yu Xia
Increasing Equity in Social and Emotional Learning for Students From Marginalized Populations
Nicholas Steven Bell
Attrition and Retention Diversity in the Special Education Teacher Workforce
Nicholas Steven Bell
Roderick L. Carey
Zachary K. Collier
Critical Investigation of Overrepresentation: Developing an Equitable, Antiracist Special Education Model
Nicholas Steven Bell
Zachary K. Collier
Applying and Extending QuantCrit: Research Investigation on Overrepresentation in Special Education
Roderick L. Carey
Dismantling the Carceral State in Educational Practices: Centering Collaboration and Voice of the Formerly Incarcerated to Enact Transformation
Roderick L. Carey
Camila Polanco
Holly Abrams
Latrice Marianno
Sophia Sunshine Vilceus
Mark Xavier Miller
The Contours of Black Adolescent Boys' Perceived School Mattering During a Health Crisis and Racial Reckoning
Sarah Clerjuste
Christina Areizaga Barbieri
Amanda Jansen
Opportunity to Revise: Effects of Corrective or Directive Feedback on Fraction Arithmetic Performance
Tania Cruz Cordero
Joshua Wilson
Matthew Myers
Middle School Writing Motivation: Profiles and Transition in Response to a Technology-Based Writing Intervention
Sarah L. Curtiss (discussant)
Disability-Centered Systemic Change in Postsecondary Education
Sarah L. Curtiss (chair)
Improving Special and Inclusive Education Through Marginalized Voices and Perspectives
Sarah L. Curtiss
Kaitlyn Myers
Madison D'Avella
Sarah Garner
Cailin Kelly
Co-Created Inclusive Sex Education on Instagram
Sarah L. Curtiss
Melissa Stoffers
Amy Brown
The Effects of Universal Design for Learning on Puberty Sex Education
Zoubeida Dagher
Tamara Turski
The Status of Elementary Science Teaching in the United States: Issues and Implications
Adam Davey
Determining Dimensionality of a Set of Binary Indicators: A Simulation Study
Laura M. Desimone
Helen DeVitt Jones Lecture in Teacher Education by Dr. Laura Desimone
Laura M. Desimone
Professional Development in Education
Laura M. Desimone
Arielle Lentz
Nicholas Steven Bell
Latrice Marianno
How Does Instructional Reform Work? Relationships Between Curriculum, Professional Learning, Self-Efficacy, Instruction, and Student Engagement
Kerry Duck
Teomara Rutherford
Relationships Between Global and Domain Measures of Self-Efficacy, Emotional Cost, and Achievement in Mathematics
Kerry Duck
Teomara Rutherford
Validity Evidence of a Brief Measure of Mathematics Motivation
Rachel Fidel
Martha J. Buell
Stephanie Kuntz
Aligning States' Center-Based Childcare Licensing Regulations and Quality Rating and Improvement System Standards Regarding Expulsion: A National Census
Allison L. Gantt
Teo Paoletti
From Cones to Triangles: Researcher Considerations in Iteratively Refining Tasks in Design-Based Research
Sara Gartland
Student Perceptions Guide Development of Framework for Creating Opportunities for Equity in Mathematics
Lynsey K. Gibbons
The Missing Middle? General and Special Educators' Views of Effective Mathematics Instruction
Lynsey K. Gibbons
"Someone Else in the Universe Is Trying to Teach You": Teachers' Experiences With Platformized Instruction
Lynsey K. Gibbons
James Hiebert
Busra Sumeyye Kurutas
Erica Litke
Specifying a Mathematics Coaching Theory of Action
Taylor-Paige Guba
Aneysha (AJ) de Coteau
Christina Areizaga Barbieri
Amanda Jansen
Anne K. Morris
Revision Thinking for Fraction Comparisons: An Investigation of Metacognitive Monitoring in Preservice Teachers
Myae Han
Jason Hustedt
Deborah Drain
Christina Joe
Annette Pic
Relationships Between Play and Learning Practices Among Low-Income Families
Marcia Gail Headley (chair)
Design-Strengthening Strategies for Longitudinal and Multilevel Mixed-Methods Studies of Education Systems
Marcia Gail Headley (chair)
Social Justice Implications in Mixed-Methods Research
Marcia Gail Headley
Using a Dialectical Stance to Enhance Our Understanding of Early Childhood Special Education Teachers' Well-Being
Marcia Gail Headley
Henry May
Jeffrey Robert Klein
Katrina K. Morrison
Roderick L. Carey
Designing a Longitudinal and Multilevel Mixed-Methods Study
Marcia Gail Headley
Chu Yi Lu
Henry May
Comparing Qualitatively and Quantitatively Defined Trajectories: Available Versus Traveled Trajectories
Trish Hermance
Taking Risks, Challenging Assumptions, and Broadening Perspectives: Building and Sustaining a Supportive Teacher-Researcher Community
Cresean Hughes
Historic Racial Oppression and Corporal Punishment in Mississippi Schools
Ju-A Hwang
Understanding Multilingual Students' Composing Process of Synthesis Writing Through an L2 Reading-to-Write Lens
Nancy C. Jordan
Underlying Heterogeneity in Students' Fraction Arithmetic Development: Growth and Errors During the Intermediate Grades
Cara L. Kelly
Jason Hustedt
Comparing Early Education Center Enrollment Priorities Based on Participation in Arkansas's State Pre-K Program
Hye Rin Lee
Teomara Rutherford
Expectancies and Values Discussed by Transfer Engineering Students When Providing Advice to Peers
Hye Rin Lee
Teomara Rutherford
Using Learning Management System Data to Uncover Nuances in College Students' Planning and Procrastination Behaviors
Arielle Lentz
Are You Ready? Developing an Out-of-School Time Measure of Readiness for Change
Chu Yi Lu
Henry May
Using High School Course Catalogs to Understand Student Access to Advanced English Language Arts and Math Courses
Chu Yi Lu
Henry May
Marcia Gail Headley
Jeffrey Robert Klein
Using Qualitative Analysis of High School Course Catalog to Develop Categories for Quantitative Analysis
Chu Yi Lu
Henry May
Marcia Gail Headley
Jeffrey Robert Klein
Katrina K. Morrison
Roderick L. Carey
A Longitudinal Study of High School Students' Math Course Trajectories
Charles A. MacArthur
Writing and Digital Skills
Charles A. MacArthur
Joshua Wilson
Linguistic Analysis of Source-Based Writing of Developmental College Writers
Latrice Marianno
Michelle Bailey
How Will We Know When They're Ready? Critically Examining State College and Career Readiness Definitions
Henry May (chair)
Students' Pathways and Supports Toward College Readiness: Results From a Statewide Longitudinal Mixed-Methods Study
Leigh McLean (chair)
Identifying, Understanding, and Addressing Elementary Students' Negative STEM Emotions and Beliefs
Leigh McLean
Associations Between Teacher and Student Mathematics, Science, and Literacy Anxiety in Fourth Grade
Hilary Mead
Rosalie Rolon-Dow
Lori Pollock
Examining Instructional Planning and Implementation in the Context of an Integrated Computer Science Professional Development Program for Elementary Teachers
Amanda Mohammad Mirzaei
Introductory Calculus Goals and Instruction as Described by Secondary and Postsecondary Instructors
Katrina K. Morrison
Marcia Gail Headley
Crosswalking Data Collection: Mis/alignment of Quantitative Variable Selection and Qualitative Interviews Questions
Katrina K. Morrison
Marcia Gail Headley
Henry May
Jeffrey Robert Klein
Roderick L. Carey
The House and the Bridge: Underlying Aims of College Readiness Supports, a Statewide Longitudinal Study
Raymond Patt (discussant)
Learner Experience in Multimodal Contexts
Raymond Patt (discussant)
Math, Culture, and Language
Raymond Patt
Kerry Duck
Teomara Rutherford
English Language Learners' Language-Integrated Mathematics Game Play and Mathematics Test Scores
Annette Pic
Myae Han
Anamarie Auger Whitaker
Tia Navelene Barnes
No More Sensory Play: The COVID-19 Pandemic and Childcare Curriculum Changes
Camila Polanco
Nicholas Steven Bell
Roderick L. Carey
Laura M. Desimone
Students' Perceptions of Culturally Relevant and Ambitious Teaching in Mathematics
Kisha M. Porcher
Centering and Developing Black Liberatory Practices in English Education Programs
Kisha M. Porcher
Black Gaze Framework: Centering and Celebrating Blackness in Teacher Education for Liberation
Kisha M. Porcher
The Marathon Continues: The Influence of Nipsey Hussle on Our Community-Engaged Courses
Kisha M. Porcher
Brittany Powell
You Won't Break Our Souls: Using Podcasting to Create a Homeplace in Academia
Brittany Powell
Kisha M. Porcher
Is TikTok the New Google? Preservice Teachers' and Students' Preparation to Navigate Digital and Media Learning Through a Critical Lens
Alexus Ramirez
Roberta Michnick Golinkoff
The Topics of Parent-Child Conversation and Later Language Development and School Readiness
Rosalie Rolon-Dow
At the Root of Their Stories: Black and Latinx Undergraduate Students' Experiences With Academic Microaggressions
Rosalie Rolon Dow (participant)
"Whatcha Gonna Do When They Come for You?" Defending Yourself From Haters, Racists, and Trolls
Teomara Rutherford
How Do Underrepresented Minority (URM) Students Experience a STEM-Based eMentoring Program? A Focus Group Study
Teomara Rutherford
Andrew Rodrigues
Kerry Duck
Self-Regulated Learning in Elementary Mathematics: Presence and Predictors of Slowdown in Problem-Solving After Failure
Kathryn Scantlebury (chair)
Beyond the Modern: The Ethical Need to Make Matter Matter for Truth in Science Education
Kathryn Scantlebury
Gender and Education
Ye Shen
Intrinsic Functional Connectivity: What Is the Relation Between a Heritage Language and the Neurobiological Correlates of Emergent English Reading?
Samantha Jo Shewchuk (chair)
Advancing Our Collective Understanding of Research Use
Kenneth Shores
Arielle Lentz
Laura M. Desimone
Sarah Bruch
Nicholas Steven Bell
Examining the Effect of Professional Learning on Student Outcomes
Elena Silla
Christina Areizaga Barbieri
The Relationship Between Procedural Flexibility With Fraction Arithmetic and Word Problems and Algebra Skills
Ethan Smith
Laura M. Desimone
Instructional Coaching and Teacher Perceptions of Curriculum-Embedded Mathematics Professional Learning Programs
Ethan Smith
Latrice Marianno
Laura M. Desimone
Shared Experiences and Divergent Conceptions of Instructional Support Among Teachers and Their Coaches
Ethan Smith
Laura M. Desimone
Culturally Responsive Mathematics Teaching Opportunities in Standards-Based Curricula: An Exploratory Analysis
Elizabeth Gayle Soslau
Critical Service-Learning as Healing-Centered Engagement in the Middle School Classroom
Olushola Soyoye
Using Sequence Mining to Explore Students' Behaviors in Digital Reading Assessments
Melissa Stoffers (chair)
Graduate Student Council Division E Fireside Chat: Demystifying Grant Writing and Grant Applications
Melissa Stoffers
Cara L. Kelly
Anamarie Auger Whitaker
Tia Navelene Barnes
Examining Classroom Quality and Academic and Behavioral Outcomes for Children With and Without Disabilities
Melissa Stoffers
Early Childhood Providers' Decision Making for Serving Children With Disabilities: A Mixed-Methods Study
Bryan A. VanGronigen
Beyond Preparation: State Approaches to Early Career Principal Induction
Bryan A. VanGronigen
Partnering to Professionalize Teaching Leadership Pathways: Coalition-Building for School Improvement
Bryan A. VanGronigen
Lauren P. Bailes
Deepening the Bench: A State Effort to Further Develop Advanced Assistant Principals for the Principalship
Bryan A. VanGronigen
Megan Botello
Professional Learning for Transformation? Educational Leaders and a New Teacher Evaluation System
Alexandra Viegut
How Does Fractions Knowledge Support Algebra Knowledge? An Interdisciplinary Investigation
Yi-Lun Weng
The Changing Role of Attention in Statistical Learning Over Development