CEHD Faculty & Staff Awards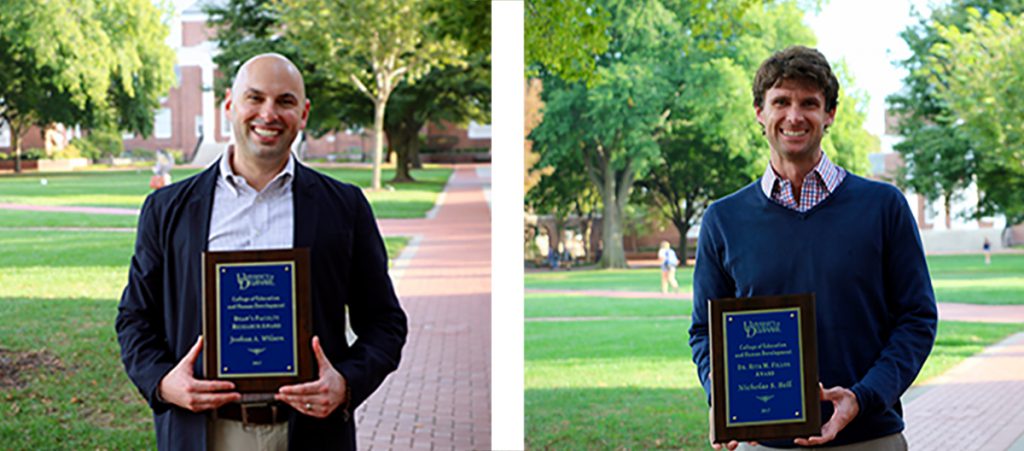 To recognize our faculty and staff for superior contributions to their field, our College has established a number of awards, bestowed annually during our All-College meeting.
CEHD Excellence in Teaching award is designed to recognize and reward a CEHD faculty member who demonstrates an outstanding model of teaching that promotes excellence in teaching among other CEHD faculty.
Rita Fillos Award – Dr. Rita M. Fillos began as a secretary for UD's College of Education where, inspired by the opportunities for education, she went on to receive her PhD. The award is presented to a CEHD salaried or professional staff who is actively pursuing an academic degree and has demonstrated a record of accomplishment in support of the College.
CEHD Dean's Research Award – Two research awards are presented annually by the College, recognizing:

an assistant or associate professor who has developed a strong program of research, received external funding to support that research, published in top research journals and/or published a book with a leading academic press.
an assistant professor who is developing a strong program of research, has applied for external funding, and has published in high-quality journals and/or published a book with a leading academic press.
A monetary award is provided for each award, to be used to support the individual's research program.
School of Education Distinguished Faculty Award is presented to a full-time faculty member in the SOE to recognize outstanding achievement in research, teaching and/or service that is clearly beyond the expectations of the position.
School of Education Second Mile Award is presented by the SOE to an individual in recognition and appreciation of exemplary support and service to the field of education.