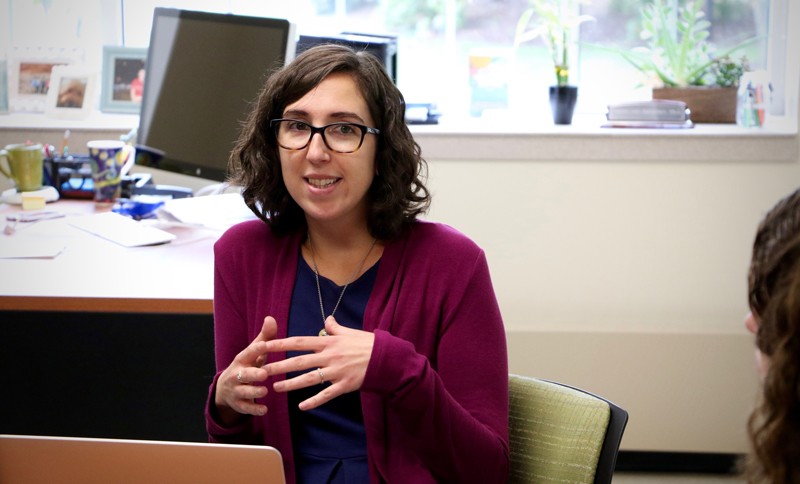 HDFS Professor Valerie Earnshaw honored for HIV stigma research
April 1, 2020
Stigma creates barriers that stifle the health and well-being of marginalized communities.
Social stigma toward people struggling with substance use disorders (SUDs) has hindered the response to the opioid crisis in the United States, where addiction among some populations continues to be treated as a moral failing rather than a public health crisis.
The same is true for stigma associated with mental illness and sexually-transmitted disease. Wherever HIV stigma is prevalent, discrimination limits access to prevention, testing and treatment.
According to Valerie Earnshaw, assistant professor in the University of Delaware's Department of Human Development and Family Sciences (HDFS), social stigma puts lives at risk.
"Stigma is an evolved human behavior and it's incredibly harmful. It's a problem when we devalue people. It's a problem when people are treated unfairly," Earnshaw said. "What we need to do now is align our funding streams and priorities so that we can develop interventions that really address these problems."
Since Earnshaw joined UD in 2016, her research has been nothing short of transformational in the field of social psychology. She's attended strategy meetings across the world — from the White House to Malaysia — to educate policy makers and healthcare providers about the dangers of HIV stigma and the steps that can be taken to help marginalized populations access the care and resources they need to live healthy, fulfilling lives.
In recognition of her contributions, Earnshaw has been presented with the prestigious American Psychological Association (APA) Award for Distinguished Contributions to Psychology in the Public Interest by an early-career scholar. The announcement comes just one year after Earnshaw was recognized by the APA as an emerging leader in the field and received the Psychology and AIDS Leadership Award for her "contributions to understanding and addressing the mechanisms underlying HIV stigma."
"Dr. Earnshaw's work is immensely impactful and is changing the lives of some of the most vulnerable members of our society," said Bahira Trask, professor and chair of HDFS. "She is a fabulous scholar, but most importantly she has figured out how to use her research to create a better world. This type of applied, translational work is critical for helping solve some of our most vexing social problems."