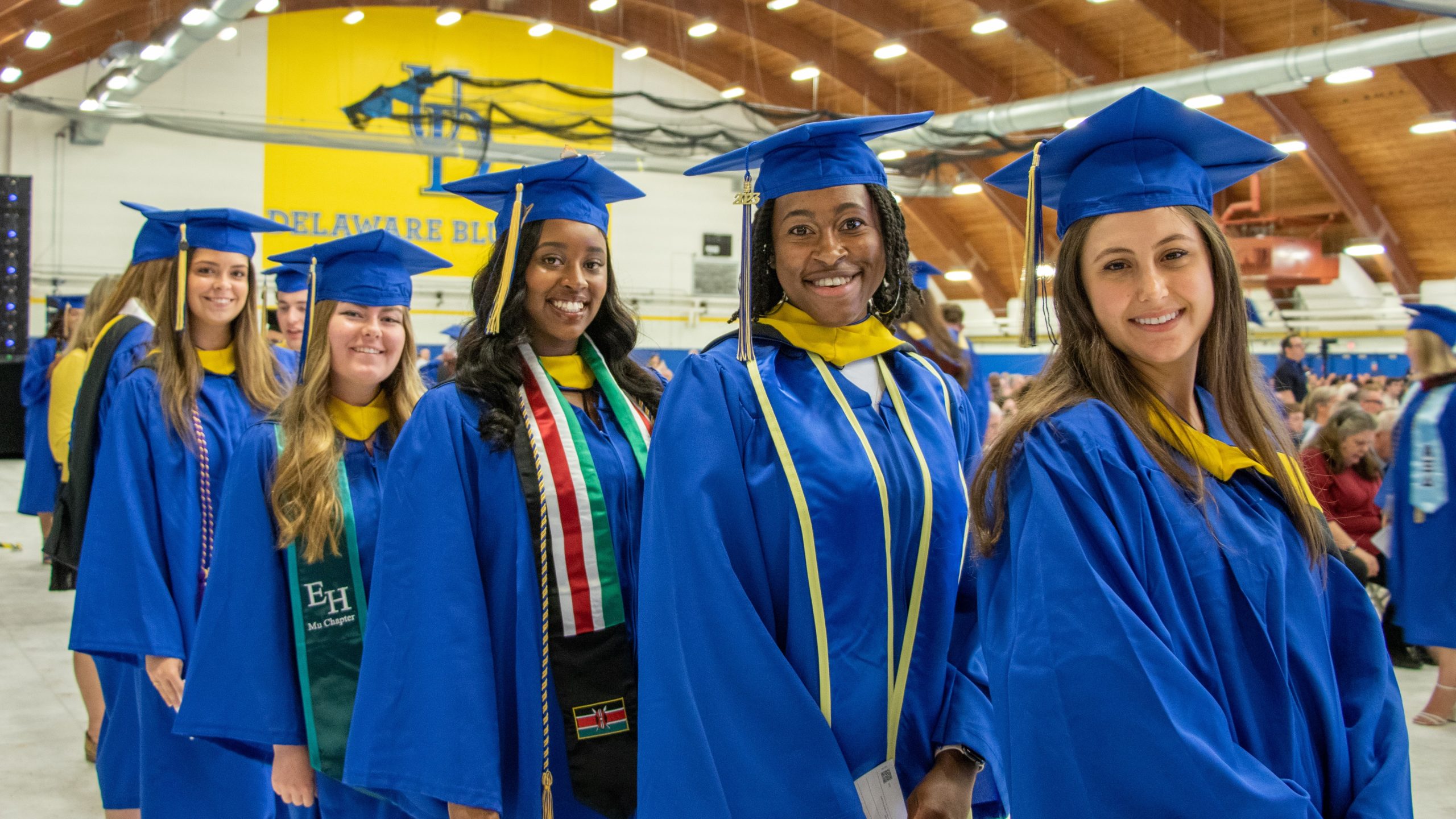 CEHD celebrates its graduates in education and human development
May 30, 2023
On May 26, the University of Delaware College of Education and Human Development (CEHD) celebrated 471 degree candidates in the fields of education and human development at its 2023 Convocation ceremony at UD's Field House. With the graduating students, their families and CEHD faculty and staff in attendance, the ceremony recognized the participants of the Career and Life Studies Certificate program as well as the associate in arts, bachelor's, master's and doctoral candidates in CEHD's School of Education and Department of Human Development and Family Sciences.
The Class of 2023 also included the first cohort from the associates in arts in elementary teacher education program in Wilmington to receive their bachelor's degrees, as well as graduates from two signature CEHD programs—the Teachers of Tomorrow program, which introduces underrepresented high school students to the field of education through a two-week institute—and the Teacher Residency program, which places UD teacher candidates in high-need Delaware schools for an immersive, year-long teaching experience.
Celebrating CEHD graduates 
In his opening remarks, Dean Gary T. Henry celebrated the achievements of the graduating class, sharing several anecdotes about student research activities, field experiences and participation in UD service programs. He emphasized the importance of the graduates' chosen career paths and shared his confidence in their ability to meet future challenges with creative problem-solving, empathetic leadership and compassionate service.
"Like most of you present tonight, I also arrived on UD's campus in the Fall of 2019. Together, we've weathered a global pandemic, among other trials, and I am so proud of your ability to persevere and thrive during this unique time," Henry said. "I am confident that you will draw upon the professional knowledge and personal resilience that you've developed here and successfully rise to the challenge."
Henry also introduced the ceremony's keynote speaker, Eugene Young, a 2011 alumnus of UD's nonprofit management certificate program and director of the Delaware State Housing Authority. In his remarks, Young inspired the audience with personal stories about his own commitment to education, sharing words of wisdom and lessons learned from the teachers in his childhood neighborhood, his college mentor and the educators in his family.
CEHD's graduates share their excitement
Before and after the ceremony, many of CEHD's graduates shared proud moments or plans for next year in conversation with each other, their families and CEHD faculty and staff. The Field House buzzed with excitement.
Amiah Perkins, who graduated with a degree in elementary teacher education, shared how her experience at UD shaped her personally and professionally.
"I'm most proud not only that I was able to complete the education program at UD, but I was able to make a lot of friends, I was able to make connections with my professors, and I was able to find who I am as a teacher in my practices within the classroom and outside the classroom, especially for Black and Brown kids in education," Perkins said.
Di'Asha Harry, who graduated with a degree in human services, couldn't wait to accept her degree and celebrate her achievement with her family.
"I'm most excited about and proud of getting my degree in human services," Harry said. "I'm a first generation college student, so I really just want to see the smile on my parents' faces when I walk across the stage."
Emily Dirkes, who graduated with a degree in early childhood education, was proud to share that she would be returning to teach in her home community next year.
"What I'm most excited about is that I got a job teaching kindergarten in the elementary school that I grew up going to," Dirkes said. "I'm from South Jersey and went to Seaview Elementary School."
Emily Van Vlack was also proud to return home with a new degree in human services.
"I'm a senior who's not yet a senior," Van Vlack said. "I'm 58 years old, and I'm so happy to graduate from UD."
Article by Jessica Henderson. Photos by Shelly Silva.