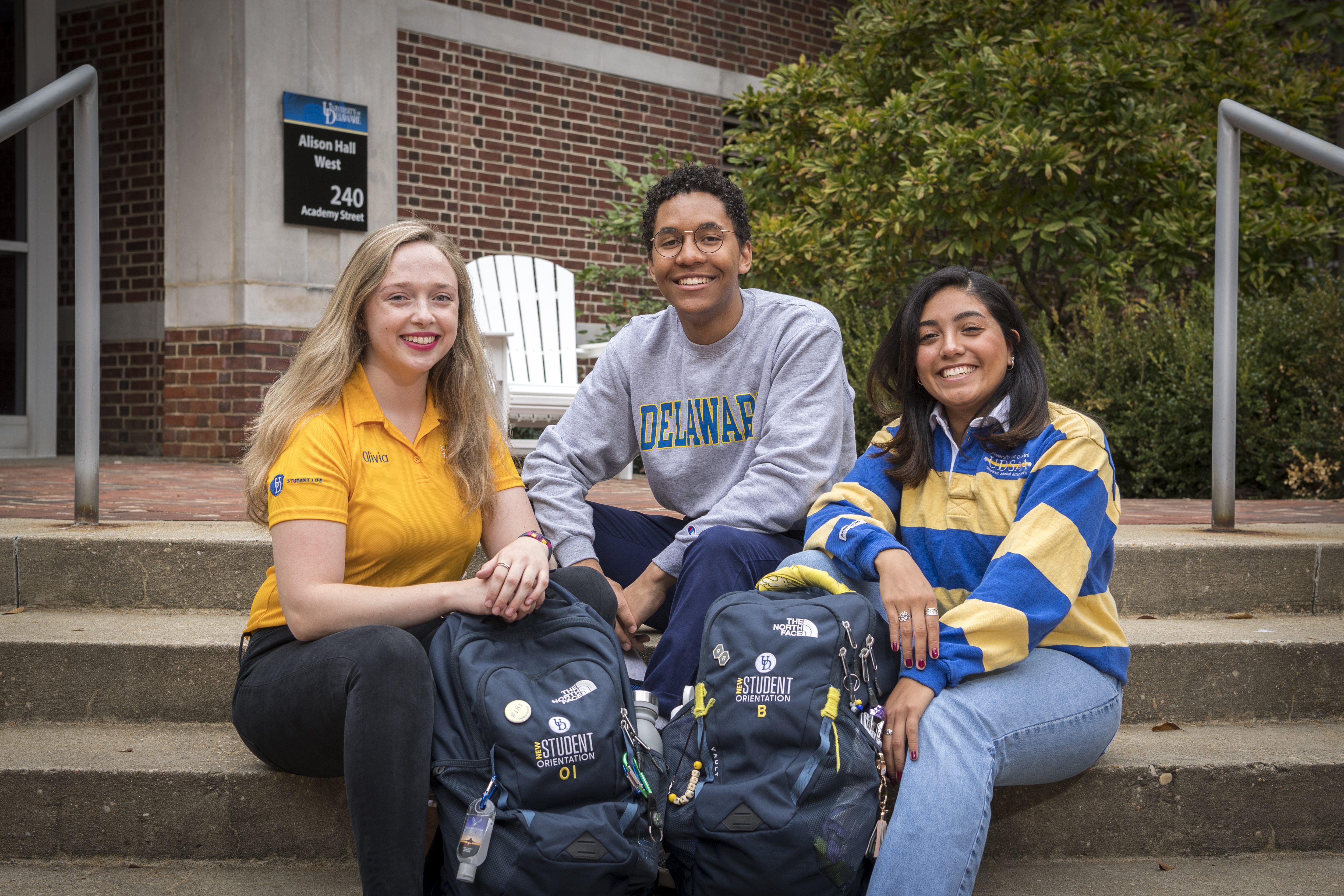 How the Human Services major prepared these students to become leaders.
November 18, 2019
For students and their families who are new to the University of Delaware, New Student Orientation (NSO) is designed to ease their transition to the academic, social and cultural aspects of campus life.
NSO is staffed almost entirely by students, known as Orientation Leaders, who serve as resources and provide helpful information about registration, transportation, safety, wellness and so much more. They guide prospective students and their families on tours of campus during the spring and summer, and continue to assist students throughout the school year.
Every year, over 100 students apply to become an NSO Orientation Leaders but only 20 are chosen based on their ability to interact with students and their families in a professional manner. In other words, being an Orientation Leader requires engaging with people you don't know, which makes it the perfect professional development opportunity for students majoring in human services.
One of the top 25 majors at the University of Delaware, human services prepares students for careers in social work, psychology, human resources and related professions that support individuals and families in their communities and work places.
Orientation Leaders are often the first point of contact between students and the university, an opportunity that human services major and NSO Orientation Leader Joshua Lewis called "both extremely exciting and humbling."
"Much of the human services curriculum involves working with other people who come from different backgrounds and have different life experiences," said Lewis. "Because of my coursework, I felt confident and prepared to navigate social and cultural differences and be a resource for incoming students and their families."
Lewis was inspired to get involved following his own NSO experience.
"My Orientation Leader was very kind, helpful and alleviated much of my worries and anxieties that I had regarding my transition into college," said Lewis, who wanted to pay it forward and be a similar resource for incoming students.
Which is exactly what Lewis did. He reached out to a friend, Olivia Ingman, also a human services major, to see if she wanted to become an Orientation Leader.
"Lewis believed that my unique experiences as being both a transfer and commuter student would make me an excellent addition to the Orientation Leader Team of 2019," said Ingman, pointing to connections between the curriculum of the human services major and the leadership expectations of NSO Orientation Leaders.
Another human services major, Brenda Juarez, first applied to be an Orientation Leader her first year but did not get the position. When junior year came around, she applied again, and now in her senior year she's working alongside Ingman and Lewis.
As a first-generation student of Mexican ancestry, Juarez knows that there are other students out there who are staring down many of the same obstacles that she faced just a few years earlier. Knowing this brings meaning to her accomplishments at UD, both as a human services major and NSO Orientation Leader.
"Navigating my way through college has been tough at times, which is really common with first-generation minority students," said Juarez. "Through this journey, I learned how impactful leaders on campus can really be and what that looks like for students and their families."
"As a human services major, you learn that each individual has different needs than the one before," said Juarez. "So we are always learning and always growing, which is exactly what being an Orientation Leader is all about."