UD's Undergraduate Work-Study Program on a Roll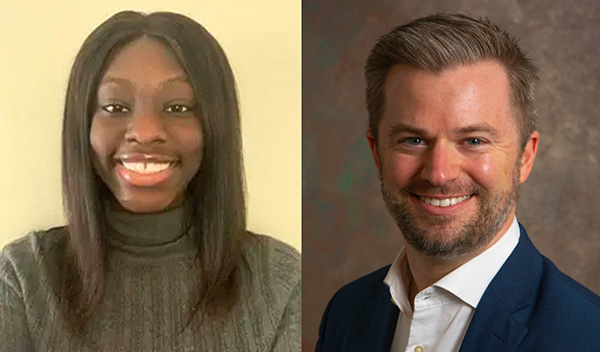 Research on track despite pandemic upheaval
April 1, 2021
You might expect to find a 2-year-old undergraduate work-study program under layers of rubble these days, what with all the restrictions because of the coronavirus (COVID-19) pandemic.
But despite the unprecedented upheaval and what must have often seemed like a game of 52-card pickup, students in the University of Delaware's Research Apprenticeship Work-Study (UDRAW) program have made significant progress on projects and discovered new things about themselves, their world and their options for the future.
UDRAW, which provides a broad range of research-related, part-time jobs to eligible students, drew 20 students in its pilot launch in 2018-19. That number has more than tripled in the past two years. Seventy-four students participated in the 2019-20 academic year, 77 have taken part so far in this academic year and there are still open positions for which faculty are actively recruiting. (To explore those, click here.)
Work-study programs are "one of the hottest trends in undergraduate research nationally," said Iain Crawford, director of UD's program and a past president of the national Council on Undergraduate Research (CURE). "We have an unusually large summer research program, but what is important about this program — it shifts the way we think about undergraduate research, expanding access to a high-impact practice."
The 2015 book New Directions for Higher Education devotes a chapter to undergraduate research, linking it to academic success, higher graduation rates and greater persistence, with especially significant benefits for underrepresented minorities.
"These are powerful programs and increasingly relevant to the University of Delaware as the student population changes over the next few years," Crawford said.
UDRAW allows all participating students to experience research and make some money in the process. A paying job is essential for many students and these work-study options provide income — usually up to $1,000 for a semester of work.
Rachel Antwi, a sophomore majoring in human services, said she loves the program. She is in her second year with UDRAW.
"Being in this program allows me to gain experiences with research that will look great on my resume," she said. "This program allowed me to explore future career options. Maybe after this, I'll decide to take the research route or maybe I will decide not to. Just being able to be exposed to different opportunities helps me narrow down my options."
Antwi worked last spring with Bryan VanGronigen, assistant professor in UD's School of Education. VanGronigen studies organizational resilience and change management in K-12 schools.
One of his projects focuses on the capacity of state education departments to improve underperforming schools. To explore that, he needs detailed information about those schools and others like them. UDRAW students have helped him gather and manage that data.
VanGronigen said he took advantage of research opportunities when he was an undergraduate student at the University of Missouri. Now, as a principal investigator, his research questions often exceed the time he has to pursue the answers in the depth he desires.
"I'm way overcommitted," he said. "That's how I was trained. I have no shortage of projects and tasks that need to be done. This program offers a way to structure some of the work in a way that is appropriate for those just dipping their toes in the water of basic research. As they progress, though, they can move on to more advanced tasks."
To be sure, a good bit of the work could be considered "data grunt work," VanGronigen said. For Antwi, that meant a lot of time visiting the websites of state education departments, sifting through available information, downloading lists of schools and attaching federal identification numbers to the schools of interest. Each step adds to the database for VanGronigen's study, making richer analysis possible and the results more meaningful.
But it is not what anyone would call exciting.
"I have done my fair share of it and I can commiserate," VanGronigen said. "Research can be thrilling and inspiring, but it is also exhausting, mundane and frustrating. Working with an effective mentor helps students learn to navigate the ups and downs of such work, while developing the skills and discipline that scientists and researchers must have."
Some of those benefits were lost to the pandemic last year.
"As a teacher, what pains me is the apprenticeship aspect," he said. "I think there is tremendous benefit to being in person in the same space with white boards and dry erase markers, teaching research skills."
But there have been some upsides, too.
"Students have ventured out into the research woods on their own more quickly than I think they would have otherwise," he said. "It's a great chance to be empowered and autonomous.
"And I can say that most of my work wasn't unduly influenced by the pandemic."
Article by Beth Miller