Akisha Osei Sarfo
Program: Ph.D. in Education, Specialization in Evaluation, Measurement and Statistics
Year of Completion: 2015
Dissertation Title: A Multilevel Structural Analysis of Predictors of Urban Teacher Effectiveness
Advisor: Dr. Elizabeth Farley-Ripple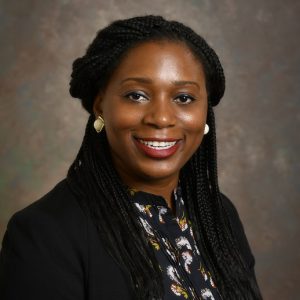 Current Position
Chief Performance Officer in Guilford County Schools, NC (the 47th largest school district in the country)
Current Research
Dr. Sarfo leads the Accountability, Research and Planning Division for the district. Her division is in charge of assessments, research and evaluation, accountability, data analytics and reporting, student information, and planning. Her team's work focuses on providing research and analysis in support of policy and programmatic decisions in the district. They work collaboratively with other divisions to provide data and research that drives improvements in student learning with a specific focus on reducing inequities in student outcomes and improving student experiences and life outcomes of their most impacted students. Under COVID-19, they have led efforts to distribute devices to students without access to technology, track student logins into their remote learning system, provide grading guidance, and are now working to understand student and parent engagement during this period as well as the impact of the transition to remote learning on learning loss.
---
Why did you choose to pursue your graduate degree at CEHD? What was it about the university/school that drew you here?
"I chose UD because of the faculty and mutual research interests at the time. I wanted to expand my analytic expertise but also have opportunities to apply them in educational contexts. I was able to learn both in the classroom and through internships at places such as the Delaware Department of Education and the US Census Bureau. The faculty I worked with had genuine care for my success in the classroom and in my career.
"My work with my advisor Dr. Elizabeth Farley-Ripple and Dr. Henry May led to a dissertation fellowship/grant with the American Education Research Association (AERA). I also came back to work as a research assistant professor with the Center for Research in Education and Social Policy (CRESP) under Dr. May. During my time there I led the Follow-up Reading Recovery evaluation as well as supported other CRESP research efforts.
Can you share on positive memory that has stuck with you since you left UD?
"I've gained lifelong relationships with my CEHD colleagues, both student and professional. I remember attending the AERA annual conference in Washington, D.C. the year after I graduated and was just overwhelmed by the welcome I received at the UD social hour. I felt like I was a part of an extended family."