Alumni Spotlight: Kayla Vanderbeek
Alumni Spotlight
CEHD has remarkable, inspiring and active alumni working in education, human development, and family services professions. Our Alumni Spotlight helps us recognize and celebrate those individuals.
If you would like to nominate an alum, or answer "Ask an Alumni" questions submitted by our students, please email CEHDSocial@udel.edu. Be sure to like CEHD on Facebook!

Kayla Vanderbeek, Class of 2015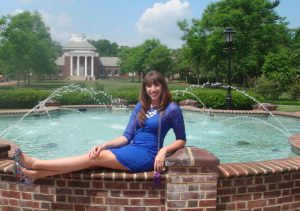 4+1 Autism & Severe Disabilities Program
M.Ed. in Exceptional Children and Youth
Why did you choose your concentration?  
My best friend's mom worked in a self-contained school for kids in fourth and fifth grade with autism. I would go there on days off to make copies for her and hang with the kids. As I got older I went there more often and started working one-on-one with the students. I really liked it, and after high school I decided that was what I wanted to do.
I think the reason I like working with kids with serve disabilities is because there is something new every single day. Sometimes the things the kids come up with take your breath away, and other times you just have to laugh. I was always drawn to non-verbal kids. They may not talk, but they do things that melt your heart. When they give you signs that show they know what you're talking about – that makes everything worth it.
As a student I went back to substitute so I could work with the teachers and students I worked with in the past. Children with autism don't like change and it helps them to see a familiar face. It's great when they remember who you are. It shows you made an impact in their lives. That's what's wonderful about education as a whole- knowing that you're making a difference.
M.Ed. in Exceptional Children and Youth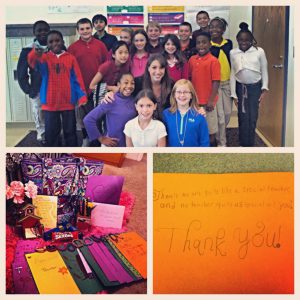 What is a challenge you have faced or had to overcome?
Something that was difficult for me was managing my school work, having an internship, and working two jobs [UD catering and substitute teaching]. Plus, I usually went to school [for my internship] more than the 12 hours a week.
Do you have a favorite professor?
Dom Squittiere, because of his caring nature. He was always there for us to "vent" after class, offering guidance and support. To be honest, he reduced much anxiety discussing future plans. He cared about all of his students and got to know everyone on a personal level. He was interested in what we were doing within the schools and always used his own experiences within education to help solve some of the issues we were having. His caring personality and excellent teaching styles led him to be my favorite professor here at UD.  I would recommend that everyone who has the opportunity to meet Professor Squittiere, or take a class with him, do so.
Is there a class you would recommend for future educators?
Applied Behavior Analysis with Dr. Gary Allison. This class taught me many different ways to understand the behaviors that my students may have and how to handle these issues. Although the course was tough, it taught me a lot of what I know. I believe it to be one of the most important classes I've taken here at UD in relation to the population of students that I wish to work with. Also, Dr. Allison is one of the most knowledgeable professors I have ever met. He shared many of his own experiences with us, which helped connect what we were learning to actually implement it in an educational setting. I wish I could have picked Dr. Allison's brain further, as I hope to have as much knowledge and experience with students with disabilities as he does.
Describe a rewarding experience or moment you had either teaching, volunteering or working during your college experience.
One big event that impacted me was my teaching experience in Santiago, Chile. I worked for a month at a pre-school in a poverty stricken area. I taught basic English lessons and had many interactions with newborns-pre-school age kids. The program I did this through was called World Wide Chile.
Favorite quote: One size does not fit all.
Before graduating, Kayla received the Certificate of Distinction in recognition of her dedication to the academic excellence and continuing pursuit of personal goals and new challenges.