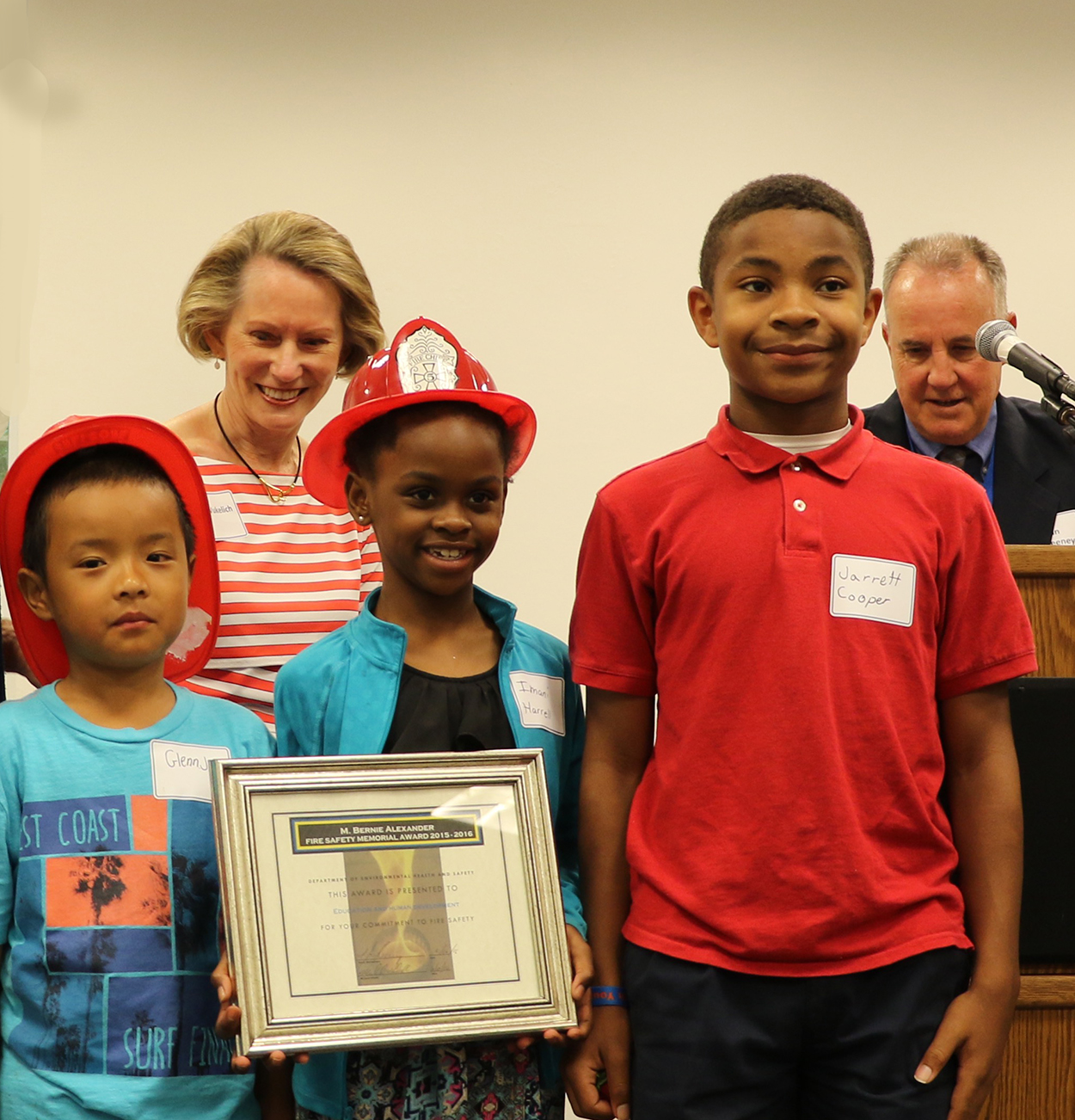 Congratulations to our Children's Campus! They were awarded the Bernie Alexander Fire Safety award on June 15, 2016 by UD's department of environmental health & safety.
Fire Marshal Kevin T. McSweeney praised the cohesive efforts of CEHD's Early Learning Center (Newark and Wilmington), Laboratory Preschool and The College School for their efforts in the areas of fire safety promotion, training and fire prevention.
"They've all maintained their buildings and operations in a manner that assures fire code officials with confidence with their fire safety program and at a level that has been violation free," said McSweeney.
"It's part of our normal schedule. said Alene Heider, assistant director, Early Learning Center (ELC). "We hold fire drills once a month, escorting over 200 children out of the school in less than three minutes."
Glenn Jing, an ELC student explained how they became so efficient. "A fireman came to our school and taught us the safety rules. When the alarm goes off we line up in the halls and quietly walk outside."
In his announcement, McSweeney said the campus' success is a result of "the attention to detail of the Directors; the guidance and oversight of the teaching staff and assistants; and the children themselves who follow the instructions that lead to their safety in the event of an emergency, the children's campus met the most stringent fire safety criteria of UD Campus Users."
Extensive pre-planning is required when dealing with safety issues for children as young as six months.
"At our Newark site, most of the children exit to the playground area. But we have to provide additional protection for the babies during inclement weather," said Heider. "Our infant cribs have wheels and we roll them to the Center for Disabilities Studies nearby, so they can remain indoors."
For the ELC in Wilmington, safety is an issue. It is located in the Southbridge neighborhood and the surrounding area is not child-friendly. McSweeney explained how the ELC made arrangements with a nearby parish where the children can gather during drills.
The Children's Campus also increased children's awareness at school and at home by hosting the fire department each year during Fire Prevention Week and participating in Poster/Essay Contests.
"I made a fire truck and put the rules on top," said Jing.
Each year, the department of Environmental Health & Safety, Fire Protection Program awards a department, section, or person with this distinguished award for their efforts in the areas of fire safety promotion, training and fire prevention with an award in the name of Bernie Alexander, former UD Fire Marshal.
[gview file="https://www.cehd.udel.edu/wp-content/uploads/2016/06/Bernie-Alexander-Fire-Safety-Award-2015-2016.pdf"]