Book Signing with Elena Delle Donne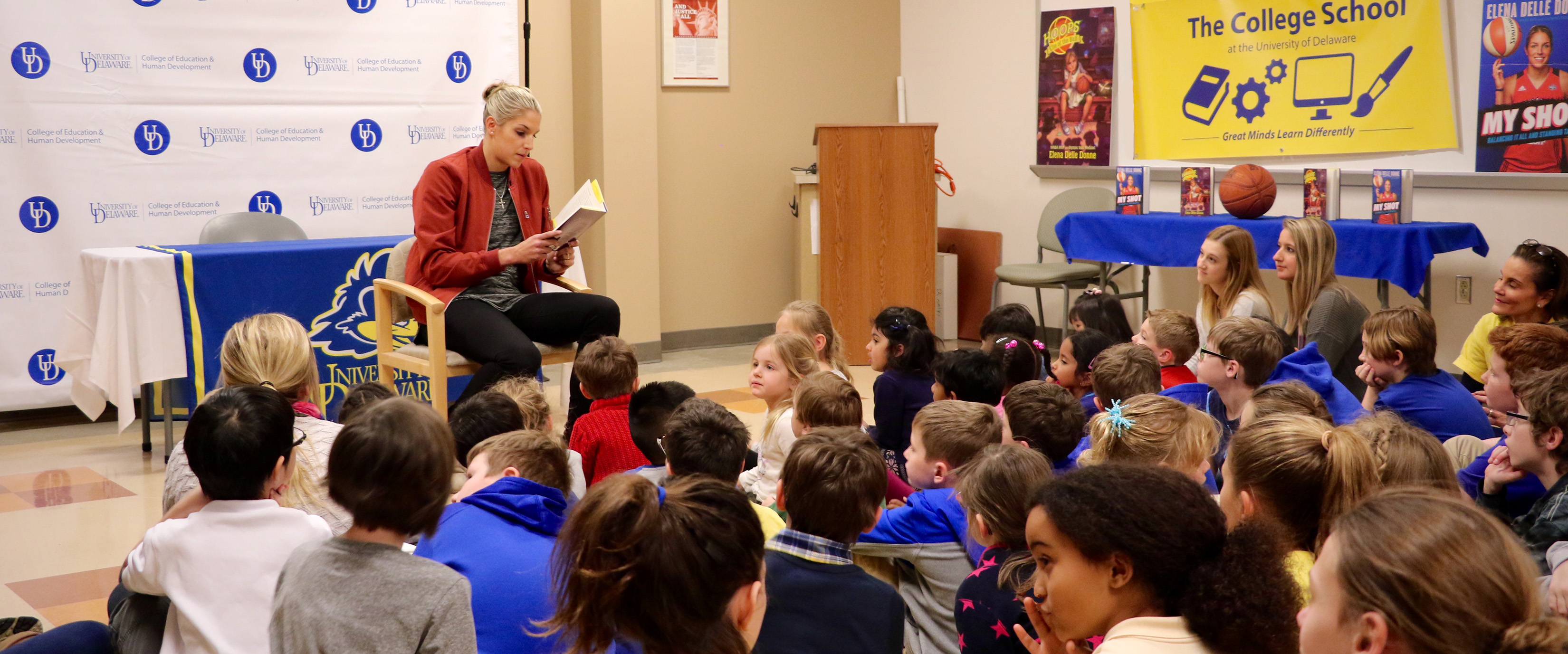 CEHD alumna Elena Delle Donne has written two books for young readers–an autobiography, My Shot: Balancing it All and Standing Tall and the first book in her Hoops series, Elle of the Ball.
On Thursday, March 8, Elena Delle Donne (Human Services '13) joined us on campus to promote two books for young readers: An autobiography, "My Shot: Balancing it all and Standing Tall" and "Elle of the Ball" is the first book in series for children ages 8-12.
CEHD hosted two events, a book reading for students in our Laboratory Preschool and The College School, and a public book signing at the Trabant Student Center.
Dean Vukelich introduced Delle Donne to a room full of eager students (ages 4-14) and staff (of undisclosed ages). Elena read a portion of her book before engaging the children in playful banter–taking questions from the crowd. Many of the kids sported Delle Donne jerseys from her Olympic team, UD and the Washington Mystics.
When kindergarteners asked her "How do you spin a basketball on your finger?", TCS director Laura Doughtery tracked down a ball, so Elena could demonstrate the trick. Students then lined up to have their pre-ordered books signed.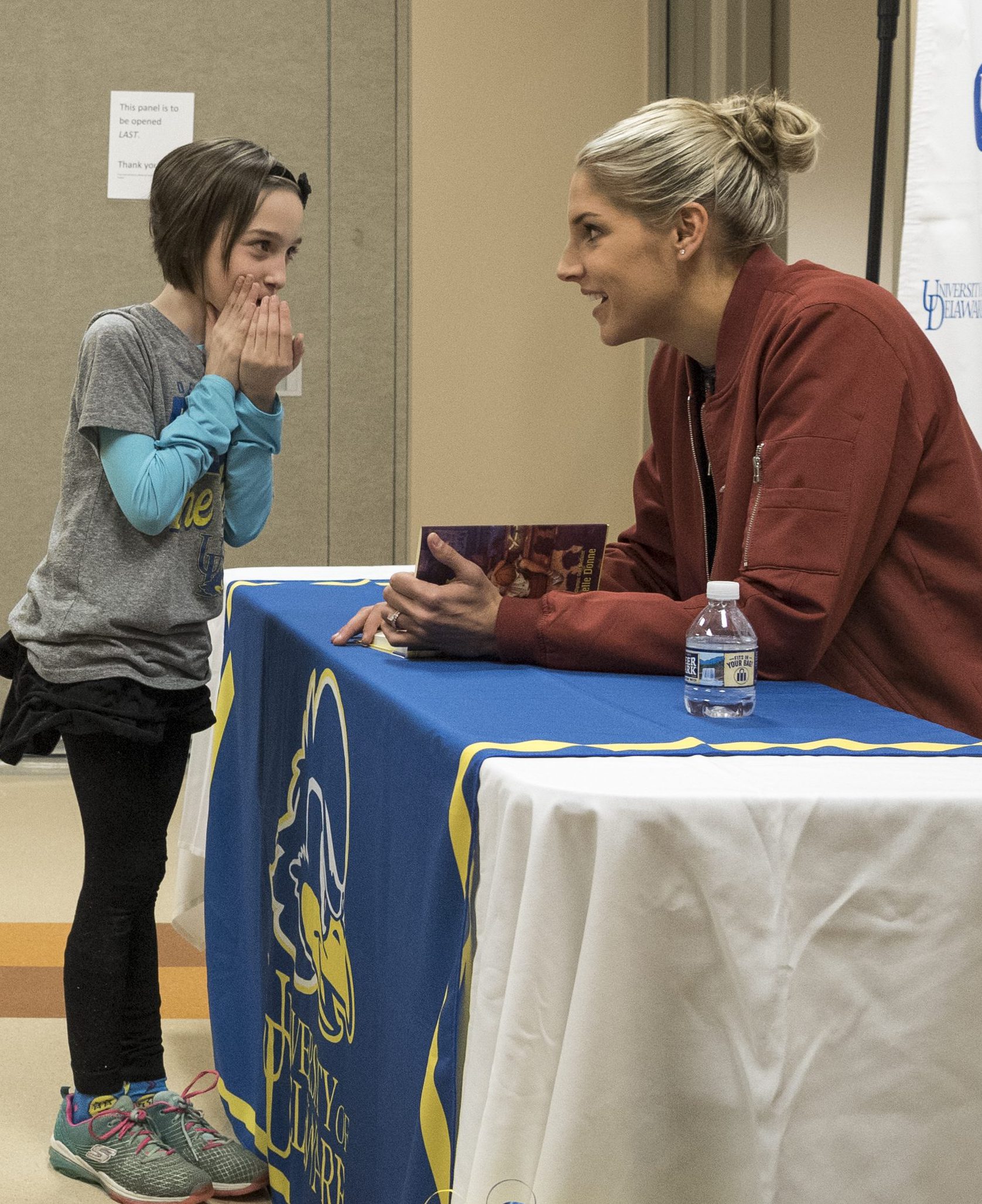 Beginning at 4:30, Delle Donne welcomed the public to a book signing at Trabant Student Lounge. A steady stream of families and fans lined up to purchase My Shot ($17.99) and Elle of the Ball ($16.99) from representatives from UD's Barnes & Noble Bookstore. The crowd was eager to share their stories about the ways Elena's successes and struggles had impacted their lives. There were young girls aspiring to become professional athletes, a Special Olympic competitor who also won a gold medal, parochial school students sharing experiences and avid fans recounting their favorite basketball moments.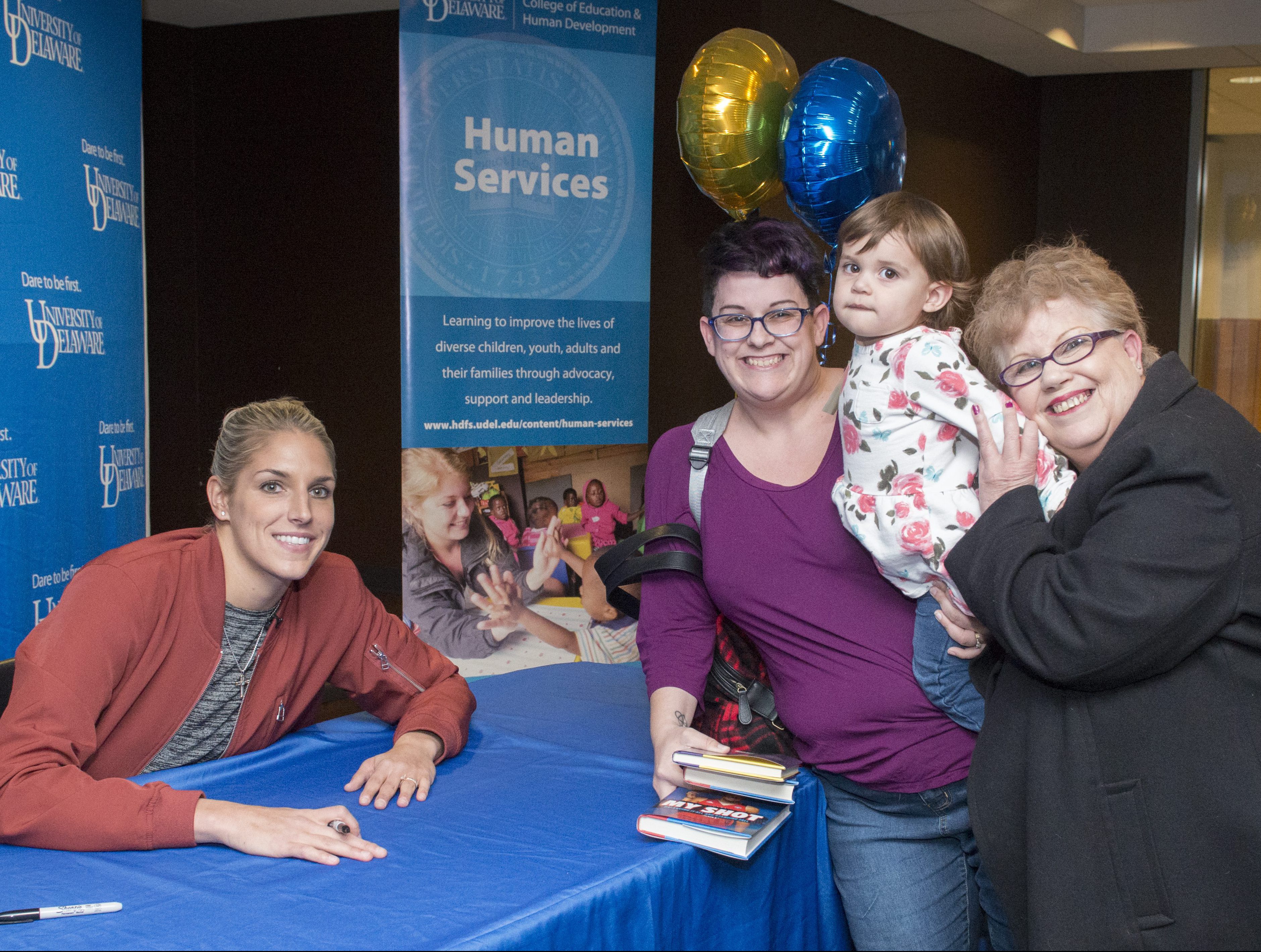 After two hours, hundreds of books were sold, hundreds of selfies taken and countless memories made. A WNBA film crew was on-hand to capture the event. They posted an article on their website and are expected to follow up with a video montage.
Delle Donne will return to UD on May 12 when her team, the Washington Mystics will play a preseason game at the Bob Carpenter Sports Center.
See more details about the book signing on UDaily or in Publishers Weekly.