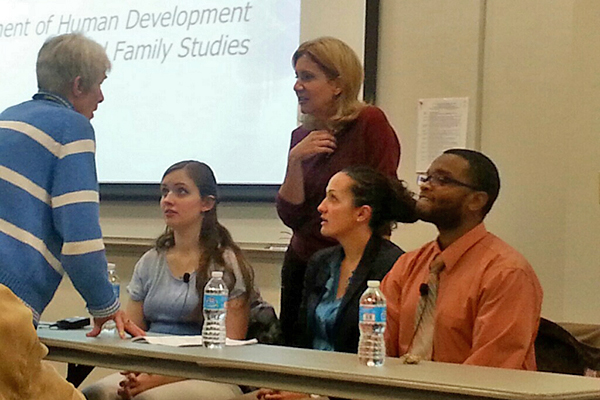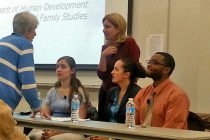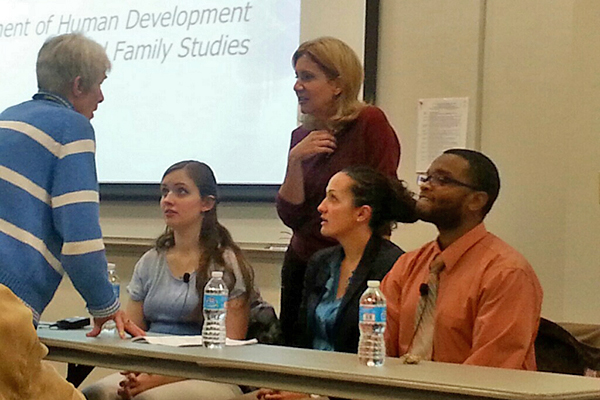 The "Current Issues — Lecture and Discussion" class at the Osher Lifelong Learning Institute at the University of Delaware provides an opportunity for men and women ages 50 and older to listen to and exchange ideas about contemporary society.
Recently, Bahira Sherif Trask, professor of human development and family studies, was invited to present on cultural diversity and families, and decided to enhance her talk by bringing UD students along. Trask chose three student panelists with varied life experiences, hoping to generate a productive discussion.
The age gap between the Osher participants and a typical UD student spans three or more decades but that didn't stop the participants from entering a rich discussion about issues such as family policy, education, immigration and family structure.
Trask began the session talking about the global trends in families. Then the audience members –numbering approximately 100 — were invited to ask the student panelists about their insights.
The students found it a very positive experience to speak with a population with which they don't typically interact.
Lara Andrews, a graduate student in human development and family studies, is from New Zealand and fielded questions from an international perspective regarding American trends in diversity and in colleges, thoughts on higher education, and the effect of technology on the current and future generations.
"The lifelong learning students opened up and asked multiple questions. I think many Americans don't have the experience of knowing what it's like in other countries, so being able to talk about that with older Americans was eye-opening for all of us," said Andrews.
Kendell Daughtry, a husband and father of a young child, just completed his final semester as a human services major, during which he worked full-time.
He said he feels it's very beneficial for UD to be out in the community, helping people be more informed about other cultures.
"It was good to discuss the importance of welcoming other cultures and being more diverse in America," said Daughtry. "I was raised in Philadelphia, but my wife is from the U.S. Virgin Islands and I've had to learn to think about culture and diversity in a new way. I wanted to share with the audience that it's not enough to merely have a number of different people represented; it's the integration of different cultures that makes a real difference."
The third participant, graduate student Lauren Stegman, said, "This was a unique opportunity to participate in an open forum and answer unanticipated questions. I'm in my graduate year of a 4+1 program in human development and family studies and hope to be a professor one day, so this was great practice interacting with a large audience."
The feedback from the audience was also very positive.
After the discussion session, several participants approached Stegeman, who is starting a family with her boyfriend, to ask questions about her parents' opinions, her own views on father involvement, and her future education and career goals.
Osher co-instructor Diana Stevens said she received a thank you note from a participant, calling the session with Trask and the students "a grand slam."
Trask agreed, saying, "These three young students did more to move the needle on cultural understanding with the older adults than ten books or articles on this topic could. This was a fantastic path to creating more understanding at UD around issues of diversity."
Article by Christina Mason Johnston. This article appeared on UDaily on 1/14/2015.