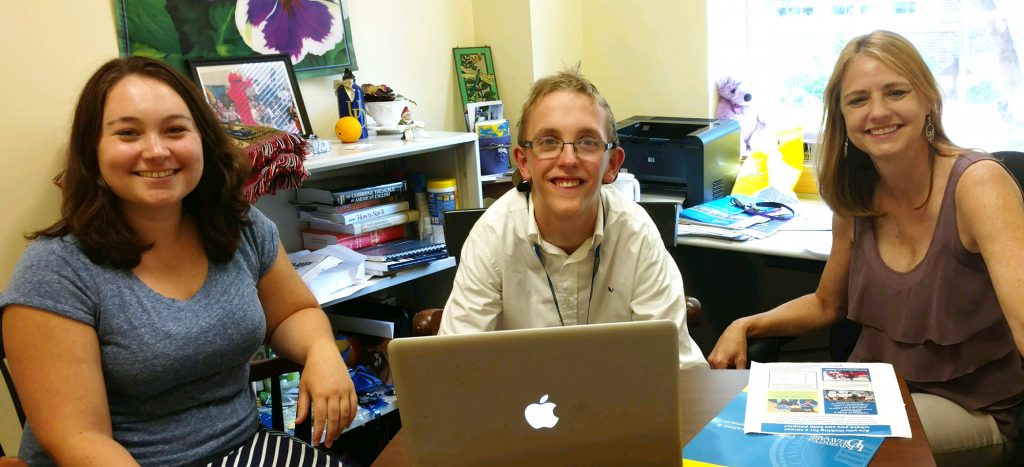 The University of Delaware's Center for Disabilities Studies (CDS) offers a 2 year post-secondary education program called the Career and Life Studies Certificate (CLSC) which provides young adults with intellectual disabilities who have completed their high school education a unique opportunity to pursue further education, engage in internship experiences in their intended career path, while learning essential life skills on campus.
In addition, CDS provides the Summer CLSC Program, a 10-month program funded by the Delaware Division of Vocational Rehabilitation that helps high school students with disabilities explore career and education options, and hone independent living skills such as problem solving, decision making, self-advocacy and communication, those essential prerequisites for transition into adulthood. The highlight of the program is an on-campus experience where students live in a UD residence hall, engage in workshops, attend college courses and complete a series of job shadowing experiences.
In 2017, eight high school students spent a week at UD. During that time, they met professionals in their intended field of study and observed real work in action. These 'up close and personal opportunities' proved valuable as they began to assess whether their skills, personality and values match the career they are considering. They also sat in on undergraduate classes where they got an eye opening experience of the academic expectations in a college setting.
Job Shadowing at CEHD
On July 19, Zach Simpler and his coach Emily Passera spent the morning shadowing the CEHD's communication team.
"I came to the summer CLSC program to explore the world of communications and learn more about the workforce," Simpler said. "I have enjoyed getting exposure to living on campus, what college life is like, and have been working on my follow-thru skills."
Simpler, a rising senior at Cape Henlopen High School, has been taking classes in the career pathway for video engineering. There, he creates videos for the CapeTV's YouTube channel, writing the script, filming in the studio, conducting interviews and editing using Adobe Premier Pro.
To provide him with real world experience, Alison Burris and Liz Adams, CEHD's communications team, showed him how to create a marketing piece, interviewed him, showed how to properly set the stage for a photo and then posted this article on the website and social media.
Simpler was surprised to learn how many other outlets were involved in marketing.
"My experience at CEHD was really fun. I didn't realize there were so many pieces to the communication's puzzle," said Simpler. "There's a lot of strategies involved."
Once he graduates high school, Simpler hopes to attend Delaware Technical Community College through the SEED program and then transfer his credits to UD. While creating videos was his primary interest and he'd planned to major in telecommunications, he is now aware of many more options.
"That is the goal of the program. We want our students to learn about possible fields so they can start to build the necessary skills," said Emily Passera, a core staff member of the Summer CLSC program and the 2-year CLSC program.
Passera, a UD alumna, minored in Disability Studies, and began working with the CLSC program her senior year. Although her major was Exercise Science, her involvement in the CLSC program lead her to a new path. "I really enjoy helping students transition into college, so they will not only learn but thrive," said Passera. "In fact, I've had such a positive experience mentoring people to become more independent that I'm going to pursue further education as well."
Passera will begin graduate school in the fall at West Chester University. However, she still plans to carve time out each week to work with CLSC students.
In 2018, Gov. Carney (DEL) approved a bill creating the Delaware Advance Scholarship Program, designed to defray tuition costs for college programs like UD's CLSC, benefiting students with intellectual disabilities.
CLSC students attend classes, participate in work experiences and internships, and engage in campus life through a variety of activities in accordance with their academic and personal goals. Interested students can also live in the residence halls during their second year.
To learn more about UD's CLSC program, visit our Center for Disabilities Studies website.
Zach Simpler was on-hand as Governor Carney signed the DASP bill.