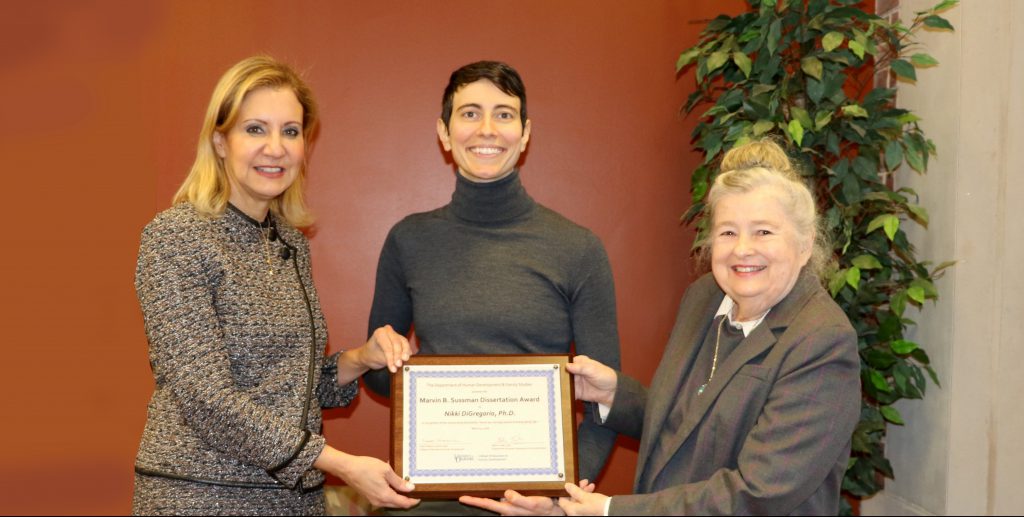 Catching Up With Friends 2016
Alumni are an important part of our CEHD family.
See what exciting news has been happening in their lives in 2016!
Click to see past updates from classmates.
2010's
Nikki DiGregorio, PhD '14, was presented HDFS' Marvin B. Sussman Dissertation Award for her outstanding dissertation, Same-sex marriage policies & lesbian family life. She is currently an assistant professor for child & family development at Georgia Southern University.
Meghan McLean ECE '12, is the ‪Manager of Sports Training and Competition at Special Olympics Florida.
Rob Muniz, HS 4+1 '15, works for the NJ Department of Health, serving adult care, assisted living, and nursing home administration. He was spotlighted in our CEHD student blog in 2015.
Amanda Rich, HDFS PhD '12, is working as an assistant professor in behavioral science/sociology at York College of Pennsylvania.
JeanMarie St.Clair-Christman, HDFS PhD '11, is program coordinator, field coordinator, and assistant professor in HDFS at Penn State York.
Patrick Walters, M'12, is working as assistant director of technology at Newark Charter School.
2000's
Mike Adams, HS '04,  a safety for the Indianapolis Colts, returned to campus in April to give a presentation "Moving Forward While Looking Back." He discussed his experiences  growing up in NJ, as a student at UD, and in the NFL, and how they tie in with his philanthropic efforts, including the creation of his Team Adams Foundation.
Amanda Ayers, HS '07, is Harvard University's first health educator in the department of Health Promotion & Education, advising students and the community on vital health issues including sexual health, mindfulness, sleep and self-care.
Mark Holodick, Ed.D '08, superintendent of the Brandywine School District, was named the 2016-17 Delaware Superintendent of the Year by the Delaware Chief School Officers Association.
Loren Marks, HDFS PhD '02,  is a faculty member at Brigham Young's College of Family, Home and Social Sciences. His research focuses on religion and families, and has published several related articles or chapters, as well as the book Sacred Matters. He continues to work with HDFS professor, Rob Palkovitz on the topic of fatherhood.
Nicole Montanez, HS '08, is working as a Research and Evaluations Consultant at the Center for Sexualities, AIDS and Gender at the University of Pretoria in South Africa.
Melanie Mundell, MI '09, received the 2016 BioScience Educator of the Year (K-12) award at the Delaware Bio Gala. She is a biotechnology teacher at Newark Charter School..
Pearl Stewart, HDFS PhD '03, is associate professor in family and child studies at Montclair State University in NJ, where she helped to establish a PhD program.
Bethany Willis-Hepp, HDFS M '07, PhD '13, is an assistant professor in family studies and community development at Towson University in MD.
1990's
Kami Bond, HS '97, joined Cielo, the world's leading provider of global Recruitment Process Outsourcing (RPO) solutions as Senior Vice President for People & Culture.
Jeff Fahnoe, M.Ed '99, is  Chief Information Officer at WISTAR,  leading the development of IT resources to manage complex data systems, ensure data security and develop high performing IT operations and long-term computing strategies.
Shawana Wilson, ETE '96,  is a 7th grade ELA inclusion teacher at Alfred. G. Water School in Appoquinimink School District.
1980's
Beverly Stewart, M.Ed. '84, was recognized by Philadelphia 100, an annual list of the fastest growing, privately held entrepreneurial companies in the Greater Philadelphia Region. Stewart is the founder of Basics Learning Dynamics Inc' a Delaware- based company.
1970's
Beverly Bruce, ECE '77,  with a specialization in the hospitalized child, is Title I and Elementary Reading Specialist at the South Shore Charter Public School in Norwell, MA– one of the first charter public schools in the state of Massachusetts. She also lectures at Wheelock College (Boston, MA) in the area of Child Life and children's health issues in the classroom.
Nina Lou Ringler Bunting, ECE '73, MI '80, retired in 2001 after 39 years of teaching, during which time she was Delaware's 1979 Teacher of the Year. She now serves on the Delaware Board of Education.
Ilona Holland, M '78, has published a children's book for National Geographic, featuring Buddy Bison at Yellowstone Park. She also works as an education consultant in Rehoboth.
Degrees Legend
(Please note, majors have changed over the years. Degrees are now referred to by their current listing, whenever there is an applicable equivalent.)
CEHD – College of Education and Human Development
ECE – Early Childhood Education
ETE – Elementary Teacher Education
HDFS – Human Development and Family Studies
HE – Home Economics (now HDFS)
HR – Human Resources (now HDFS)
HS – Human Services
TESL – Teaching English as a Second Language