CEHD Graduate Student Awarded NSF Fellowship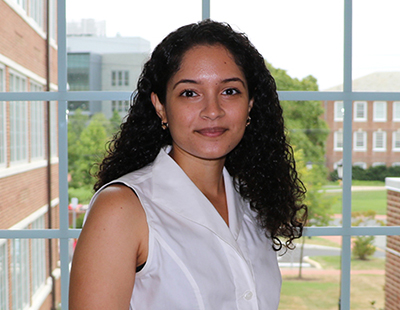 Fourteen UD students, alumni awarded National Science Foundation Graduate Research Fellowships
May 24, 2021
Fourteen University of Delaware undergraduate and graduate students and alumni have been awarded National Science Foundation Graduate Research Fellowships. An additional three current students and six alumni received honorable mentions.
The highly competitive fellowship, the oldest of its kind in the nation, is among the most prestigious awards for graduate students. It supports outstanding graduate students who are pursuing research-based master's or doctoral degrees in science, technology, engineering and mathematics (STEM) at accredited institutions in the United States.
The five-year fellowship includes three years of financial support, including an annual stipend of $34,000 and a cost-of-education allowance of $12,000 to the institution.
This year's competition attracted more than 12,000 applicants from over 500 academic institutions. NSF selected 2,000 fellows from all 50 U.S. states, the District of Columbia and U.S. territories.
NSF fellows are considered future knowledge experts who will go on to become lifelong leaders, innovators and teachers. Since the program's inception in 1952, NSF has funded more than 60,000 Graduate Research Fellowships from over 500,000 applicants. Over 40 NSF fellows are Nobel Laureates, and more than 450 NSF fellows are elected members of the National Academy of Sciences.
"To have 14 National Science Foundation Graduate Research Fellowships awarded to UD students this year is an outstanding achievement. Many terrific students are turned away and to be recognized in this way puts these 14 students in a very elite cohort of young scientists and scholars," said Louis Rossi, dean of UD's Graduate College. "NSF panels have an outstanding track record for choosing exceptional people for these fellowships who then go on to transform their fields. These are future leaders and innovators."
Camila Polanco, STEM education and learning research – mathematics education
Camila Polanco, a doctoral student studying human development and family sciences, is working to address social and cultural inequities in education with culturally responsive and relevant teaching practices. Specifically, she is exploring ways that teachers can support Black and Latina girls in STEM. The work builds on previous research with two UD professors: Roderick Carey, her doctoral adviser, and Laura Desimone. With Carey, assistant professor of human development and family sciences, Polanco examined the way African American high school boys' academic goals are influenced by students' perception of how they matter to their school, teachers, peers and families through the Black Boy Mattering project. With Desimone, professor and director of research in the College of Education and Human Development, Polanco explored ways professional learning partnerships across the United States can help dismantle racial, ethnic and socioeconomic disparities in education.
Article by Karen B. Roberts