CEHD Research Spotlight: Roderick L. Carey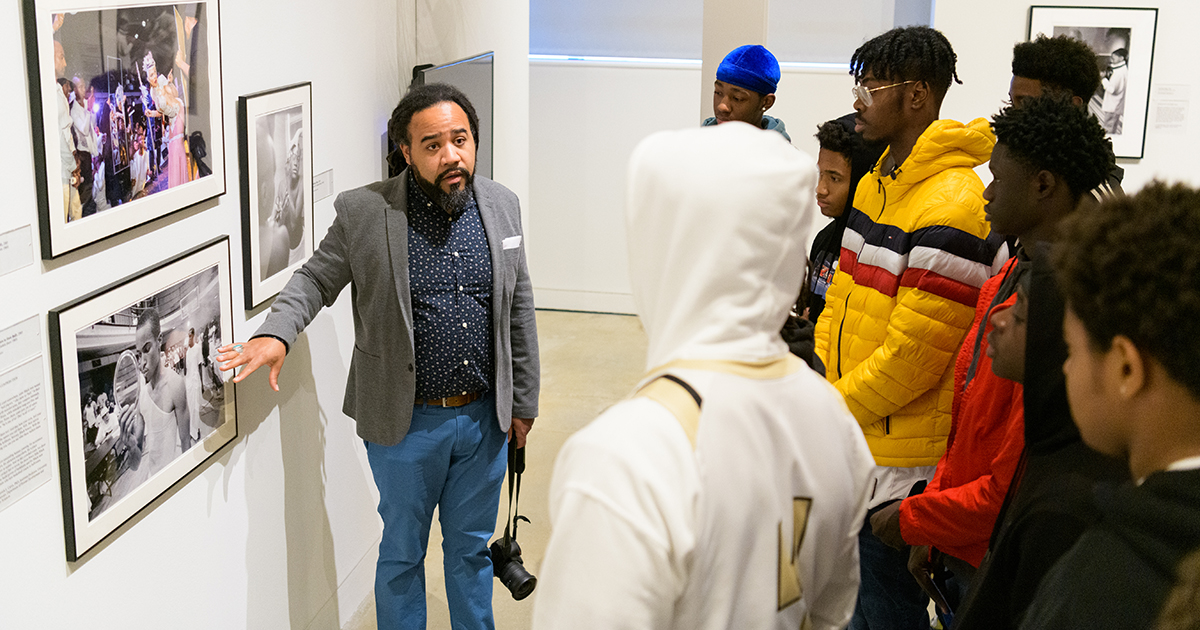 How do we create high schools where Black boys believe that they matter?
According to University of Delaware (UD) assistant professor Roderick L. Carey, the answer begins with reevaluating the relationships between educators and the Black boys that they teach or coach in light of systemically upheld racial stereotypes. Carey's work shows that Black boys often perceive that they matter little to educators, which happens when teachers overlook them or do not take their challenges seriously. For example, many Black boys in high school believe that they only partially matter to their teachers due to their athletic ability or excellence in sports. While teachers may wish these students "good luck" for an upcoming football game or offer additional academic support during the season, such supports diminish when the sports season ends. Black athletic boys also do not receive the same encouragement for their intellectual ability or other latent talents. This type of relationship is nestled within broader racialized systems that thrive on stereotypical notions. When Black boys and young men perceive that they matter only for their athletic or entertainment ability, it may pigeonhole them into seeking careers in professional sports or entertainment. Through their relationships, Carey argues, educators must affirm that Black boys and young men matter in multiple and significant ways and work against the systemic racism that leads these students to believe otherwise.
In "Black Adolescent Boys' Perceived School Mattering: From Marginalization and Selective Love to Radically Affirming Relationships," along with Carey, UD graduate student Camila Polanco and Horatio Blackman of the National Urban League share the results of a qualitative study on how a group of 17 Black boys and young men perceived their value, worth and significance based on their relationships with educators, staff and peers in their high school during the 2019-2020 academic year. After analyzing semi-structured interviews with the participants, the researchers found that the students experienced and sometimes resisted encounters that suggested that they were only marginally important. Participants' sense of marginal mattering emerged through teachers' discriminatory speech, peer microaggressions, and intraracial tensions. For example, a Black student recounted a teacher's comments about another Black friend: "But a teacher said, '. . .it's statistics, you're gonna be dead by the age of 21!' . . . That's not funny to me. That's very disrespectful." Such encounters with educators and their peers compelled the boys to believe in what Carey calls their "marginal mattering," or their relegation to the school peripheries.
In addition, this group of students perceived that they only partially mattered for their athletic prowess. For example, one participant who played football described receiving additional academic support during the football season. However, he lamented that these supports decreased or disappeared once the football season ended, suggesting that his educators only valued him for his participation in the sport. He recounted, "I feel like during football season, I had better grades because my teachers were on me more so I wouldn't fail off. But after that, I feel like they just stopped being on me, most of the time." Participants' interactions with some teachers and non-Black and Black peers suggested how their high school upheld systems of oppression, particularly anti-Black racism through educator-student and peer-to-peer relationships.
As the researchers note, developing a positive self-concept requires an adolescent to perceive their worth, value or mattering from meaningful connections within their family, schools and society. It is crucial for educators to support this group of students in developing a sense of what Carey calls "comprehensive mattering" so they can fulfill their full academic, professional and social potential. This work illustrates the effect that school relationships, especially those influenced by systemic racism, has on the self-worth of Black Boys in high school.
"Black Lives Matter (BLM) initially inspired this work a few years ago. Social psychological mattering, or inferred significance, when attuned to the racialized realities heralded by BLM movement and facing all of us, offers a powerful tool for understanding how students experience society and schools," said Carey. "Black boy mattering offers us a glimpse into the potential of school community members to foster relationships among students and educators that ensure individuals know their worth, importance and significance."
Participants in this work were part of Carey's larger Black Boys Mattering Project, a unique school-based research partnership that acts like a think-tank for high school Black boys. Carey leads a team of graduate and undergraduate student researchers working with boys in individual and group interviews, as well as creative mechanisms, such as artist renderings, to describe their present experiences and imagine mattering differently. This work is funded by UD's Partnership for Public Education, UD's Department of Human Development and Family Sciences, and the Spencer Foundation.