Congratulations to our CEHD awardees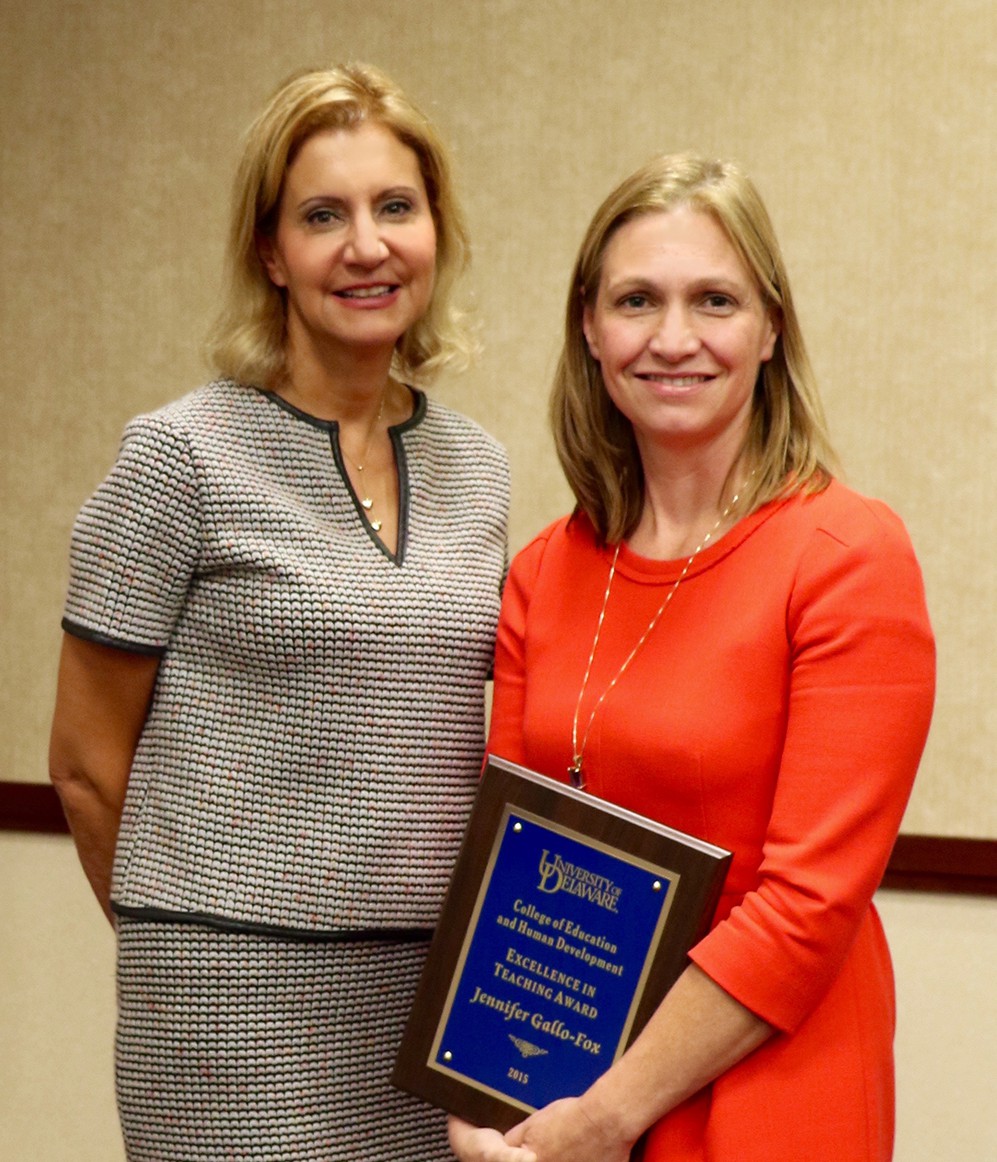 At our CEHD All-College meeting, Oct. 9, we recognized two colleagues for their dedication and service.
Jennifer Gallo-Fox was presented with the CEHD Excellence in Teaching award, and Deborah Ziomek received the Rita Fillos Award.
Excellence in Teaching
The Excellence in Teaching Award was established in 2013 to recognize and reward the most outstanding faculty instructors in CEHD, provide models and promote excellence in teaching among other CEHD faculty and highlight the College's commitment to excellence in teaching.
Jen Gallo-Fox joined HDFS faculty three years ago. In that short period of time, she has re-imagined and revised several core curriculum courses for early childhood education, introduced new pedagogical techniques in her classes, published on these methods, and initiated an enthusiastic ongoing dialogue on pedagogy at the University.
She has collaborated with colleagues  to provide professional development experiences for cooperating teachers, teacher candidates, and supervisors, obtained a CTAL grant with 2 other teacher education programs (Elizabeth Soslau, Elementary Teacher Education and Kathryn Scantlebury, Secondary Science Teacher Education) to study co-teaching. and helped implement co-teaching as a model for student teaching for ECE, ETE, and Secondary Science TE. Dr. Gallo-Fox is also the PI on a University Grant to integrate Edthena, a technology platform, that enables teachers/teacher candidates to examine videos of their teaching practice and participate in asynchronous conversations with peers, cooperating teachers, supervisors, and faculty.
Dr. Gallo-Fox also initiated the Microscopes in Classrooms [MIC] project, collaborating with Jia Song (Biology) to develop microscopes that can be constructed by early childhood classes for under $10 using easily available materials, and coordinated the Lab Preschool's Main Street project, featured at UD's Carnegie Community Celebration.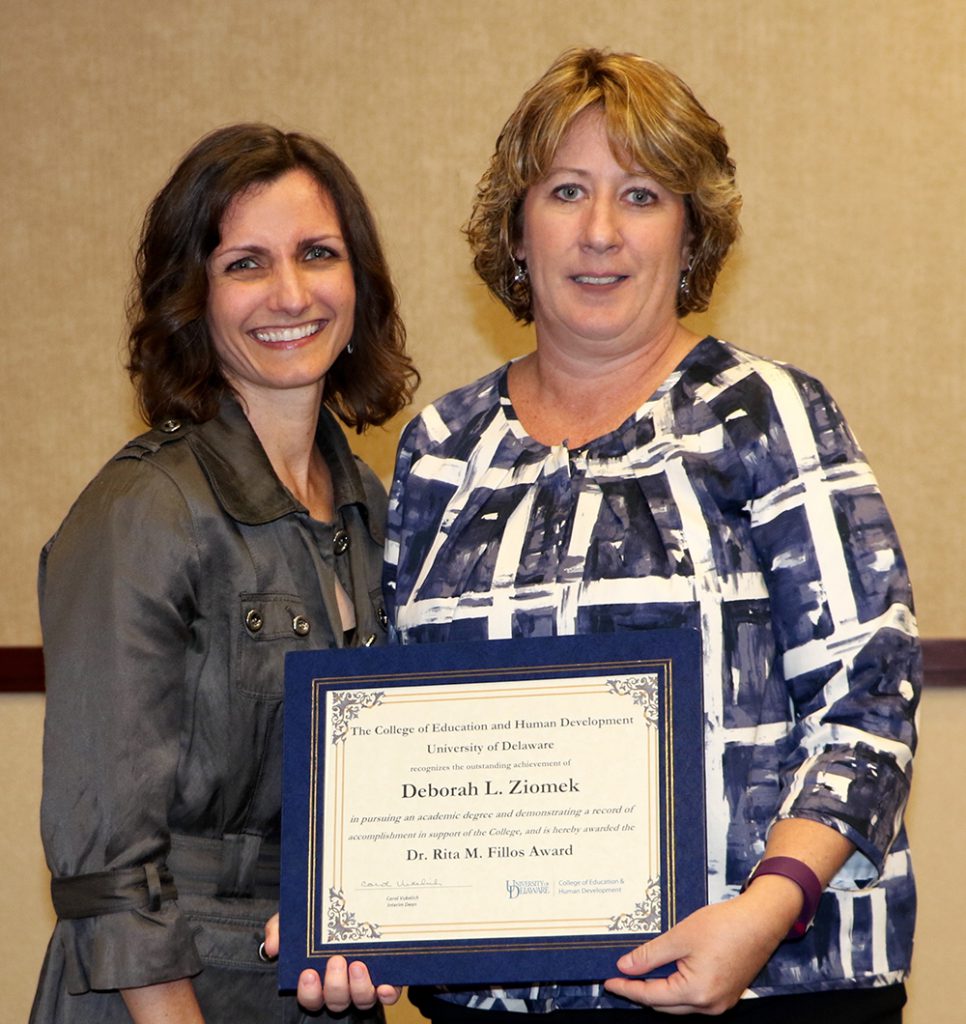 Fillos Award
The Dr. Rita Fillos award is presented to an outstanding staff member who is pursuing a degree.
Debbie Ziomek has been an administrative assistant in DCTE for the past five years and is working toward her BS in Behavior Health Science. She designs and maintains multiple databases that collect, aggregate, and disseminate the data necessary to maintain the national accreditation of the educator preparation programs at the University of Delaware. With 25 undergraduate and 11 graduate educator preparation programs in six of the seven colleges across campus, this is a major undertaking. For example, she spent countless hours creating data tables for 13 programs so that they could write their specialty professional association (SPA) reports to obtain national recognition of their programs.
Debbie has incredible initiative and goes above and beyond the call of duty. She is a problem solver and has a great sense of humor.
Congratulations to you both!
The All-College meeting included a working session to update the CEHD strategic plan, bringing it in line with UD's Delaware Will Shine strategic plan.