Education undergraduate evaluated automated essay-scoring software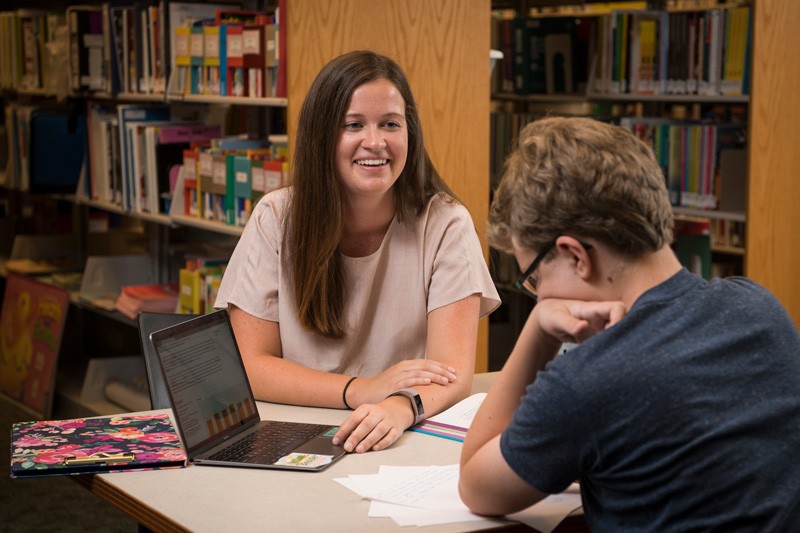 Cristina Ahrendt, majoring in elementary teacher education, has been working with a faculty member in the School of Education's literacy department to evaluate whether automated essay-scoring software positively affects writing instruction and achievement.
"When I first thought about doing research, I anticipated that it could primarily consist of doing solitary, independent work. However, I was pleasantly surprised that this project has led to a great deal of collaboration. Every day our team is brainstorming and bouncing ideas off one another, which is exciting."
Working in the summer of 2018 with Prof. Joshua Wilson, Ahrendt is helping to identify the ways in which PEG (Project Essay Grading) Writing, automated essay scoring (AES) software, may support writing instruction within the classroom and improve writing achievement at the elementary level. Prof. Wilson recently finished the first year of a two-year federally funded research project with the Red Clay Consolidated School District. That project examines Red Clay's implementation of AES software in 13 elementary schools. Teachers and students in Red Clay completed pre-test and post-test surveys, students completed pre-test and post-test essays and teachers participated in focus groups to share their perspectives about PEG.
This summer, she assisted Prof. Wilson in compiling and analyzing the data to examine whether:
(a) teachers' writing practices changed after the introduction of PEG, and if so, in what ways;
(b) teachers' attitudes toward using PEG were favorable or not and whether they identified key barriers to implementing PEG;
(c) students' attitudes and confidence toward writing improved, and in what ways; and
(d) students' writing performance improved, and in what ways.
Cristina Ahrendt is an elementary teacher education major from Pittsburgh, Pennsylvania. Her concentration is teaching English as a second language, with a minor in global studies: human rights and security.
Read more about her summer research in UDaily's 2018 Summer Scholars series