Excellence in Delaware Public Service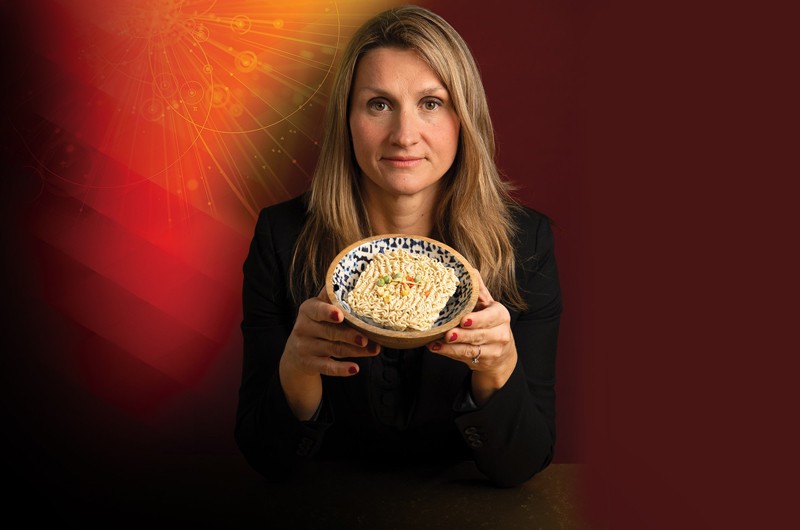 CEHD professor Allison Karpyn receives Ratledge Family Award for Delaware Public Service
May 9, 2022
On April 12, the University of Delaware (UD) Joseph R. Biden, Jr. School of Public Policy and Administration hosted the Ratledge Family Award for Delaware Public Service Celebration, an annual event that recognizes excellence in public service within the UD community.
This year's ceremony recognized 2020 and 2021 recipients of the Ratledge Family Award for Delaware Public Service, including 2020 recipient Allison Karpyn, associate professor in the College of Education and Human Development's (CEHD) Department of Human Development and Family Sciences (HDFS).
Established by the Ratledge family, the Ratledge Family Award reflects the family's long-standing commitment to both the state of Delaware and UD. The award recognizes contributions of UD faculty, staff and students who exemplify excellence in public service to the citizens of the State of Delaware.
"During her seven years at UD, Dr. Karpyn has not only demonstrated excellence in public service, but also an unwavering commitment to improving the lives of children and families in Delaware and beyond," said Gary T. Henry, dean of CEHD and professor in the School of Education and the Biden School, who introduced Karpyn at the Ratledge Ceremony.
 High-impact research and service in nutrition and food insecurity
Before joining CEHD, Karpyn worked for 12 years at the Food Trust in Philadelphia, which she grew from a small nonprofit to a nationally recognized leader in the field of nutrition and community-based outreach. The Food Trust works with neighborhoods, institutions, retailers, farmers and policymakers across the country to ensure access to nutritious food for communities and advocates for public policy solutions. While working at the Food Trust, Karpyn also contributed research in evaluation, public health and nutrition, serving as the lead investigator on several federally funded research projects.
 Her work on nutrition and ensuing access to food, especially for families experiencing food insecurity, deserves special recognition. She has published widely on topics related to related to hunger, obesity, school food, supermarket access, food insecurity and healthy corner stores, as well as strategies to develop and maintain farmer's markets in low-income areas. From 2017 through 2018, Karpyn served as a Fulbright Scholar to study food insecurity and hunger in the Bahamas.
 Her recent research on state and territorial regulations for vendors participating in the Special Supplemental Nutrition Program for Women, Infants and Children (WIC) received the 2021 High Impact Publication Award from the Healthy Eating Research Nutrition and Obesity Policy Research Network WIC Learning Collaborative. Her work offers new insight into how state and territorial regulations—such as the square footage of a grocery store or whether participants can purchase food at a pharmacy—affect families' access to healthy food.
After examining the criteria for WIC vendors across 89 U.S. states and tribal territories, she and her co-authors found that some of these regulations may restrict access to food, rather than facilitate it. Importantly, her work encourages WIC stakeholders within Delaware and across the nation to review regulatory variations, their rationales and their implications with an eye toward improving healthy food and beverage access for WIC participants.
"I have worked with Dr. Karpyn for the last four years, and over that time span, I have been extremely impressed with Dr. Karpyn's dedication to what she sees as the primary mission of her career: improving the lives of individuals in the state of Delaware and beyond," said Bahira Trask, professor and chair of HDFS. "Dr. Karpyn chose to come to HDFS at UD because of her commitment to applied research and service. HDFS exemplifies the mission of land grant universities to serve the citizens of the state through translational research and outreach. The extent to which Dr. Karpyn has been able to help support the healthy development of children, their families is a testament to her dedication to both the State of Delaware and to public service."
Service within the University of Delaware
Within UD, Karpyn is recognized as an enthusiastic supporter and leader of the University's Civic Engagement and community partnership efforts. In 2016, she supported the development of a master evaluation framework for the civic engagement effort, and she serves as an active member of the University's Community Engagement Council.
The framework she developed is the groundwork for survey data collection and includes data collection about community engagement efforts at UD from students, faculty and staff as well as community members at large—a critical facet of effective community engagement. As part of this volunteer initiative, Dr. Karpyn stewarded the collection and cleaning of more than 2,500 individual emails of UD partners across the state.
 Service within Delaware
Within Delaware, Karpyn served as a founding board member of Conscious Connections, Inc., a community gardening effort located in one of the most disadvantaged areas of Wilmington. Though her years of partnership with that group, she has worked with youth to garden four separate plots of land, procured and produced annual fruits and vegetables and supported the development and implementation of an initiative to help youth talk to peers about the dangers of tobacco use through comic book development and local street art.
As part of a recent community project, Karpyn has also worked with residents and community partners to expand the educational work on nutrition conducted at the Brandywine Zoo to health partners at Westside Family Health Care, the Delaware Food Bank and farmers markets. This project works to develop a new cooperative model to promote healthy food to children using animals as examples of healthy eaters.
Additional Ratledge Family Award recipients
In addition to Karpyn, the Ratledge Ceremony also recognized 2020 award recipients, Nancy Gregory, extension agent in the College of Agriculture and Natural Resources' (CANR) Department of Plant and Social Sciences, and Maria Pippidis, extension agent in CANR's Cooperative Extension and assistant professor in the College of Arts and Sciences' Department of Fashion and Apparel Studies.
The 2021 recipients of the Ratledge Family Award included Gerald Kaufman, director of the UD Water Resources Center in the Institute for Public Administration at the Biden School and assistant professor in the Biden School and the CANR's Department of Geography and Spatial Sciences, and Kathleen Splane, family and consumer science in CANR's Cooperative Extension.
Image caption: UD associate professor Allison Karpyn, who studies access to healthy food, holds a bowl of ramen noodles, an easily accessible, but often unhealthy dinner option.
Article by Jessica Henderson | Photo by Kathy F. Atkinson