For the Love of the Profession: Manny Caulk
Emmanuel (Manny) Caulk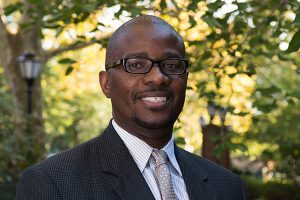 1996 Elementary Teacher Education
2002 Masters of Education
ASPIRE Alumni
Successful or struggling, urban, suburban and rural, University of Delaware alumnus Emmanuel (Manny) Caulk has worked in every type of educational setting.
"Education is my passion. I love going into a school, talking to the teachers, parents, community — finding out where their priorities lie, what their concerns are, where would they like to grow and what are the points of pride — then, by working collaboratively together, setting them on a path for success," said Caulk. 
He takes special delight in helping students who don't have the tools, the support or the expectation of success that many other children have. There's a reason for that.
"I grew up in Wilmington public housing. My friends' and my primary purpose for going to school was to socialize. We carried few school supplies and received very little guidance at home on the importance of education. Then in sixth grade I had Mr. (Robert) Glines as a teacher. For many of the boys in class — raised by single moms — he was our first male role model. He taught us to believe in ourselves. He gave us hope by instilling in us that, through education, we could accomplish our dreams."
Since obtaining his elementary teacher education degree and a master's degree in instruction from UD, Caulk has held a wide range of positions, and set an impressive number of firsts. He has served as:
The first principal of color at Penn Manor School District in Lancaster, Pennsylvania;
Newark High School principal, where he initiated the Cambridge program, a rigorous international curriculum for academically advanced students;
Assistant superintendent in East Baton Rouge Parish School System in Louisiana, where he implemented an improvement plan for Istrouma High School that became the only school in the district to be removed from the state's takeover list; and
The first African American superintendent in Maine, leading the state's largest school district.
As of Aug. 3, Caulk is the first African American superintendent of Fayette County Public Schools in Kentucky.
Most recently, Caulk served as superintendent for Portland Public Schools, Maine's largest and most diverse school district. Nearly 55 percent of the students qualify for the reduced/free lunch program. For 25 percent of students, English is a second language — the result of a large influx of immigrants from countries such as Rwanda, Somalia and the Democratic Republic of the Congo.
To address the district's challenges, Caulk built partnerships with families, businesses and a local community college. Among the initiatives he introduced were a Spanish immersion program and world languages such as Mandarin and Arabic, online courses for elective and credit recovery options, and a bridge program to better prepare rising ninth graders for the rigors of high school.
"In partnership with the local community college and the John T. Gorman Foundation, we created a pathway program to help high school seniors approaching proficiency to have a bridge to college and career," said Caulk. "Graduating seniors can take remedial classes at the community college the summer before they start. This enables them to improve their learning, become familiar with the college campus, develop a support group, and earn college credits." 
Now Caulk's ready to address new challenges in Fayette County Public Schools.
"I hope to create a world-class system of great schools, that delivers on the promise of graduating all students prepared for college, career, and life in a global society."
Fun Fact: Caulk recently married Christol Fitzgerald, a 1996 and 2000 alumni at UD. The two met in ASPIRE and remained in touch after graduation. After nearly 20 years of friendship they were married. Fitzgerald worked first as a teacher in the Christina School District, and is now an educational diagnostician with Appoquinmink School District. She expects to finish the school year in Delaware and join Caulk in Kentucky in 2016.
Read the full story  of Caulk's incredible career and how he got to be where he is today.