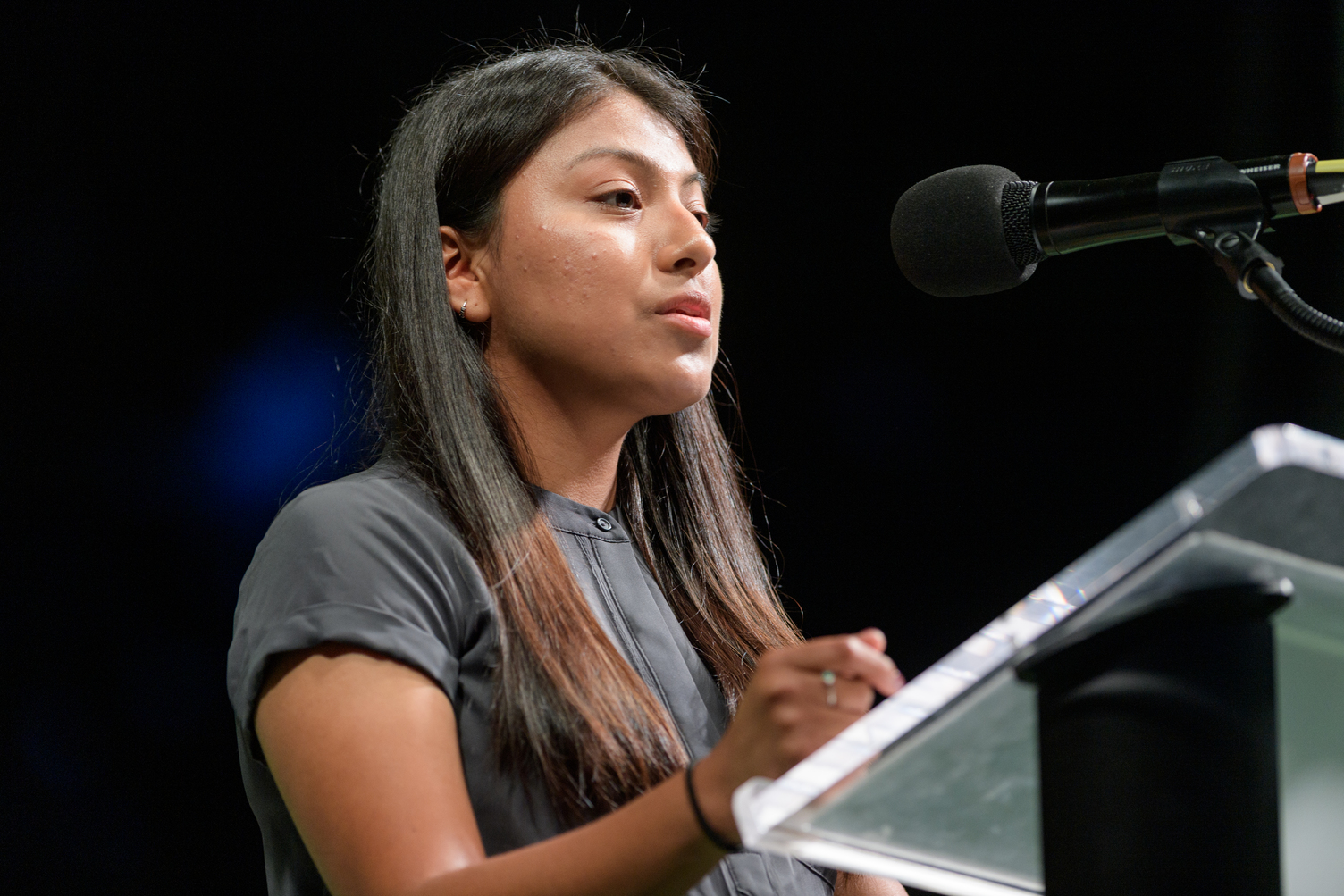 University of Delaware junior Saray Lopez on the challenges of being first-generation college student and how she succeeded in Human Resources
October 4, 2019
Leaving home to attend the University of Delaware wasn't easy for Saray Lopez, a first-generation college student and Human Relations Administration major in the College of Education and Human Development.
Born and raised in Frankford, Delaware, a rural town with more farms than traffic lights, Lopez is the third of four children with loving parents who each work two jobs to put the kids through school. Lopez adores her big family. She has fond childhood memories of playing in southern Delaware's state parks and beaches, and she cherishes the community she grew up in.
Lopez was thrilled upon hearing she had been accepted to UD. She wanted to go to college and make her family proud. But moving to campus also meant giving up that support system back home, having to explain a problem over the phone rather than over the dinner table. It's just not the same.
"I remember being in your place," Lopez said to UD's incoming class of freshman earlier this year at the annual Twilight Induction Ceremony, for which Lopez was the featured student speaker. "I was one of the dreamers: a first-generation student, the first person in my family to attend college."
When Lopez, a natural born citizen, refers to herself as a "dreamer," it's in solidarity with her undocumented peers as well as the wider Latinx community. Going to college remains out of reach for nearly two-thirds of Latinx families, according to the Department of Education. For those students who are able to enroll, just 54 percent will finish a bachelor's degree within six years.
Lopez knew that she would need a support system if she was going to succeed. So she joined the First Generation Network at UD, volunteered as a Blue Hen Ambassador, and by her sophomore year she was serving on the executive board of HOLA, UD's registered student organization for Hispanic and Latinx students. 
"HOLA is a great resource that connects Hispanic classmates and provides a supportive place where we can get involved," she said.
Lopez even co-founded a club for fellow students enrolled in the Human Relations Administration major in the Department of Human Development and Family Sciences (HDFS). 
However, the most difficult challenge Lopez faced as a first-generation college student is the expectations game: she wanted to show everyone that she has what it takes to succeed.  
"I did not want others to think that I was not fit for the positions that I was granted," she shared with the incoming class of first-year students during Twilight Induction. "I took on too much, and was afraid to ask for help." 
During her first year at UD, Lopez was confident balancing extracurriculars with the introductory course load in HDFS. The faculty were outstanding, she recalled. In a lecture hall filled with 350 students, Bahira Trask made Lopez feel like she was speaking directly to her. She attended Rob Palkovitz's office hours so regularly the two were on a first-name basis. 
By sophomore year, however, Lopez had stretched her schedule to the breaking point, enrolling in 18 credits while still serving in multiple student leadership positions. When she failed a test, Lopez knew that something had to change.
"I wanted to be 100 percent at everything, even though I knew it was impossible," she said. "It wasn't the end of the world, but at the time it felt like it."
If Lopez got perfect scores on the next two exams, then she'd have passed the class with a B-minus, "but that's not something I would have been happy with."
Instead, Lopez audited the course and is taking it again this semester. "I needed to try it again and go for the grade I wanted."
In her closing remarks during Twilight Induction, Lopez urged her classmates to ask for help and to find a support system so they can make the most out of their college experience. 
"Esfuerzate, y se valiente," she said. "Be brave, be courageous."