Improving Teacher Diversity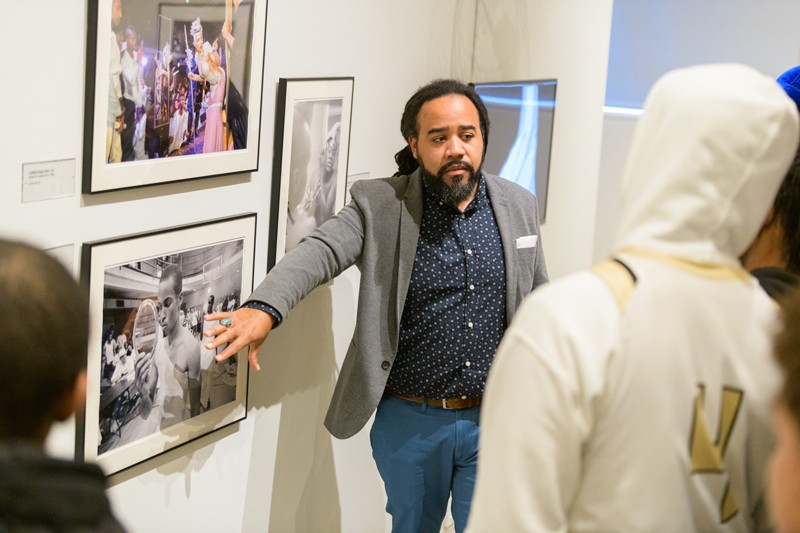 Black and Latino boys reveal what they need in male teachers of color
May 1, 2020
There's a critical shortage of male teachers of color in the United States. Black and Latino men make up less than five percent of the teaching workforce, even as the student population in school districts across the country are growing more racially and ethnically diverse. They are underrepresented in teacher training programs and, once in the field, are more likely to leave the profession than their peers, a disparity that Roderick Carey, assistant professor in the Department of Human Development and Family Sciences at the University of Delaware, attributes to the daunting and unrealistic expectations these men encounter in the classroom.
"People often say that schools need more male teachers of color. What we find in the literature is that even when these men get recruited to teach, they're not being allowed to teach what matters to them and their most high-need students," says Carey.
Instead, male teachers of color are hired to perform a stereotype of paternal masculinity that school administrators believe will help to "save" or "fix" black and Latino boys. They're expected to intimidate as disciplinarians and enforce the rules, but also show compassion as mentors and surrogate fathers. Moreover, studies have found that Latino men must enact disciplinary practices while being overworked for their Spanish language abilities.
While many policy makers and practitioners hold assumptions about the role male teachers of color should play in the lives of black and Latino boys, little research has focused on what the boys have to say.
Drawing on research and interviews collected during a year of observation in an urban high school for aspecial issue on male teachers of color for the academic journal Race Ethnicity and Education, Carey builds a theoretical framework around what he calls "missing misters" that seeks to grapple with what black and Latino boys "miss" by having none or few black or Latino male teachers, and what types of opportunities these boys "miss out on" when schools base hiring decisions on faulty assumptions about race and gender.
Missing Misters
When Roderick Carey embarked on a year of observational research at a charter school, he was primarily interested in the ways black and Latino boys imagined their futures. How did they envision their lives after high school? Did they plan on going to college? And, what influenced them to think this way?
But as Carey embedded himself into the culture of this urban high school, he noticed something else: there were nearly no male teachers of color and only two who taught core academic classes, Mr. Webber (a pseudonym), who was black and Mr. Valencia (another pseudonym), who was white, but from Spain.
While students viewed Mr. Webber as black like them, they did not see Mr. Valencia as Latino, though he was considered as such by teachers and administrators due mainly to his Spanish-language abilities. His students mostly originated from countries in Central America. Although they shared a common language, the lack of a shared cultural heritage created a "well-defined division" between students and teacher. As one student from Carey's study, Perdido, said, "You're Hispanic, when you come from Central America. Central America was conquered by Spain. Spain is European so therefore you're white."
Boys like Perdido, Carey said, "yearned for opportunities to see themselves precisely represented in the teaching force — with teachers from El Salvador, Guatemala or Mexico — and it bothered participants that the school assumed Mr. Valencia could fill that void just by being a Spanish-speaker."
Coordinating his research project with teachers like Mr. Webber, who taught history, Carey joined in activities, school events, field trips and various other kinds of learning activities, and students soon grew accustomed to his presence in the hallways and classrooms.
Carey earned the trust of several black and Latino boys who agreed to be interviewed for the research project. Carey found that the racist and gendered stereotypes that school administrators often project onto male teachers of color do not align with the expectations or desires of black and Latino boys.
"Listening to the boys and how they talk about Mr. Webber, it's clear that this is the type of man they want as a teacher, and it's not a disciplinarian," says Carey. "It's not someone to give them 'tough love,' which is something that a lot of male teachers of color are recruited for. They really just want a guide — someone who has experienced maneuvering the worlds that they themselves are being tasked to maneuver without very many examples."
Students often noted how Mr. Webber infused history lessons with knowledge about systemic oppression of marginalized communities, thereby helping them to resist discrimination in their own lives. As one student, Samuel, said, "He just talks about how if you don't read, then you're falling into the system's design. They want you to not read."
Mr. Webber also refused to perform the paternal stereotypes that are too often expected of male teachers of color. Rather than be the disciplinarian, Mr. Webber actively sought to buffer and protect at-risk boys from punitive measures that he thought would hinder their academic success.
"What the boys missed," said Carey, "or hoped for, was more of that sensitive caring figure from an adult that looked like them and had similar experiences. It was more about seeing themselves reflected in their teacher, someone who loved them enough to create lessons and experiences that centered on black and brown people. It was less about missing the stern masculine presence upon which schools seem to rely so heavily."