Jansen Recognized for Rough Draft Math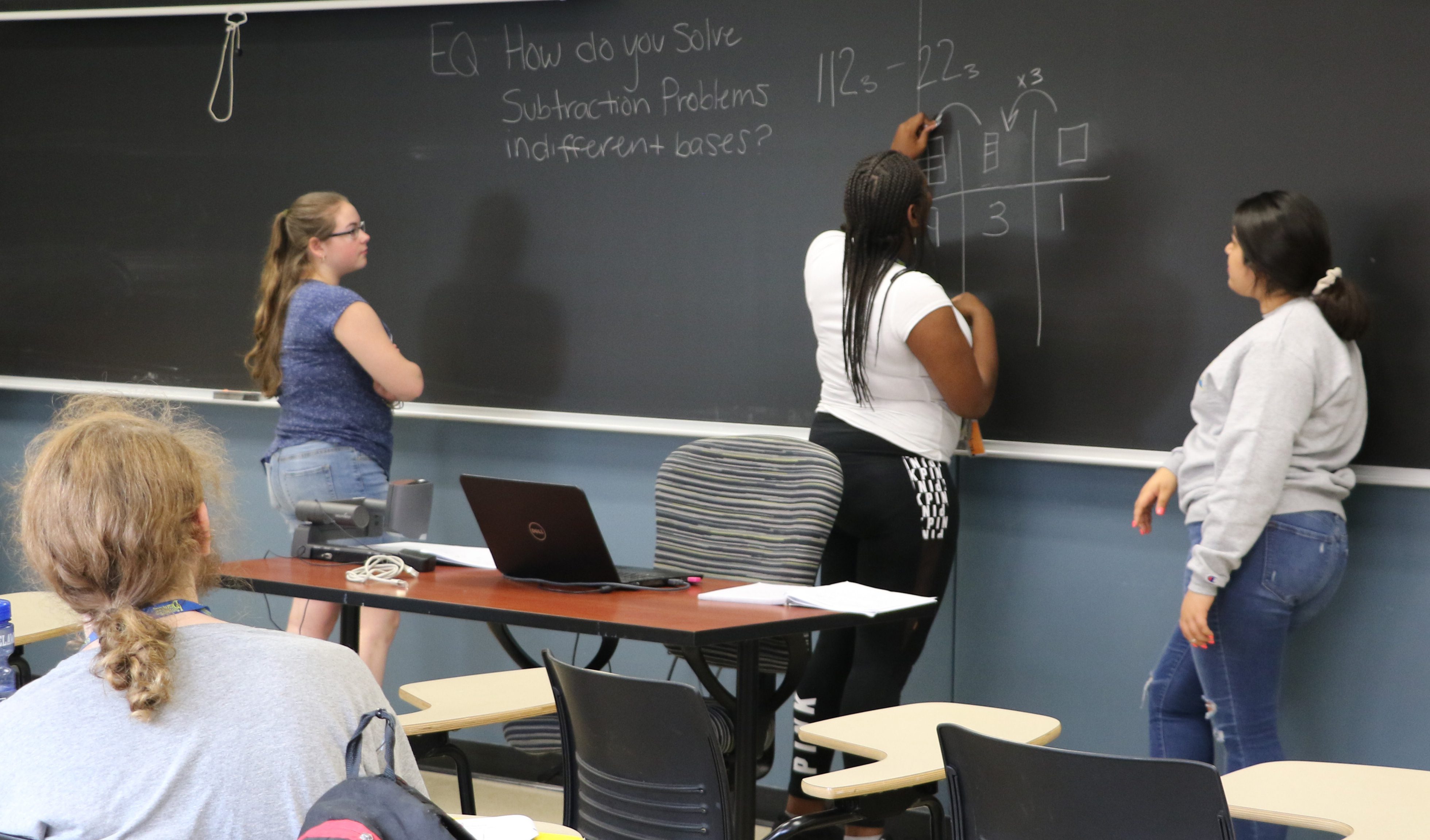 One of the most anxiety-provoking moments in math class is being called upon to offer the solution to a newly learned concept. There are so many places where your thinking can go askew and–even if you're mainly correct in your calculation–your answer is WRONG.
Amanda Jansen, SOE professor has been working with math teachers to develop a new technique for teaching math called "Rough Draft." Much like the process used in learning to write, students are encouraged to share their initial perspective on how they would solve the problem, evaluate each other's strategies and revise their work to achieve the correct answer. Discussion allows students to make sense of difficult ideas through talk, motivates students to take an active role in their learning, supports teachers in understanding student thinking, and shifts the authority from the teacher (or textbook) to the classroom community. "If students wait to share their ideas until they've already figured things out, talking in class becomes a performance or a type of show-and-tell," said Jansen. "However, teachers aren't interested in this type of performance. They want their students to continue to learn through class discussions. For the students, labeling the ideas as 'drafts' feels more free and helps them begin the conversation with one another. Then, these ideas can be built upon." For this work, Jansen was awarded the National Council of Teachers of Mathematics (NCTM) Linking Research to Practice Outstanding Publication Award.  Her article, "Rough Draft Talk in Mathematics Classrooms," was co-written with Delaware middle school teachers Brandy Cooper, Milford Middle School, Stefanie Vascellaro, Meredith Middle School, and Phil Wandless, Smyrna Middle School.  It was published in the 2016-17 volume of Mathematics Teaching in Middle School.
To learn more, visit UDaily "Linking mathematics research to classroom practice." 
To promote rough draft talk, teachers and students to engage five key classroom activities.
Establish norms: Teachers let students know that the purpose of talking in math class is to continue their learning. It's appropriate for ideas to be unfinished, in-progress, or in need of revision.
Select a task: Teachers select an open-ended math task for students to complete, one that can be solved using more than one solution strategy to encourage discussion.
Share rough draft thinking: After working independently on the problem, students then discuss their in-progress thinking. Rather than correcting their classmates' ideas, students attempt to understand their classmates' perspectives.
Revise: Drawing from the rough draft sharing, students return to their work-in-progress and revise their thinking for the next "draft."
Share revisions: Students share their revised thinking, noting how their thinking changed and what elements of the class discussion inspired those changes.