Training to Make A Positive Impact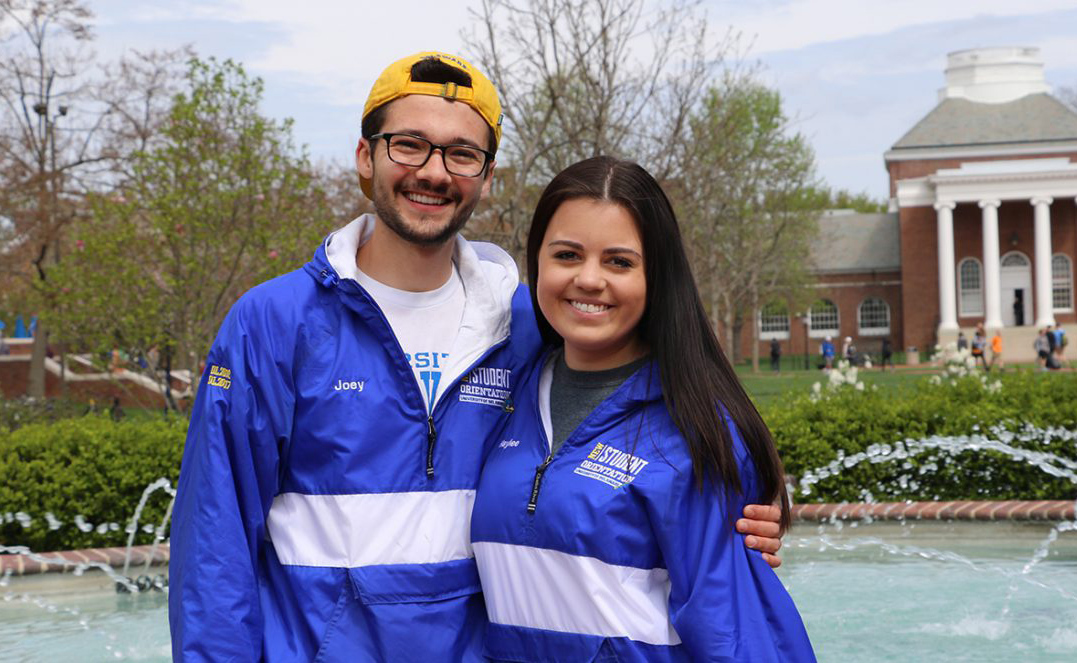 The idea of transitioning into university life can be overwhelming. Excitement and anticipation are accompanied by worries and questions. The University of Delaware's New Student Orientation (NSO) program, part of Division of Student Life, is designed to help new students and their families feel more comfortable as they take their first step on their eventful academic journey.
NSO Orientation Leaders (OLs) play a pivotal role in helping students transition to campus life. Therefore, the selection process is understandably rigorous.
"I like to hire students who are genuine and authentic, and willing to tell their own personal UD story. Of course, I also look for students who are spirited and passionate about UD, hard workers, and team players," said Brittany Acosta, NSO Program Coordinator. "I do my best to create the most complimentary team of 20 individual students as possible for the OL team each year."
It is an accomplishment to become an OL. Students must advance through the four-step interview process that begins with 160-200 applicants.
The 2017 team includes two human services majors—Haylee Hidalgo and Joey Gallo. Hidalgo will serve as a first time orientation leader. Gallo, in his second year, was selected to serve as one of the two student coordinators to assist Acosta in the selection and supervision of the OL team.
Orientation Leader – Haylee Hidalgo
"I don't want our new students to feel like they are alone, lost, or cannot find their place, here at UD," said Hidalgo. "I felt this exact way my first year and hope I can help minimize those worries the best I can as their mentor this summer."
She served as a Welcome Ambassador for the Class of 2020's 1743 Welcome Days last summer.
"This position gave me the leadership exposure I was craving and that boost of confidence I needed to apply for this position."
Acosta describes Hidalgo as a perfect fit for the position, who was "a positive and calm force throughout the interview process. She has strong UD experiences and we just knew she would be great at forming relationships with her teammates and students during NSO."
As a sophomore, Hidalgo completed 50 hours of assistantship with Prompts and Play, an organization in Wilmington. There she worked hands on with special needs children and had a practical counseling experience. Her dream is to be a counselor to those in need to help heal any traumas and create a positive outlook for the future.
"I feel confident that my classes, as a Human Services major, have created a sense of comfort in my abilities to be a great Orientation Leader for our future new students!"
Student Coordinator – Joey Gallo
As a student coordinator, Gallo prepares lessons for the weekly leadership-development class that trains OLs, preparing them to assist the incoming class of 2021.
Acosta recognizes Gallo for his hard work, but also for being thoughtful, creative, and organized. "Joey is a great role model. As an OL last year, he was always on the go, identifying what his students or their families wanted during the NSO day. He is passionate and fun and will make a wonderful peer supervisor for this year's team."
Gallo is also a dining ambassador and involved in student life mentoring. He wants to attend graduate school and sees himself working at a University.
"Whether that be teaching as a professor or supporting students in a different capacity, I hope to be able to make a difference in students' lives one day. With what I gained from orientation, I hope to inspire students to live happy and healthy lifestyles."
Gallo describes his OL experience as revolutionary. "The orientation office introduced me to ideas that I was never exposed to before. Overall, they instilled a sense of confidence that I will carry with me throughout the rest of my life," shared Gallo. "It is something that I will always be thankful for and hope to also instill in the 2017 orientation leaders."
---
In 2018, Gallo participated in UD's alternative spring break (UDaB), traveling to Florida to help residents clean up debris following Hurricane Irma. Gallo served as site leader, along with Shailja Gangrade, Katie Freitag and Jack Coyle.