Learning To Be "Bookworms"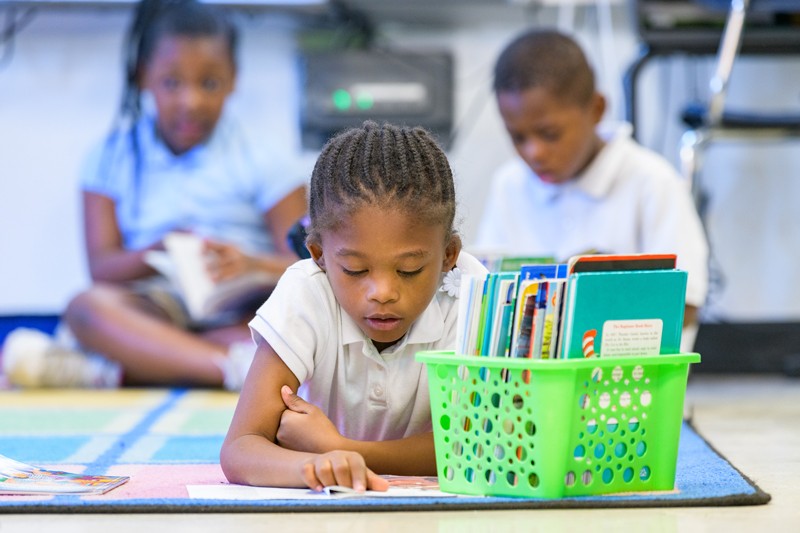 Innovative reading and writing program developed at UD impressing teachers
August 8, 2019
Not that long ago, some of Delaware's lowest-performing schools could be found in the neighboring school districts of Seaford and Laurel, both of which serve rural, high-poverty communities in the southwestern corner of the state.
In 2014, Seaford ranked last in English Language Arts (ELA) and Math, according to assessments by the Delaware Department of Education. Laurel wasn't faring much better, with 32 percent of students proficient in ELA and 20 percent proficient in Math.
Five years later, it's a different story. Seaford and Laurel are thriving and are among the districts showing the most impressive gains in proficiency. Last year, Laurel improved more than any other district in the state, and Seaford now outperforms the state average in reading and writing.
Closing the achievement gap between school districts depends on several factors, many of which are beyond the control of teachers and administrators. But in Seaford, improvements in ELA proficiency within elementary schools coincided with the implementation of Bookworms, an open access curriculum of lesson plans and resources for K-5 teachers published online by the nonprofit Open Up Resources. Seaford's success prompted Laurel to change their curriculum as well, and district leaders are already calling the implementation a success.
Developed by Sharon Walpole, professor in the School of Education at the University of Delaware, and her late colleague, Michael McKenna of the University of Virginia, Bookworms has grown from a single pilot project in Staunton, Virginia, to a national model for innovative, outcomes-driven ELA curriculum currently used by over 4,700 teachers in 11 states, according to data provided by Open Up Resources.
Bookworms uses "real books," as Walpole likes to say, instead of anthologies, which are ubiquitous in retail curricula offered by commercial publishers. When "real books" are incorporated into group or paired reading activities, the results are students who are challenged to read more words per day, and those daily-met challenges ultimately produce stronger readers.
"If we want to change achievement then we have to change instruction. There's no other route to it," said Walpole in a keynote address before the first of two Bookworms Summer Institutes hosted by UD's Professional Development Center for Educators. Nearly 170 educators from Delaware, Maryland, Pennsylvania and Georgia attended the three-day event in June, which was organized and presented with assistance from local teachers who have become experts in the curriculum.
It's not enough for schools to teach reading and writing, Walpole suggested. They must provide a curriculum and learning environment for students to develop a love for reading. "A bookworm for us is somebody who reads all the time, and that's what we want children in elementary schools to be able to do," Walpole said.