Louis L. Redding Diversity Awards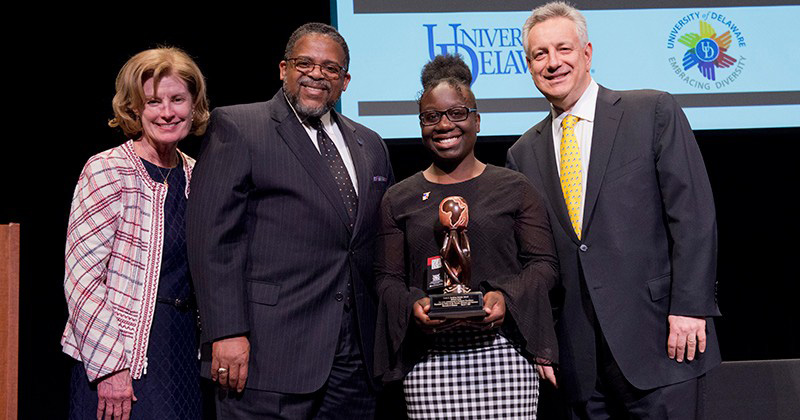 Melissa Lewis honored for commitment to diversity and inclusion on campus
May 7, 2020
Oyenike Olabisi, assistant professor in the University of Delaware Department of Biological Sciences, and Melissa Lewis, a UD undergraduate student, were each honored with the 2020 Louis L. Redding Diversity Award for their exceptional commitment to diversity and inclusion on campus.
The awards were presented by UD President Dennis Assanis, Provost Robin Morgan and Interim Vice Provost for Diversity and Inclusion Michael Vaughan at the annual Louis L. Redding Lecture held this spring in Mitchell Hall. (The event was held before the coronavirus (COVID-19) pandemic prompted the need for social distancing and the shift to remote learning and working.) The award was created to recognize individuals or teams whose efforts have promoted, enhanced or implemented diversity programs or activities that have resulted in a significant change in the campus climate and composition within the University community.
Melissa Lewis, a junior majoring in elementary teacher education, received the award for her promotion of racial and cultural awareness regarding issues of diversity and social justice in the classroom and extracurricular activities. As President of ASPIRE, a student-centered program committed to educators from diverse backgrounds, Lewis works directly with underrepresented members of the UD community, helping them become confident and successful teachers. She holds this position while balancing an 18-credit course load, a 20-hour work schedule and other academic and extracurricular commitments.
Lewis also holds a Spanish minor and is conducting research on English-language learners whose first language is Spanish, a consistently underrepresented and understudied population.
"Ms. Lewis is a remarkably thoughtful, goal-oriented student," said Stephanie Del Tufo, assistant professor in the College of Education and Human Development, in her nomination letter. "In my EDUC210 class, she excelled, consistently demonstrating an ability to think and communicate analytical questions regarding the integration of racial and cultural awareness in the classroom. These questions are a natural extension of her focus on inclusive learning."