Nadisha Downs student researcher/advocate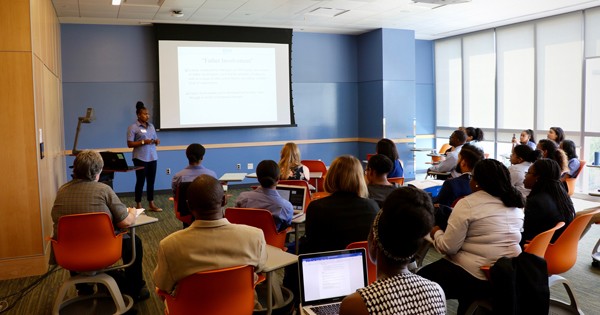 Nadisha Downs, a Human Services major, collaborated with HDFS faculty, Rob Palkovitz, to study the involvement of young African American fathers in the lives of their children.
Nadisha Downs grew up in Wilmington and is intimately aware of the struggles faced by its residents.
Determined to help improve her community, she has selflessly served as a mentor, counselor and advocate. When she decided to attend the University of Delaware, becoming a Human Services major, concentrating in administration in family policy and a minor in urban education, was a natural fit.
Her ability to juggle classwork, jobs, a fellowship, and active research is a testament to her fierce dedication and perseverance. Downs has organized youth programs to empower young girls at the Walnut Street YMCA and mentored first generation freshmen students through a program called Each One Reach One. She is a McNair Scholar at UD, where her undergraduate research focuses on father involvement of young African-American men living in urban areas, specifically Wilmington.
Now a senior, Downs' list of accolades is long. She was selected as a UD Summer Research All-Star and was chosen as one of seven undergraduates accepted in the CAMRA Fellows Program, through the University of Pennsylvania, where she created a short film highlighting the life experiences and struggles of youth at risk.
Learn more about Downs' achievements in her 2017 student profile on UDaily.