Online Graduate Education Program Ranked Top in Nation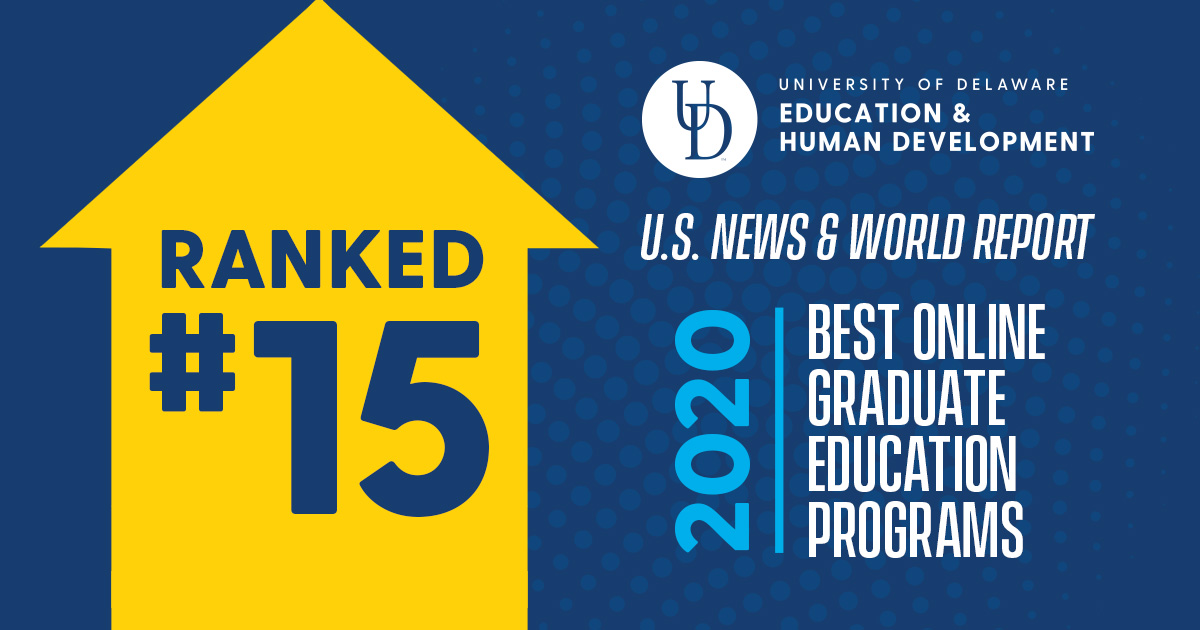 USNWR ranks UD 15th among national colleges and universities
January 14, 2020
U.S. News & World Report announced on Tuesday, Jan. 14, 2020, that the University of Delaware's College of Education and Human Development (CEHD) online master's programs is recognized as one of the nation's Best Online Graduate Education programs.
CEHD's program is ranked 15th out of 309 colleges and universities surveyed, placing it in the top five percent in the nation. This marks the third year in a row that rankings have improved, moving up 31 spots from last year.
Gary Henry, dean of the College of Education and Human Development, attributes the college's success to the faculty's commitment to providing students with an exceptional education.
"The faculty who oversee these programs and the faculty and researchers who teach the courses are at the forefront of their fields," said Henry. "They are committed to developing engaging and effective programs grounded in solid evidence. In each online program, we provide our students with knowledge and skills necessary to effect positive change in their classrooms, schools and beyond."
Thriving Online
CEHD launched its first online masters in 2013 and has since expanded to four M.Ed. programs in Literacy, Teacher Leadership, Educational Technology, and Exceptional Children and Youth. Course assignments incorporate multiple digital platforms, allowing students to engage with faculty and classmates as they develop successful strategies for their classroom or professional position.
According to Rachel Karchmer-Klein, associate professor in the School of Education (SOE), developing successful digital classrooms is a complex and demanding task that requires evidence-based research and proper training in order to implement meaningful learning experiences.
"Merely connecting students to activities using digital tools does not result in effective online education," said Karchmer-Klein, who taught her first online course in 2003 and has published extensively on how university faculty utilize new technologies in online course design. As faculty coordinator for the online degree programs in Teacher Leadership and Literacy, she continues to design hybrid and fully online courses that deliver engaging and innovative learning experiences.
"The online coursework and teacher-training helped me gain a deeper perspective and grow as a teacher leader," said Erica Richard, a K-4 math specialist at East Dover Elementary who earned an M.Ed. in Teacher Leadership in 2017. "Even though the program was entirely online, collaborative assignments and message boards created a sense of community, allowing me to expand my professional network with colleagues from other schools and districts."
The online graduate programs are growing with approximately 100 students enrolled and an average class size of 18 students. The graduation rate is 94 percent. They are popular among teachers who would like to advance their education but need to maintain a flexible schedule in order to accommodate the needs of students, parents and colleagues.
Erika Komp graduated from UD in 2016 with a bachelor's degree in Elementary Teacher Education and immediately found employment as a special education teacher in Christina School District. She is currently enrolled in the online M.Ed. in Exceptional Children and Youth, coordinated by SOE professor Kristen Ritchey, who provided leadership in the program design and development.
"My commitments as a teacher would have prevented me from attending classes on campus at certain times every week," said Komp. "I'm learning and perfecting my teaching at the same time. It's not like it's added to my workload. If I need to create a lesson plan for homework, I base it on a class assignment for the week."
The online Literacy and Exceptional Youth programs were developed with partial support from the UD Provost's Initiative for Excellence and Innovation in E-Learning.
"We are very proud of this recognition from U.S. News & World Report," said Chrystalla Mouza, Distinguished Professor of Teacher Education and director of the SOE. "Our dedicated faculty have worked diligently to design high-quality online experiences grounded in sound instructional design principles aligned with how people learn."
Hybrid and on-campus programs provide additional flexibility
The Exceptional Children and Youth program and the Educational Technology program, coordinated by Fred Hofstetter, professor in the SOE, also offer courses both online and in-person.
"One of the appealing aspects of UD's Educational Technology program is the project-based curriculum, which allows for substantial hands-on learning," said Racine Boyle, current student in the program. "The program is also quite flexible. I really appreciated being able to choose classes in face-to-face, online or hybrid formats."
CEHD also offers on-campus graduate programs where students can earn doctoral or master's degrees in one of 12 programs offered by the SOE or the Department of Human Development and Family Sciences. The College's on-campus graduate education program is currently ranked 45th by U.S. News & World Report, placing it in the top 15 percent of programs evaluated.
To learn more about graduate degrees available through the College of Education and Human Development, attend an on-campus Graduate Open House on Wed., Jan. 29 from 5:00 to 6:30 p.m.
For more information on rankings by US News & World Report, click here.