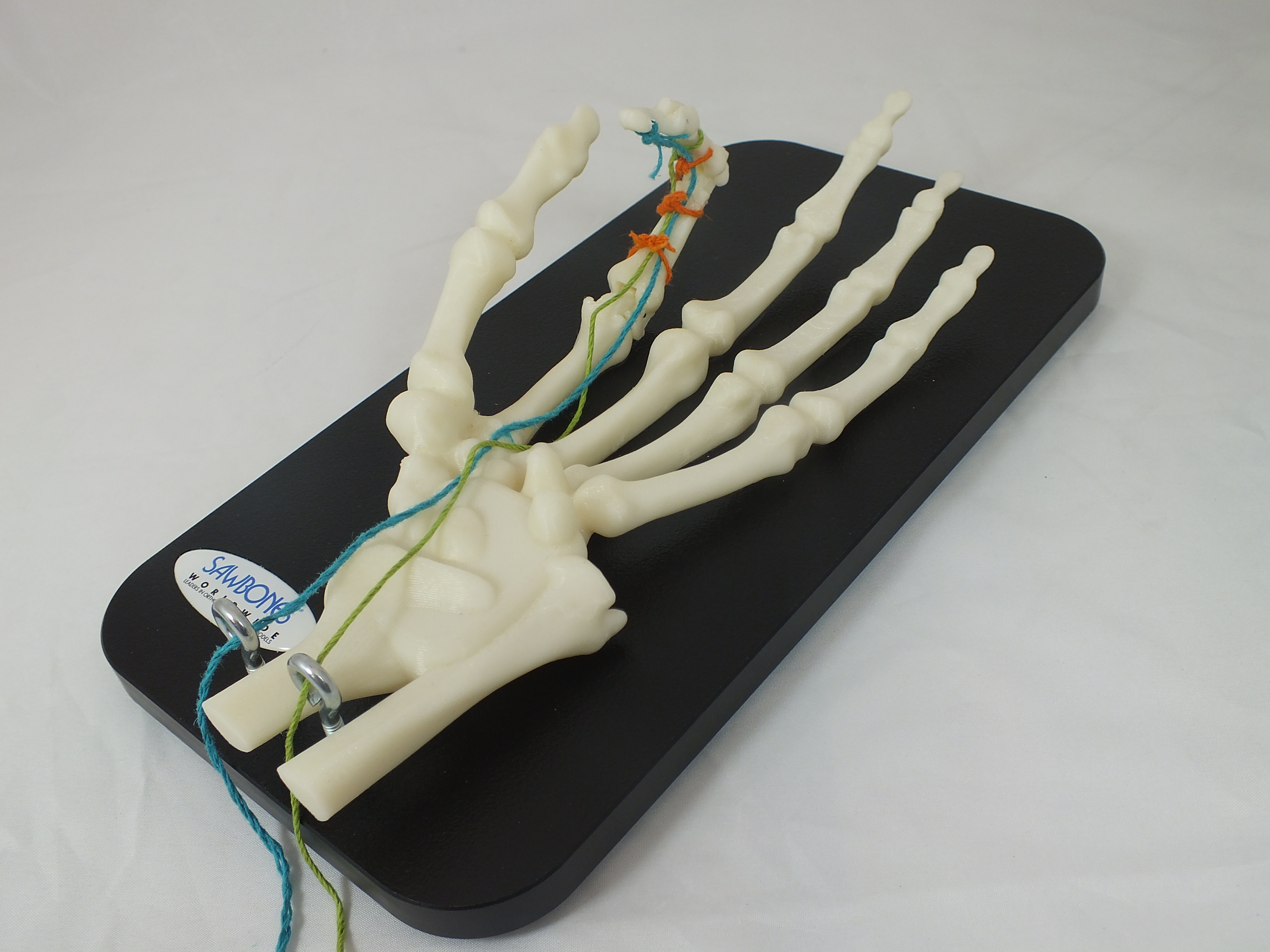 UD faculty and students in the CEHD & COE collaborate to create STEM classroom kits
An interdisciplinary team of students and faculty from University of Delaware's College of Education and Human Development and College of Engineering have developed unique curriculum kits, called Orthopaedics in Action (OIA), that teach science, mathematics and engineering concepts through medical experiments.
OIA was created to bridge the gap between engineering and biomedical sciences in high school and middle school classrooms, and to increase student exposure to science, technology, engineering and mathematics (STEM) curriculum across the country.
Five different kits offer interactive hands-on lessons for students to immerse themselves in orthopedics and engineering concepts such as geometry, forces and motions, structural design and trigonometry.  Each kit is aligned with Next Generation Science Standards and includes anatomical models and biomechanical testing stations, lesson plans, handouts and video tutorials.
Kits include:
A broken tibia for students to repair using an orthopedic implant called an external fixator, or "ex-fix;"
A knee for diagnostic testing;
Spinal x-rays to examine scoliosis;
A hand that demonstrates pulley systems; and
A torn Achilles tendon to practice surgical suturing techniques.
"The OIA project was originally developed as part of the Perry Initiative, a non-profit organization that inspires young women to be leaders in orthopedic surgery and engineering," said Jenni Buckley, assistant professor of mechanical engineering and co-founder of The Perry Initiative. "As the students' anatomical model prototypes were being finalized, I thought it would be beneficial to bring in an education professional to see how OIA could be implemented in classrooms."
Amy Trauth-Nare, associate director for science education at UD's Professional Development Center for Educators, was able to provide that expertise. She helped Buckley develop learning objectives, create pre- and post-surveys to measure effectiveness, craft precise language for instructional material, and identify the amount of digestible information for students.
OIA in the classroom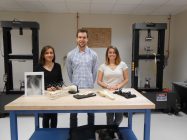 In January, Trauth-Nare and COE senior design students Manuela Restrepo and Emily Pavilonis (see photo to right) traveled to high schools in Delaware and Maryland to observe students utilizing the OIA kits.
Graduate students from UD's social psychology program assisted the team in developing the evaluations. To measure the effectiveness of the lesson plans, teachers were given pre and post surveys that were used to refine the curriculum.
"Challenging students in inquiry lessons like those created by OIA gives them an chance to use creativity and logic to find the best solution instead of the correct one. Students in my anatomy and physiology classes have continued to refer back to the modules both in content and in process," said Wendy Pasmore, a STEM lead teacher at Elkton (Maryland) High School.
"It is our hope that these kits will impact the field and generate statistically significant results," said Ryan Locke (center of photo above). "These kits help teachers, as well as students meet the new NGSS standards, overall helping the education of our society."
Presenting the products
The OIA kits were introduced at the 2015 American Association of Orthopaedic Surgeons annual meeting and the 2015 Ruth Jackson Orthopaedic Society meeting, the preeminent professional organization for women orthopedic surgeons. The goal is to have OIA kits in 100 classrooms by the end of 2015.
"There is absolutely nothing like this out there," said Buckley. "We couldn't have done this without a partnership with our education colleagues. OIA is a great example of 'Integrated STEM,' not just because the curriculum is integrated but also because the entire process of creating this curriculum was so interdisciplinary."
Read the full article on UDAILY