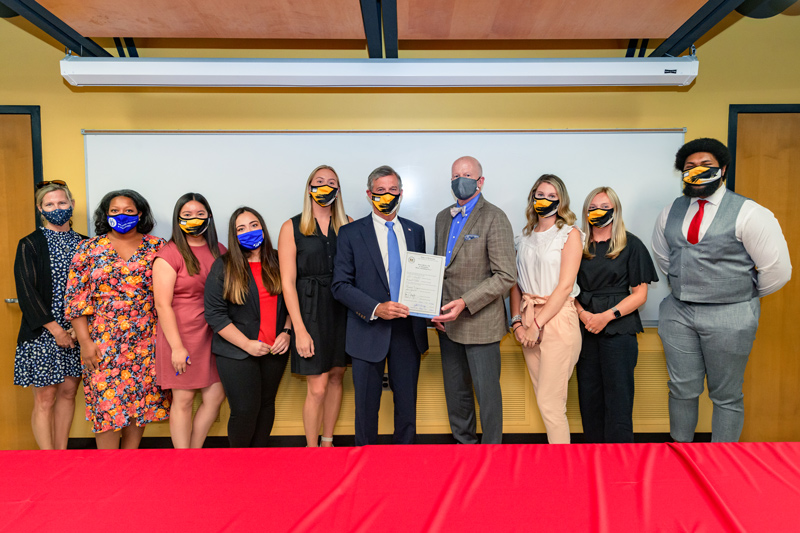 UD's Teacher Residency program provides a yearlong teaching experience for teacher candidates, supporting high-need Delaware schools
September 14, 2021
In light of the national shortage of teachers in kindergarten through 12th grade, many universities with teacher preparation programs are seeking creative ways to encourage more undergraduates to pursue teaching as a career. The University of Delaware, already recognized for its high-quality teacher preparation programs, remains at the forefront of this effort with a new opportunity for teacher preparation students: the UD Teacher Residency program.
In partnership with high-needs school districts in Delaware, the UD Teacher Residency program, housed in the College of Education and Human Development (CEHD), allows elementary teacher education (ETE) and early childhood education (ECE) students to pursue a yearlong, paid residency in a Delaware elementary school in place of a traditional student teaching experience. In June, the inaugural group of UD residents completed the program with such success that all 18 students were offered teaching positions upon graduation.
On Aug. 9, six of these residents participated in Red Clay Consolidated School Districts' Teacher Signing Day, where Gov. John Carney officially signed HB 178: An Act to Amend Title 14 of the Delaware Code Relating to Yearlong Teacher Residency Programs. The bill requires the Delaware Department of Education to fund residency programs and create guidelines for awarding the funds to institutes of higher education and local education agencies.
"Residencies are an innovative way to allow pre-service students to learn their craft prior to becoming the teacher of record in their own classroom, and it looks like residencies are here to stay," said Jamie Bailey, director of the UD Teacher Residency program and assistant director of UD's Delaware Center for Teacher Education (DCTE). "During the signing event, the resident graduates accepted their school teaching placements, met the administration, and learned their grade level assignment and school building. It was a very exciting event for the residents and an accomplishment for the teacher residency program."
Supporting high-needs schools in Delaware
For the 2020-2021 academic year, the Delaware Department of Education (DDOE) offered a grant to school districts and higher education institutions to partner together in order to implement a plan for yearlong residency programs.
These programs would prepare undergraduate teacher candidates for careers in high-needs schools or high-need subject areas, as defined by the Every Student Succeeds Act (ESSA). This act defines a high-needs school as a public elementary or secondary school that exhibits two characteristics: it resides in an area in which the percentage of students from families with incomes below the poverty line is 30% or more, and it resides in the bottom 10% of schools in a state, as measured by state-administered performance assessments.
UD's Teacher Residency program placed six residents in Red Clay Consolidated School District, following a pilot with two residents in the district during the 2019-2020 academic year. They also placed four residents in Milford School District, six in Indian River School District, and two at Providence Creek Academy.
"Teacher preparation programs are not producing enough teachers to meet the needs for teachers in the U.S. and, particularly, throughout Delaware," said Gary T. Henry, dean of CEHD and professor in the School of Education and the Joseph R. Biden Jr. School of Public Policy and Administration. "Having teachers who are prepared with a full year in a high-needs school exposes them to the full range of experiences that allows them to enter their own classrooms with the skills and confidence to develop the relationships and climate that supports student learning and wellbeing."
Stacie Zdrojewski is an education associate in the Red Clay Consolidated School District.
"Over the past two years, Red Clay has benefitted from this residency program because we have hired 8 University of Delaware interns who were ready to take on the challenges of having their own classroom from day one of their first year of teaching," Zdrojewski said. "These teachers became a part of the Red Clay community as soon as they began their residency. They know our curriculum, procedures, and our students, and are ready to soar as novice educators. We are proud to be recipients of UD residents."
The UD program also focuses on two high-needs subject areas, special education and English as a Second Language (ESL).
"Data shows that teachers are not staying in the profession for a variety of reasons such as lack of support, lack of resources, feeling unprepared to teach, and low pay," Bailey said. "Our residency program allows the students to get the support they need prior to becoming the teacher of record in their own classroom. Since they receive a stipend, residents do not have to work during their residency year and instead can focus all their time and effort into lesson planning and learning about their students, community and district. As part of the program, residents are also required to remain teaching in Delaware for at least three years after their residency. This helps address teacher shortages."
What makes the UD program unique?
The UD Teacher Residency program offers UD students an enriched field experience prior to graduation and differs significantly from a traditional student teaching experience. At UD, a typical student teaching experience includes two twelve-week placements, and students could be placed in different schools, districts, and grade levels for each placement. While there are benefits to this model, students do not experience a full academic year in one classroom.
In contrast, the UD Teacher Residency program offers UD teacher candidates a yearlong experience within one classroom. Students gradually accept teaching responsibilities as they work closely with a UD coach and an experienced mentor teacher, who provide feedback and formal evaluations throughout the year. Residents also receive observations and feedback from district personnel and DCTE staff.
In addition, the UD residents are invited to participate in the school's biweekly professional learning communities, where they can improve their craft through additional training, observations, and support from other teachers in the school.
"These professional learning communities review topics that are pertinent to high-needs placements and help support residents by providing training and workshops," said Bailey. "These topics may include culturally responsive teaching practices, handling poverty and trauma in the classroom, and creating engaging differentiated lessons to enhance student learning."
Residents can also receive up to a $25,000 stipend during the residency. This stipend often helps students offset the costs of their college education, allowing them to focus fully on student teaching rather than pursuing other part-time jobs.
What's next?
Given the success of this year, DCTE is working to expand the program to include a middle school option.
In addition to elementary education, UD students in the ETE program can pursue a second certification area in one of the middle school subject areas, special education or ESL. Students pursuing a middle school certification typically spend one semester of student teaching in a middle school and one semester in an elementary school. DCTE is currently piloting a middle school residency program with a two-placement residency.
"If our middle school pilot is successful, this would open the door to many other potential resident options in the future," Bailey said. "My hope is that we can create a middle school residency program that is a year long but that also certifies residents in special education. When middle school residents complete the program, they would be dual-certified in special education and their middle school subject area. This would make the resident extremely marketable and would help districts fill teacher vacancies."
For more information about the teacher residency program, visit DCTE's webpage: www.ocs.udel.edu/teacher-residency-program/
Article by Jessica Henderson | Photo by Evan Krape