Student Spotlight: Rob Muniz
Student Spotlight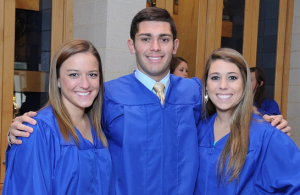 CEHD is honored to have such amazing student leaders studying to pursue professions in education, human development, and family services.
Student Spotlight is a way for us to recognize and celebrate CEHD students. If you would like to nominate a student, please email CEHDSocial@udel.edu. Be sure to like CEHD on Facebook!
Rob Muniz
HDFS 4+1 Graduate Student
Rob graduates in June 2015 and will be working with the NJ Department of Health. He will receive a license in healthcare administration and hopes to pursue a career in adult care, assisted living, and nursing home administration.
Why did you choose your major? 
"My grandparents were a big part of raising me and I want to give back to that community. I've always enjoyed working with the elderly.
Describe a rewarding/influential experience:  
"When I go back to the nursing home I used to worked at and they remember me, even the ones with dementia. There was this resident named Mary.  We would play checkers, and she would use her bingo money to buy me something with the Yankees on it for my birthday. After eight years of visits, we had a rewarding bond. It felt like I had another grandmother."
What would be your ideal job? 
"I'd like oversee an intergenerational environment of continued care where residences start in adult care, eventually move into assisted living and then to the nursing home care so they do not have to leave, they can stay in one area.  I'd also like to create a niche community nursing home with cultural competence."
Advice for incoming undergraduate students:
 
"Make sure you explore your options, there is no need to jump into a major. Pursue something you want to do for the rest of your life."
Advice for incoming graduate students:
"Be serious from the beginning. Work hard and stay focused. If I didn't start out as strong as I did, I would have fallen behind."
Class recommendation:
Development of Human Relationships with Dr. Bahira Sherif Trask
Advice to freshman self:
  
"Don't worry, you'll hand that paper in on time."
Favorite quote:
"Human beings are works in progress that mistakenly think they're finished." – Dan Gilbert