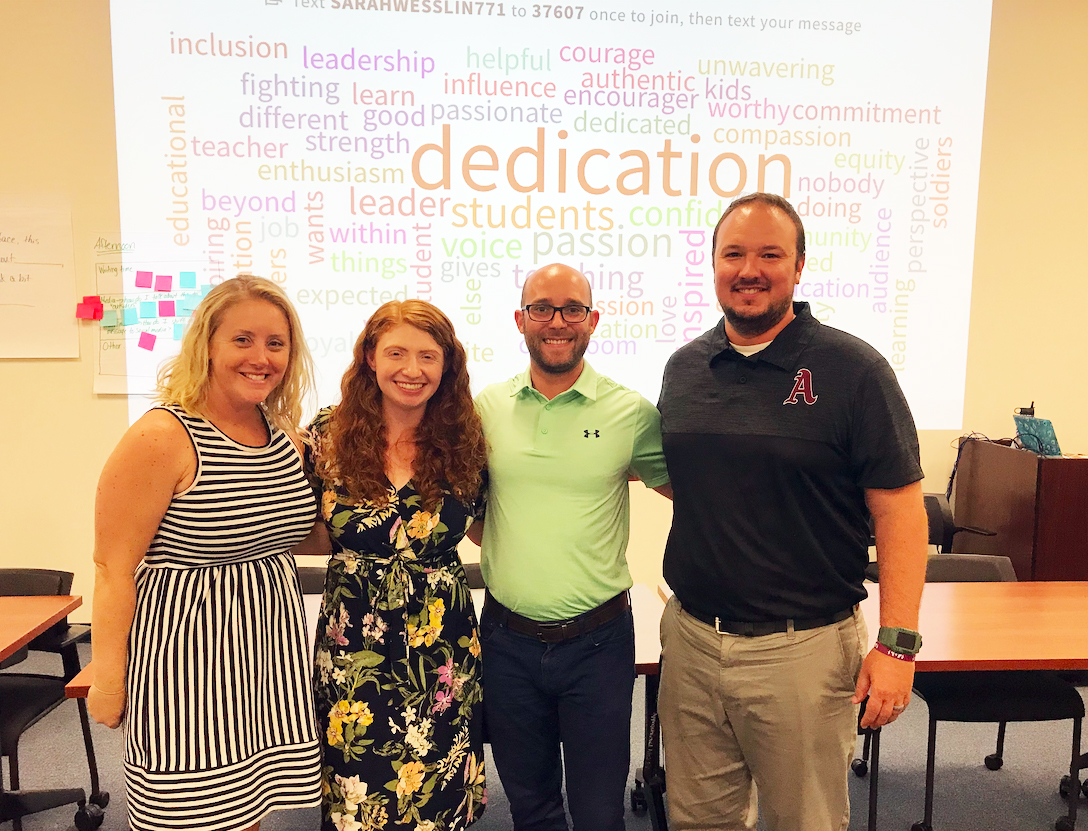 Delaware school districts nominate CEHD alumni for the state teacher of the year
July 24, 2019
Three alumni and one graduate student from the University of Delaware's College of Education and Human Development have been named as finalists for the 2020 State Teacher of the Year Award.
The following teachers will represent their districts in the competition's final round, with the winner named at a ceremony in October:
Rebecca Vitelli, Colwyck Center, Colonial District.
Erica Richard, East Dover Elementary, Capital District.
Brennan Clarke, Shields Elementary, Cape Henlopen District.
Stephen Landry, Appoquinimink High School, Appoquinimink District.
Selected from among the 9,000 teachers serving in public and charter schools statewide, each candidate was nominated because of their ability to inspire students with a love of learning, demonstration of professional traits and devotion to teaching. Already leaders in their schools, each now has assumed a role representing educators in their districts.
At age 25, Rebecca Vitelli is the youngest teacher to ever receive the district-wide teaching award, being nominated her first year of eligibility for her commitment and enthusiasm as a pre-kindergarten teacher in Colonial School District. An alumni of the School of Education's innovative 4+1 program, Vitelli graduated from UD with a bachelor's degree in early childhood education in 2014 and just two years later earned a master's of education in exceptional children and youth with a concentration in autism and severe disabilities.
Erica Richard, a K-4 math specialist at East Dover Elementary, earned her online masters of education in teacher leadership from UD in 2017. Richard's family relocated to Delaware shortly after she graduated from Kodiak High School in Alaska. She completed her undergraduate work at Delaware Community and Technical College and Wilmington University, but chose the University of Delaware for the flexibility of its online masters in education.
"The online masters allowed me to balance work, school and home life," said Richard. "The program helped me to grow as a teacher leader, and collaborative assignments, message boards and sense of community allowed me to meet colleagues from other schools and districts."
At the awards ceremony for Cape Henlopen School District, Brennan Clarke was lauded by his colleagues as a tireless advocate for children. One of only six English Language Learner (ELL) teachers in the district, Clarke's position allows him to cultivate meaningful relationships with the area's Latino communities by organizing school events and engaging in community outreach programs.
"Part of what earned me the recognition as the District Teacher of the Year was my understanding of inequity and the efforts I've taken over the past four years to fight for more equitable outcomes for my ESL students and to advocate for their rights," Clarke said in an interview with the Southern Maryland Chronicle, and he's determined "to improve the outcomes and lives of Latino youth and their families in Sussex County and throughout Delaware as a whole."
Clarke is currently pursuing a master's degree in teaching English as a second language at UD and plans to graduate in Spring 2020. His enrollment in the degree program has been made possible in part by the Thomas R. Purnell and Edna Preston Purnell Scholarship, which supports masters and doctoral level graduate students who are residents of Sussex County.
Before becoming a high school math teacher, Stephen Landry was in the early stages of a career in the banking industry. Feeling unfulfilled, he soon found that his true calling was in teaching. In an interview with the Middletown Transcript, Landry explained that it wasn't easy changing careers to pursue his passion, but every minute spent in the classroom helping the kids has made it all worthwhile.
"Each student comes into a classroom with their own story and their own thoughts. My job is to find out what those are so I can relate to them, to help them relate to math. I love seeing them in the hallways and making personal connections. I believe those personal connections are what make learning and the classroom fun," said Landry, who earned his bachelor's degree in human services from UD in 2006. "I try to make math as real as I can. When students don't see value in what they are doing, they think it is just a process. I try to bring in real world examples and show them how math can be seen in everyday life. That is how you get them hooked. I also try to keep them moving around and collaborating with their peers as much as possible. This helps foster mathematical discussion."
Article by Jordan Howell