Three Blue Hens Honored For Green Efforts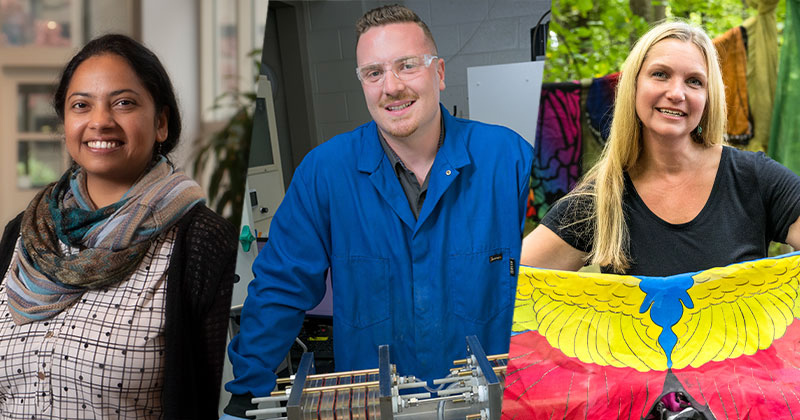 UD Office of Sustainability recognizes student, staff and faculty member
September 21, 2023
Three Blue Hens with strong commitments to the health of Planet Earth have won 2023 Green Hen Awards, selected by the University of Delaware's Office of Sustainability.
Each winner represents a different segment of the UD community — students, staff and faculty — with work covering everything from crafting policy that promotes sustainable practices to teaching the next generation about the value of a healthy environment and the importance of integrating sustainability into education.
This is the third round of the Green Hen Awards, which were created to recognize those who exhibit an exceptional effort and/or make a significant contribution to sustainability initiatives at UD or in the wider Delaware community, according to Chris Williams, associate provost and academic director for the Office of Sustainability.
​​"All of these Blue Hens have demonstrated the kind of initiative and commitment to sustainability and environmental stewardship that not only strengthens the UD community but also models some of the creative ways we all can contribute to a better future for our planet and all of its inhabitants," Williams said.
The 2023 winners include Bradie Crandall, a doctoral student in the Department of Chemical and Biomolecular Engineering; Katie Pollock, master teacher at the Lab School; and Haritha Malladi, assistant professor in the Department of Civil and Environmental Engineering.
Each award comes with a $500 prize.
Bradie Crandall, is a Delaware Environmental Institute (DENIN) Environmental Fellow who also chairs the Graduate Student Government's Sustainability Committee. He has written or co-sponsored 20 pieces of sustainability-related legislation that was passed by GSG and has served on UD's Sustainability Council.
In addition, Crandall led a team of eight graduate students in an effort to coordinate with the City of Newark's Conservation Advisory Commission to reduce bird window strikes and has consulted with UD Dining Services to improve student access to sustainable food options. He is a Climate Fellow with the Gerard J. Mangone Climate Change Science and Policy Hub.
Under the guidance of his adviser, Feng Jiao, Robert Grasselli Development Professor of Chemical and Biomolecular Engineering, Crandall's research focuses on finding ways to convert carbon dioxide emissions into valuable chemicals and food using renewable electricity.
Katie Pollock, a master teacher at the Lab School since 2005, developed and leads the Nature/Outdoor Preschool program there. Her work with young children and student teachers helps all of them develop an interest in and commitment to environmental stewardship.
As a certified naturalist, with a certificate in Nature-Based Education in Early Childhood, she works with 18 children between the ages of 3 and 5 years old in her outdoor classroom and surrounding areas. She also coaches Wilmington Head Start teachers in how to bring nature-based play to their urban programs and works with the Delaware Institute for Excellence in Early Childhood's Let's Go Outside program, which works to provide equitable access to outdoor spaces for children and educators.
Pollock earned her bachelor's degree at UD and her master's degree at Wilmington University.
Haritha Malladi, assistant professor of civil and environmental engineering and director of First-Year Engineering at UD, teaches concepts of sustainability to more than 700 undergraduates every year. She added this focus on sustainability with active projects where students calculate the sustainability effects of paper bags vs. plastic bags, for example, and examine the impact of other consumer behaviors.
This work raises awareness among many students and informs their future studies and practices, while also contributing to national goals to integrate sustainability into education.
Malladi earned her bachelor's degree at the National Institute of Technology in Warangal, India, and her master's and doctorate degrees at North Carolina State University. Her doctoral work focused on using warm-mix asphalt additives to improve the performance of recycled asphalt pavements. Her research interests include foundational engineering education, sustainability in engineering curriculum and green technologies in infrastructure.
Previous Green Hen Award winners include:
Student Award of Excellence — Kristie Arlotta (2022), Thomas Benson (2021)
Staff Award of Excellence — None (2022), Larry Armstrong (2021)
Faculty Award of Excellence — Steven Hegedus (2022), Angelia Seyfferth (2021)
Read this article on UDaily.
Article by Beth Miller. Photos by Kathy F. Atkinson and Evan Krape. Photo illustration by Jeffrey Chase.