ETE Prepared Grad to Teach in Germany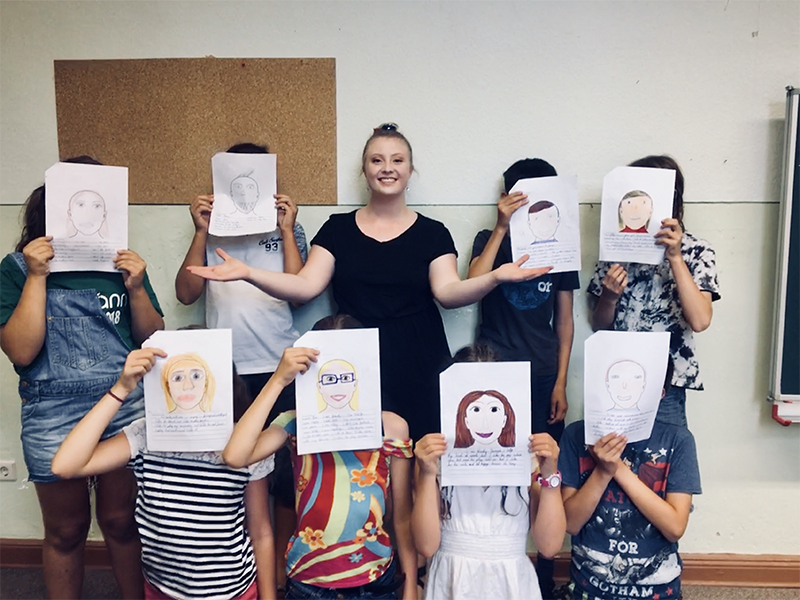 Erika Komp, 2018 graduate of the University of Delaware, had always wanted to visit Germany, where her family originated. When she learned of a summer position teaching English as a foreign language at the Wust Summer School for English Language, Theater, and Music in Germany, she was quick to apply.
"The selection process was extremely competitive this year; there were twice as many applicants as there were open positions," said Nigel Caplan, Associate professor at UD's English Language Institute and Director of Studies for the Sommerschule Wust. "Erika was the only UD undergraduate chosen to participate."
Komp had received an Associate in Arts degree and a bachelor of science in elementary teacher education with a concentration in special education.  (See 2017 UDaily article on Komp)
"Even though teaching English as a foreign language was not my major as an undergraduate, I believed it had properly prepared me for this endeavor," said Komp. "I was excited to teach something new."
The summer school takes place in a repurposed 18th century manor, where more than 300 children and adults came to learn literature, theater, music, art and English. Komp taught several sessions to the younger participants.
"The job was only a month, but it was a very intense four weeks working around the clock," Komp reported. She taught two English classes in the morning, lead an art class and a STEM challenge workshop in the afternoon.
She was confident that her experiences at the University of Delaware had given her the tools for success. "I was able to use the classroom management skills I learned as well as the countless lessons and ideas I designed in undergrad to help create lessons for my students," Komp stated.
Outside the classroom, Komp was able to experience the best of what Germany has to offer. She toured the bucolic countryside; visited quaintly-adorned churches and windmills; and even got to meet her extended family. "This whole trip is very big deal for me, and my life has come full circle by being able to participate here in Wust."
Upon returning to the United States, Komp began preparing for her first full-time teaching job. She will be working as a special education teacher at Southern Elementary and plans to return to UD in the fall pursuing a master's in Exceptional Children and Youth.