UD student spent senior year helping at-risk youths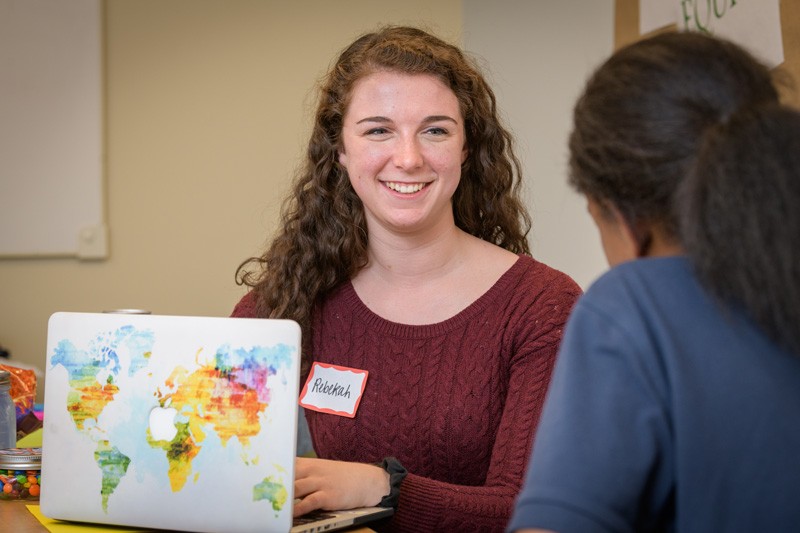 On the first day of her 400-hour internship with the School Offense Diversion Program (SoDP) at the Delaware Center for Justice, University of Delaware senior Rebekah Schrier got a cup of coffee with her site supervisor, Cindy McDaniel, before setting off to Family Court in downtown Wilmington. There, they met with middle and high school students who were facing criminal charges due to a school discipline experience.
As a Human Services major, Schrier had longed to learn about the courts, especially juvenile courts. She wanted to help at-risk youth, but she wasn't sure exactly how.
During her first year at UD, she joined buildOn at UD, a nonprofit and student organization that aims "to break the cycle of poverty, illiteracy and low expectations through service and education," Schrier said.
As an honors student at UD, Schrier was motivated to take on challenges that would enhance her personal growth. During her sophomore year, Schrier signed up for the honors section of Survey in Child and Family Services with Norma Gaines-Hanks, associate professor in the Department of Human Development and Family Sciences. For the duration of that class, Schrier devoted her studies to a research project on the educational opportunities and challenges facing young children in the foster care system.
That class, she recalls, motivated her to pursue a variety of internships, ultimately leading to SoDP and the confusing, controversial and often heartbreaking world of the juvenile justice system.
Read the full article on UDaily.