McNair Scholar explores developing culturally-sensitive lessons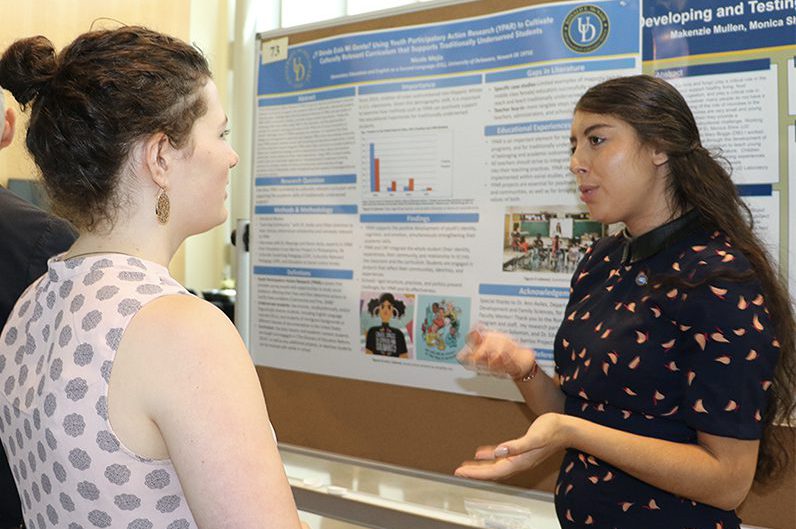 Nicole Mejia first heard of the McNair Scholars Program from a University of Delaware classmate. She'd told Mejia about the opportunities it opened up by preparing her for graduate school.
A nationally-sponsored program, the Ronald E. McNair Post Baccalaureate Achievement Program (the McNair Scholars Program) offers effective preparation for doctoral study to low-income, first-generation college students and students from underrepresented groups. UD's Undergraduate Research Program coordinate this program on campus.
Mejia, majoring in elementary teacher education with a concentration in Teaching English as a Second Language, had considered getting a graduate degree, but like many students, wasn't certain what it would entail.
"Early on in my UD career, I realized I wanted to get as much education as possible," she said. "My parents immigrated to this country so my sisters and I could have a better future, and I knew that this was the best way to do it."
The McNair Scholar's Program aims to give information, resources, mentorship, connections, and experience to help students apply for—and getting into—a Ph.D. program.
"After learning about everything the students get to experience, I was motivated to apply to the program," Mejia said.
Soon after, she was accepted into the Summer 2018 research experience. Learning how to conduct and present research is a critical skill for Ph.D. candidates.
"The goal of my research is to show how teachers can use Youth Participatory Active Research (YPAR) to create a culturally relevant curriculum to serve their underserved students," Mejia said. She wishes to close the inequities in the classroom by developing culturally-sensitive lessons that support the positive development of youth's identity, cognition and emotion, while strengthening their academic skills.
Through weekly meetings with her McNair faculty advisor, Ann Aviles, and Jillian Solomon, a fellow McNair scholar, she began investigating YPAR initiatives, learning how to better incorporate the experiences of diverse students into learning activities.
Mejia then compiled her findings and presented her work at UD's Undergraduate Research & Service Scholar Celebratory Symposium in August. Her poster was titled: Donde Esta Mi Gente? Using Youth Participatory Action Research to Cultivate Culturally Relevant Curriculum that Supports Traditionally Underserved Students.
The experience has had a lasting effect. Mejia wishes to continue presenting her findings throughout her senior year and later in her own classroom.
"As a future educator and Elementary Education major, I want to find ways to incorporate aspects of YPAR into my future teaching and reach underserved children the best I can."
Mejia has actively embraced the many opportunities available through UD. See profiles on her internship experience in Santa Fe, her Community Engagement service project and her receipt of the Hearst Scholarship.