UD Supports Delaware Teachers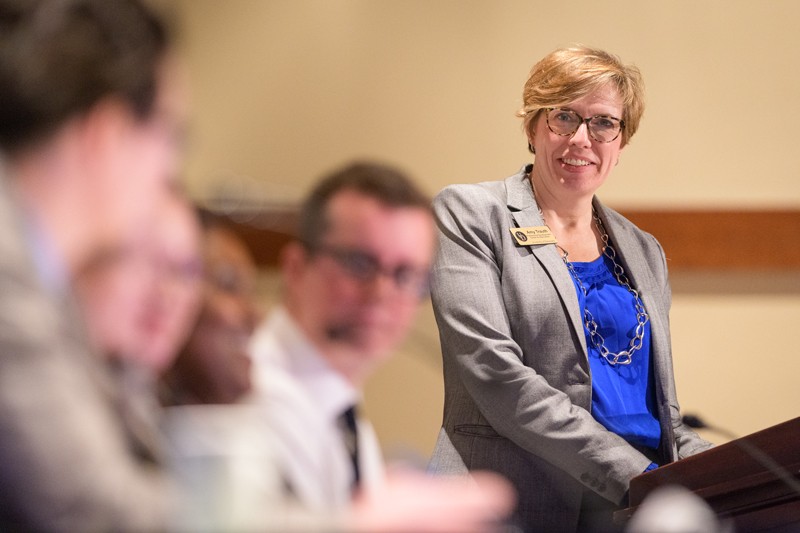 CEHD hosts campus conference on teacher residency programs in Delaware
February 26, 2020
"Teaching is a marathon."
This is how Celeste Bunting, director of personnel for the Indian River School District in Sussex County and a University of Delaware graduate, described the work of educators teaching children in preschool through 12th grade (P-12). As with running, the job can be grueling and thankless. And, as with running, participants risk hitting the proverbial wall. Preparation and passion notwithstanding, burnout is an all-too common reality. The problem has been exacerbated in recent years, thanks to a national teacher shortage.
But hope may be on the horizon.
On Feb. 18, UD hosted an all-day conference exploring one potential solution to these shortages: teacher residency programs (TRP). A relatively new clinical training system for educators, TRPs provide future teachers with valuable hands-on experience while offering schools a pipeline of incoming instructors.
"I am so proud to be working with school districts across the state to help crack the difficult problem of teacher labor markets in 2020," said Gary Henry, dean of UD's College of Education and Human Development. "People just don't understand how difficult it is, in this day and age, compared to when most of us were in school. And I think we've got a lot of good work going on."
The conference, which was planned over a three-month period, began with breakfast in UD's Clayton Hall, during which more than 50 P-12 educators, administrators and stakeholders from across the state were able to network and, in some cases, commiserate.
"Since we have positions that are unfilled, we have teachers giving up their planning periods to cover those classes," said Susan Harrison, supervisor of instruction for the Seaford School District in Sussex County. "So now they can't prepare for instruction. This creates a layer of extra work and tension for people who already have a pretty stressful job."
Others discussed out-of-the-box plans to mitigate these stressors, including recruiting teachers from overseas, expanding online learning options or, when all else fails, cutting entire courses from the curriculum.
"We no longer have a middle school Spanish program, because we just can't find a teacher," said Jason Peel, director of human resources and school climate at the Milford School District in Kent and Sussex Counties. "They get killed their first year, barely hang on, and don't stay."
But, according to Amy Trauth, senior associate director at UD's Professional Development Center for Educators, there may be another way: a revamp of the traditional teacher-training system.
"Our existing model is not always effective for helping future educators understand context," said Trauth, who serves as associate director of secondary science, technology, engineering and math (STEM) education in UD's College of Arts and Sciences. She co-organized the conference along with Krissy Najera, director of UD's Center for Teacher Education, and Chrystalla Mouza, director of UD's School of Education. "My biggest hope is that people will leave here seeing a viable pathway to change, and that they'll see how committed UD is to doing our part."