CEHD Student Shelby Dorr Travels to Nicaragua with UDaB
Shelby Dorr was among 16 students selected to participate in University of Delaware's Alternative Break (UDaB) to Nicaragua over 2015 Winter Session. This trip represents UD's first international UDaB opportunity.
The group partnered with Bridges to Community, a non-profit organization that creates projects to improve the lives of impoverished families in Nicaragua. During the ten-day trip, the students built homes for the most needy of residents in El Portillo Nicaragua.
Dorr, a student in the College of Education and Human Development, found the trip beneficial, even though it did not have a specific education component. "I was able to interact with upwards of 50 children each day. It was a very family based community, full of kids who were always ready for a game of soccer."
International experiences allow students to learn from those around them by experiencing their daily lives. "We lived in the actual community, sleeping on cots in structures that had no plumbing, little water and rare electricity. In four days, we built two houses for two deserving families, fully equipped with cement walls, tiled floors, and a metal
roof."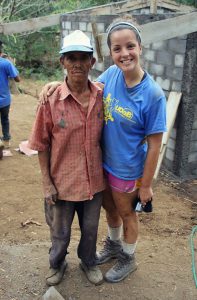 Dorr created a bridge between herself and the children of El Portillo. "Although no one spoke English, we were able to communicate through the little Spanish I knew and my mastered skills at charades."
Prior to this international UDaB initiative, Dorr was a part of two UDaB spring break programs, including a week with Bright Beginnings, a daycare in Washington, DC, for homeless children. "After spending the week with 4-year-olds who are loved and cared for by the Bright Beginnings staff, it was unexpected and apparent to me that these kids are just as energetic, inquisitive, and genuinely happy as any other preschooler."
Dorr hopes that UDaB will continue to expand and increase the number of trips nationally and internationally. "I was interested in the progression and growing development of UDaB and thought being part of the pilot international trip would be a great experience. The Nicaragua trip will set the foundation for future international UDaB trips since it was such a success."
Read about the UDaB Nicaragua trip on UDaily.
Article by Donya Feizbakhsh