Valerie Earnshaw honored nationally for research on HIV stigma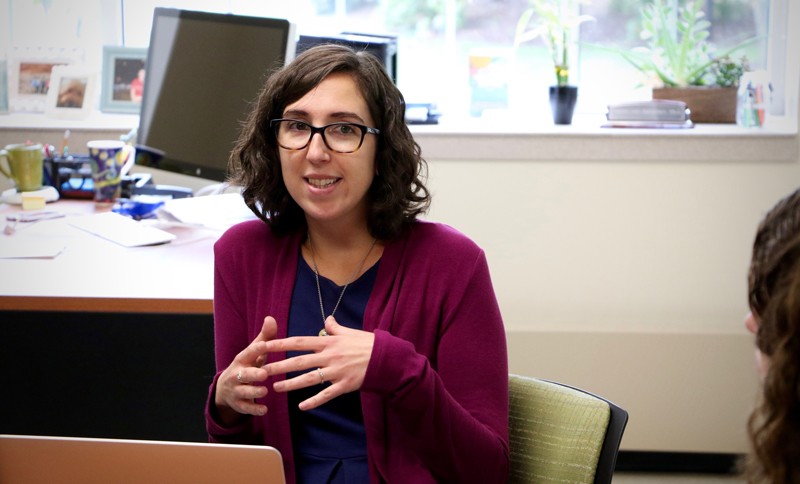 On March 27, at the headquarters of the National Institutes of Health in Bethesda, Maryland, Valerie Earnshaw, an assistant professor in the Department of Human Development and Family Sciences, delivered the Office of Disease Prevention's Early Stage Investigator Lecture, an honor reserved for early career investigators who are poised to become future leaders in disease prevention research.
This summer in Chicago, she will receive the American Psychological Association's 2019 Psychology and AIDS Distinguished Leadership Award, as an Emerging Leader, for her "contributions to understanding and addressing the mechanisms underlying HIV stigma through research, policy work and advocacy."
One of her primary research contributions so far has been to differentiate how people with HIV experience stigma so that effective interventions can be developed. She measures "internalized stigma," where people living with HIV believe the negative stereotypes — "I'm a bad person because I have HIV."
Currently, Earnshaw is on sabbatical, working on projects locally and internationally. Last month, she flew to Indonesia and Malaysia. In Indonesia, she's working to address stigma as a barrier to HIV disclosure among prisoners to sex partners in the community. In Malaysia, she's collaborating with the president-elect of the International AIDS Society to reduce HIV stigma. A recent survey of medical students there revealed negative attitudes toward people with HIV, and she's energized to effect change.
"UD's Department of Human Development and Family Sciences has been the perfect fit for me because of the emphasis on interdisciplinary and applied research," Earnshaw says. "Plus, all of my colleagues are social justice oriented. It's a great place to be."
Read the full article in UDaily. Learn more about the Earnshaw Lab.