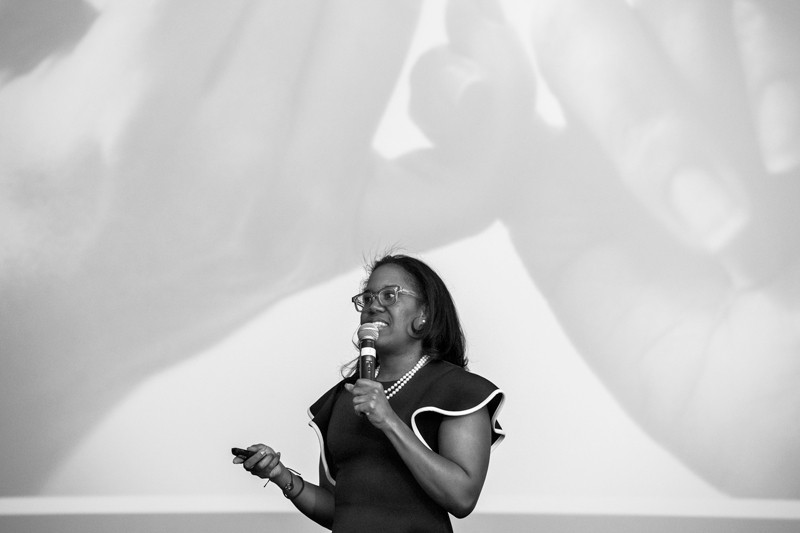 On March 14, 2018 faculty, staff and students gathered to celebrate the achievements of UD women at the annual Women of Promise dinner.
Through the years, Women of Promise has recognized exceptional female students at the University of Delaware. Women on UD's faculty nominate both undergraduate and graduate students for this award. Each year a dinner is held to celebrate and promote positive mentoring relationship between female faculty and the students they nominate. The event is organized by the Vice Provost for Diversity office.
UD President Dennis Assanis discussed some of the iconic women in UD history, including Winifred Robinson, who helped establish UD's Women's College in 1914. "Our society and indeed the University of Delaware would not be the place it is without all these great women of promise," Assanis said. "We are so fortunate to be celebrating women's month and their contributions now."
The College of Education and Human Development had nine students recognized, several of whom we have featured for their commitment to the community (see hyperlinks).
Congratulations to:
Thank you to our supportive faculty members who nominated these outstanding women dedicated to making a positive difference in the world.
The keynote speaker at the Women of Promise dinner, Quinetta Roberson, is a UD alumna and now a professor in Villanova's business school. She urged the women to make five promises to themselves, based on her findings of factors that often hinder women's success:
Have a presence
Use your voice
Craft your own narrative
Seize opportunities
Make use of resources
"When people tell you, 'You can't,' and things like that, it's really not about you," Roberson said. "It's about them. It's their own limits of vision. What they couldn't see. What they didn't do. We can't let that define us. We need to deliver on what we say we're going to do, these promises, and I can tell you that they do work."
Read full UDaily article on UD's Women of Promise.