2016 Events, Awards and Celebrations
Learn more about the exciting events we host throughout the year within our college and out in the community.
Celebration of Excellence
On May 13, family and faculty joined us at Clayton Hall to recognize the accomplishments of our undergraduate and graduate students in School of Education (SOE) and Human Development & Family Studies (HDFS).
The award presentations begin at 4:00, followed by a reception. As in past years, CEHD faculty/staff delighted the crowd, scooping up UDairy ice cream.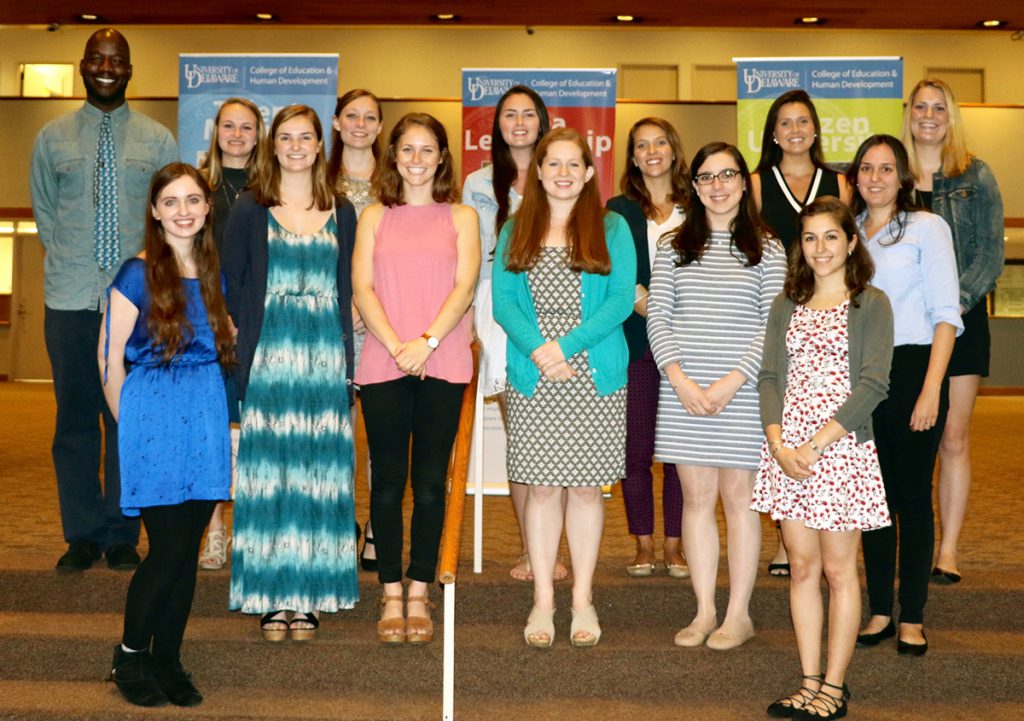 Donors Alice Eyman and Julie Wilgen were in attendance, celebrating with their beneficiaries Lauren Stegeman and Kristen Hefner. Also recognized were two SOE faculty members (pictured below). Rachel Karchmer Klein was presented the Distinguished Faculty award for her outstanding achievements in research, teaching and service and Laurie Palmer was given the Second Mile award for exemplary support and service.
To learn more about the faculty awards, visit UDaily.
CEHD Steele Symposium
CEHD undergraduate and graduate students presented their research at the 2016 Marion Steele Research Symposium on April 29. Fifty students presented their posters and papers throughout the day, gaining valuable feedback on their work from faculty and staff.
Rodman Steele, who established the Steele Symposium to honor his aunt, was present to recognize six students for their research
The lunchtime keynote speaker Kevin Miller, professor of Psychology and Educational Studies, University of Michigan, provided insight into how to conduct teacher evaluations to best measure their ability to engage and instruct students in the classroom.
See article on 2016 Steele Symposium in UDaily.
UD's 3rd Annual Educational Technology Conference was a success     
More than 130 Pre K-20 educators attended the third University of Delaware Educational Technology Conference on Saturday, March 5, 2016, in Willard Hall Education Building. The conference, sponsored by OET, the College School, and the Education Resource Center gave regional educators the opportunity to collaborate and network with other educators while they learned about the latest in educational technology.
Dean Carol Vukelich and Dr. Ralph Ferretti provided opening remarks before keynote Chris Aviles kicked off the day with 21st Century Storytelling.  Chris was one of 36 presenters that included CEHD's own Dr. Fred Hofstetter and Dr. Josh Wilson. Many volunteers from CEHD also helped make the day a success.
Sessions on maker spaces, STEM, and gaming–reflective of current classroom trends–attracted the interest of many attendees.  One attendee commented, "Everything was wonderful.  I'm so glad I took more teachers with me this year, because they all came back enthused and eager to use more tech in classes."