Amanda Binkley
Program: M.Ed. in Instruction with a concentration in Science, and M.Ed. in Teacher Leadership
Year of Completion: M.Ed in Instruction, 2011, M.Ed. in Teacher Leadership, 2018
Advisor: Dr. Chrystalla Mouza and Dr. Rachel Karchmer-Klein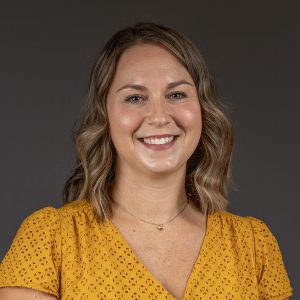 Current Position
Engineering teacher at Odessa High School in Appoquinimink School District
Recent Awards/Funding
2022 District Teacher of the Year, Appoquinimink School District
Nominee for the 2022 Delaware State Teacher of the Year
Department Chair, Career Technical Education
District-wide Advisor, Career Technical Education
Advisor, Technology Student Association
Advisor, Vex Robotics Club
Co-founder of DUCKS (Determined, United, Creative, Kind, Scholars) Diplomats Group
---
Why did you choose to pursue your graduate degree at CEHD? What was it about the university/school that drew you here?
"I knew for my graduate degrees that I wanted to enroll in programs of substance that would require hard work but would also provide me with meaningful and transformative experiences. When I first enrolled in a master's program, I had no desire to be a leader and only wanted to improve my science knowledge base. Through the Masters of Instruction program, I was able to take courses at various locations like Ashland Nature Center and Mt. Cuba to gain the hands-on experience that makes science concepts stick. This program ignited a passion for learning that led to me to pursue a second master's degree only a few years later." "After the excellent experience I had in my first master's program, I knew I wanted to go back to UD. At the time, I had no desire to pursue building or district leadership opportunities, but I knew that I wanted to develop my voice to further support my colleagues. This led me to the Teacher Leadership program. Through this program, I experienced instruction that will stick with me throughout my entire teaching career. Each instructor I encountered had a wealth of knowledge and experience to share with their students and worked tirelessly to develop our feelings of self-efficacy. I view my experience in the program as transformative."
Can you share on positive memory that has stuck with you since you left UD?
"I chose not to participate in the graduation ceremony for my first master's program, having just had my first child. When it came time for me to graduate with my second master's degree, I knew I wanted my children to see me cross the stage in my cap and gown. What I didn't know was how memorable the event would be for myself. It might surprise people to learn how connected to professors and classmates you can feel when a program is conducted entirely online, as the Teacher Leadership program is. But, I can attest that relationships are forged—so much so that graduation was a day marked by so much joy, love and support that it really was the perfect culmination to the program."
Updated on October 21, 2021