Emily Klein
Program: M.A./Ed.S. in School Psychology
Year of Completion: M.A. in 2003, Ed.S. in 2005
Education Leadership Portfolio: Revising Delaware's Comprehensive Induction Program for School Psychologists
Advisor: Marika Ginsburg-Block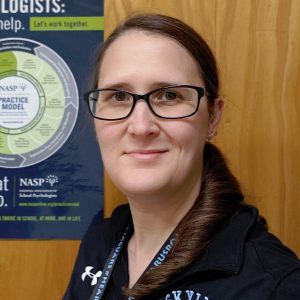 Current Position
School Psychologist at Skyline Middle School, in the Red Clay Consolidated School District
Current Research
As part of her work toward an Ed.D. in Educational Leadership, Ms. Klein is pursuing an action research project to update Delaware's Comprehensive Induction Program for School Psychologists (i.e., the Delaware Dept. of Education's program for mentoring early career school psychology professionals). The program she developed was initially rolled out state-wide at the start of the 2019-2020 school year, and an updated version is in use this school year.
---
Recent Leadership Positions
2007-2010 – Elected to a 3-year term leading the Delaware Association of School Psychologists (DASP; president-elect/president/past-president)
2013-2019 – Elected as state delegate to the National Association of School Psychologists (NASP)
2019-present – Chair, Assistance-to-States Committee, National Association of School Psychologists (NASP)
2019-present – Chair, Government & Professional Relations Committee, Delaware Association of School Psychologists (DASP)
2017-present – Executive Board member, Delaware State Education Association (DSEA)
---
Why did you choose to pursue your graduate degree at CEHD? What was it about the university/school that drew you here?
"During my undergraduate work, I decided that I wanted to go to graduate school to become a school psychologist. I looked at several programs across the country, and fell in love with the University of Delaware. I liked Newark's proximity to everything—in 3 hours or less you could be in New York City, Philadelphia, Baltimore, Washington DC, the beach or the shore! I was also drawn to the quality of the school psychology program at UD. The faculty were clearly involved in research relevant to the field and were active in the National Association of School Psychologists (through their leadership in the association and/or as a contributor to NASP-sponsored publications). But what appealed to me most about the program was how committed the faculty were to their Ed.S. students. Many programs I looked at focused all energy into their doctoral students and creating the next generation of researchers; their Ed.S.-level practitioner program was an afterthought. It was clear that UD's program was focused on producing high quality practitioners of school psychology who were ready to collaborate with families, school systems, and communities to help children and youth thrive. UD's School Psychology program prepared me to be a relentless advocate for the students with whom I work, and nurtured me to be a leader in my profession. It led me to return to UD to pursue my Ed.D. in Educational Leadership, and it has given me an opportunity to help train the next generation of school psychologists as an adjunct instructor in the program. Before I came to UD, I never thought of myself as a leader. But the faculty in the School Psychology program saw something in me—an untapped reservoir of potential—and nurtured it. I am, without a doubt, where I am now because of the education I received and the experience that I acquired in UD's School Psychology program."
Can you share on positive memory that has stuck with you since you left UD?
"I remember the first interaction that I had with Dr. George Bear, in my very first visit to Delaware when I was deciding whether to apply to UD's School Psychology program. Dr. Bear's description of the program, the faculty's philosophy for training future school psychology practitioners, and of the professional opportunities in Delaware made me certain that UD was the place for me. Although I did eventually end up applying to a few other programs just to be safe, from that moment on it was 'UD or Bust!'"
Updated on December 8, 2020