Next Steps for School Success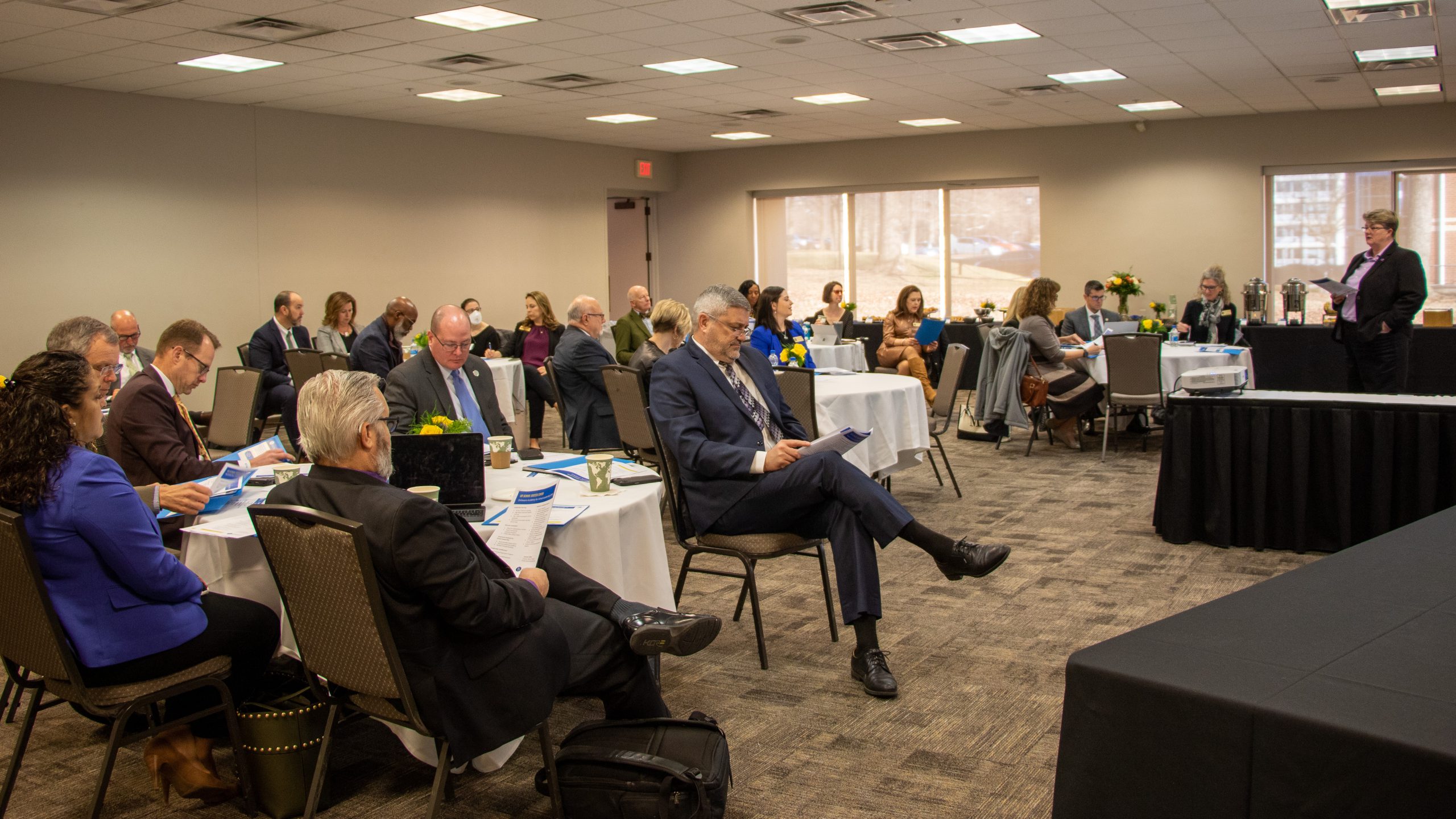 UD emphasizes partnership and collaboration with Delaware education leaders at Superintendent Study Council
March 20, 2023
How can Delaware education leaders partner to best serve the needs of their teachers, administrators and students? University of Delaware's School Success Center (SSC), housed within the College of Education and Human Development (CEHD), convened Delaware school district leaders and members of the Delaware Department of Education (DDOE) to answer that very question. 
With enthusiasm for future UD partnerships, district superintendents and assistant superintendents from all three Delaware counties and DDOE representatives met for a special session of the Superintendent Study Council, a component of the Governor's Institute for School Leadership (GISL), at UD's Clayton Hall Conference Center February 24. 
The session, themed around next steps for school success, focused on the mission and vision of UD's new SSC and provided a forum for the participants to voice the most pressing challenges facing Delaware schools, the specific needs in their districts and ideas for future collaboration through the center. 
"In this session of the Superintendent Study Council, we wanted to focus on changing the way that CEHD interacts with schools and districts around the state," said Gary T. Henry, dean of CEHD and professor in CEHD's School Education and the Joseph R. Biden, Jr. School of Public Policy and Administration. "We want to move past a transactional relationship with school districts to form deeper, broader and longer-lasting relationships to support our teachers, school leaders and students. Partnerships with school districts are so vital in the work that we're trying to do, and we especially want to hear from our districts." 
Next steps for the School Success Center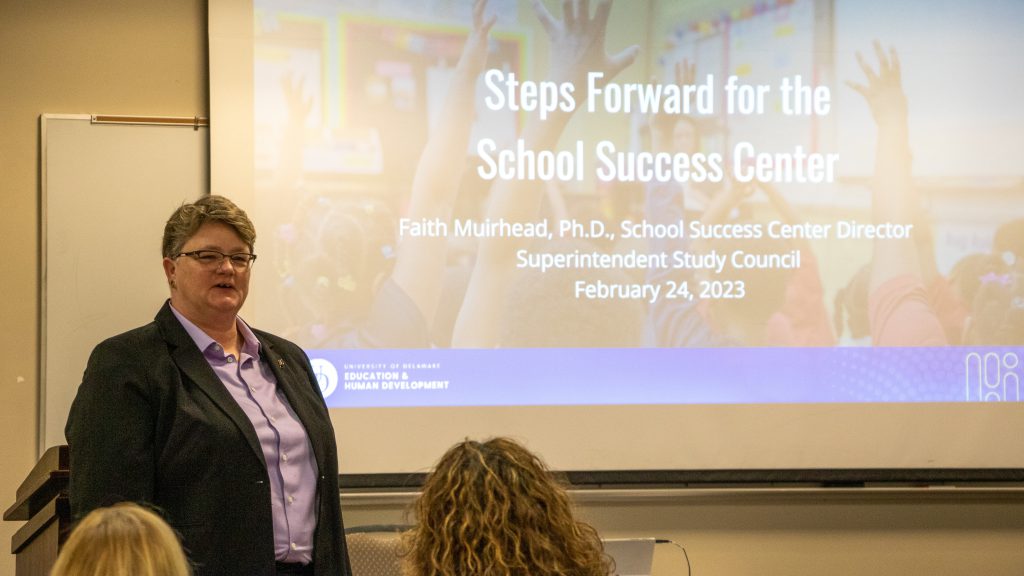 Faith Muirhead, director of the SSC, led the morning's activities with an update on the SSC. 
Launched in October 2022, the new center combines UD's Delaware Academy of School Leadership (DASL) and UD's Professional Development Center for Educators to offer districts a systemic model of leadership and instructional support. 
In this new organization, the SSC operates with four departments under one umbrella: DASL, offering support in educational leadership, Literacy, offering support in literacy instruction, Mathematics, offering support in mathematics instruction, and Multi-tiered Systems of Support, offering support in student screening, diagnostic assessment, intervention design and progress monitoring. 
Rather than focusing on a singular instructional or leadership issue in a specific school, the SSC will offer school districts professional learning and coaching in each of these areas.
"We want to disrupt the siloed approach to leader and teacher professional development by building partnerships with schools across these areas of expertise," Muirhead said. "Our vision for the SSC includes an approach using school-based teams with expertise from each of these areas. That way, we can offer integrated, systemic support to help you make a difference for the students in your schools." 
But, Muirhead emphasized, none of this work is possible without partnership and collaboration with Delaware districts and schools. 
"This work has to happen through deep, meaningful partnerships," Muirhead said. "How can we at the SSC work to best serve your needs? What programs and services would you like to see? How can we start the conversation today and continue to collaborate?"
Needs in Delaware school districts 
After small-group discussions, the Superintendent Study Council participants offered robust answers to the questions that Muirhead posed.
Superintendents and DDOE representatives shared many immediate and future needs, communicating a shared interest in professional learning that is systemic, sustainable, results-driven and grounded in a deeper relationship with UD.
For example, Dorrell Green, superintendent of Red Clay Consolidated School District, emphasized that individual schools look to their districts for guidance and leadership. For that reason, it is especially important to focus on the system and system development as educational leaders work to address challenges. 
Corey Miklus, superintendent of Seaford School District, and others spoke about the challenges of the teacher and school leader shortage. In line with the goals and offering of the SSC and CEHD, they asked for support in generating interest in education careers, building the capacity of their current school leaders and facilitating professional learning in data-driven decision-making.
Many also communicated an interest in applying research-based best practices within Delaware schools, noting an interest in UD faculty and staff research about school improvement, instruction and other topics. 
For example, Christine Alois, superintendent of Caesar Rodney School District, expressed an interest in learning more from UD researchers about successful educational initiatives in schools and districts within the state of Delaware. 
Muirhead concluded the event by expressing gratitude for the participants' input and interest in future collaboration, noting plans to conduct immediate followup with the superintendents to further address their specific needs. 
More about the Governor's Institute for School Leadership
GISL is a partnership between CEHD, the DDOE, the Delaware Governor's Office and Delaware public schools. 
As a component of GISL, the Superintendent Study Council is a collaborative effort among districts, DDOE and SSC's DASL that meets monthly for discussion and professional learning about topics related to school improvement, equity and improving outcomes for all students.
To learn more about GISL or to participate in one of its programs, visit its website. 
Article by Jessica Henderson. Photos by Shelly Silva.