Outstanding Contributions To Delaware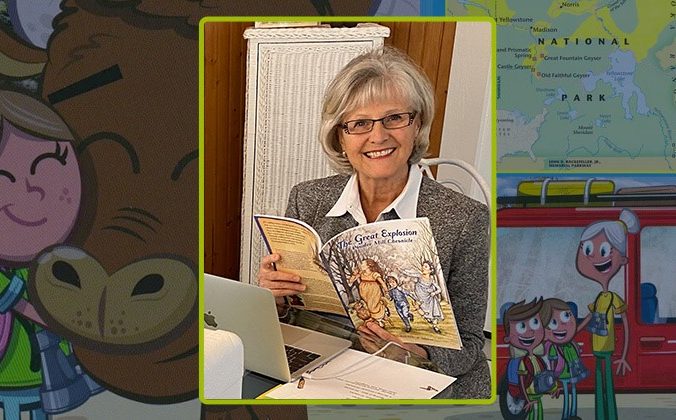 UD alumna Ilona Holland makes lasting educational and community impact in Delaware and beyond
January 9, 2023
As a young child, University of Delaware alumna Ilona E. Holland developed a commitment to learning, community-building and generosity. She learned early in life to appreciate kindness and reciprocate in her community.
Through the generosity of a Jewish philanthropic organization, Holland's Hungarian parents were able to emigrate from Germany after World War II. Upon their arrival to the United States, Holland's mother regularly took her to art museums where she learned to appreciate the value of art while honing her language skills. With the help of strangers, her family later settled in Delaware. Even though they did not yet speak English, Holland's parents committed themselves to learning the language and pursuing successful careers in medicine, despite many hardships along the way.
Inspired by these early childhood experiences, Holland would go on to establish herself a dedicated educator, an award-winning children's book author and a valued civic leader in Delaware, committed to helping children develop early literacy skills and serving the education community broadly.
Dedicated educator
Recognizing that art history could help young children develop important reading, visual literacy and critical thinking skills, Holland focused on ways to integrate the arts with language learning. She created and taught an art history program for students in grades 5-8 and an after-school art history program for students in grades K-4.
Commuting from Milford to Newark, Delaware, Holland pursued a master's in reading from UD's College of Education and Human Development (CEHD) while juggling her family responsibilities as a young mother. Through her classes, she realized that learning to read a page demanded many of the same critical thinking skills as learning to read a painting.
"My University of Delaware professors were very supportive of my academic curiosity in finding the connection between the two intellectual processes," Holland said. "As the result of one of my class papers, I was invited to speak at the 27th Annual Reading Convention at UD in 1979. Exploring the synergy between art and reading became a lifelong passion."
Throughout the course of her career, Holland developed an interest in designing curricula and evaluating educational programs. She contributed to several educational programs for children, serving as an author, consultant and evaluator for curricula and educational initiatives in Delaware and across the nation. For example, Holland served as the author of Snooper, a newsletter for children in Delaware about developing healthy habits. This newsletter reached an audience of about 55,000 children, as it was distributed to all children in grades K-4 in conjunction with the Delaware Department of Health.
Her interests in art, reading and education later led Holland to develop a social studies curriculum for middle school students in partnership with the Delaware Art Museum. The curriculum encouraged teachers to use art as secondary sources when teaching students about historical time periods. The curriculum was distributed to every middle school in Delaware and garnered the attention of the Delaware State Chamber of Commerce. In 1996, the Chamber awarded Holland the Superstars! In Education Award in recognition of this work.
Later in her career, Holland served on the faculty of the Harvard Graduate School of Education, teaching innovative courses in formative evaluation and educational program evaluation. In this role, Holland partnered with major institutions to evaluate their educational products and programs. She invited the producers of children's programs to her class to identify their evaluation needs and then guided her graduate students in gathering data, assessing the program and reporting the final results back to the producers. Holland served on Harvard's faculty for 14 years, commuting each week from Sussex County, Delaware.
Holland also worked as an independent educational evaluator. Many of the programs she evaluated reached a large regional and even national audience. For example, Holland evaluated educational television shows including Between The Lions, Where In The World Is Carmen Sandiego?, Peep, Wild Kratts and the Emmy award-winning WordGirl, along with I-MAX movies such as Everest, Special Effects and Storm Chasers.
Engaging children's book author
After an impressive teaching, consulting and service-oriented career, Holland began writing books for children. Her first book, Buddy Bison's Yellowstone Adventure, was published in 2016 by National Geographic Kids. Soon after, CEHD welcomed Holland back to UD as a guest in the Early Learning Center, where she read her book to students in several classrooms.
In 2019, Buddy Bison's Yellowstone Adventure was selected for inclusion in United Through Reading, a program serving 100,000 families with military parents who read to their children over distance. In the spring of 2021, this book was also selected for the Story Stroll, part of Sussex County Libraries' summer reading program.
Her second book, The Lost Locket of Lewes, was published in 2018 by the Lewes Historical Society. In 2019, this book received the First Place Award for Children's Fiction from the National Federation of Press Women and the 2019 First Place Award for Children's Fiction from the Delaware Federation of Press Women.
In 2020, she published her third picture book, The Great Explosion: Powder Mill Chronicle, with Hagley Museum and Library. This book was awarded first place for children's fiction in 2021 by the Delaware Press Association.
Valued civic leader
Throughout her career, Holland also served on several educational and community boards, including the Biggs Museum of American Art in Dover, the Delaware Art Museum, the Delaware Community Foundation, the Delaware Humanities Council, the Delaware State Service Centers, the Lewes History Society, the Grand Opera House in Wilmington, and the Sussex Academy of Arts and Science in Georgetown, Delaware, among many others.
Within Delaware higher education, Holland made several impactful service contributions. In 1986, she was appointed to be a trustee of the then Delaware State College, where she chaired the Student Affairs and Academic Policy committees and served as a member of the Presidential Selection Committee. In 1994, she was appointed to UD's Board of Trustees and served on several committees. In 2019, she joined the CEHD Dean's Advisory Council, and in 2020, she joined the CEHD Diversity and Inclusion Taskforce.
During the pandemic, Holland continued to dedicate herself to community service. She partnered with Read Aloud Delaware and the First State Community Action Agency to create an online homework help initiative to support children who struggled with virtual learning. In recognition of this work, she received the Learning Pod Champion Award from the First State Community Action Agency.
"I saw how teachers and children were struggling to keep up with schoolwork and I wanted to do something to help," Holland said. "I felt very comfortable with distance learning and was fortunate to be able to team up with these two wonderful organizations. Both organizations were terrific to work with and I deeply appreciated their open embrace and consistent enablement of the effort to bring homework help to the children."
Delaware Women Hall of Fame member
In recognition of her educational and civic leadership, Holland has received many awards from institutions of higher education and nonprofit organizations. Most recently, Holland was inducted into the 2022 Delaware Women's Hall of Fame.
Established in 1981, the Delaware Women's Hall of Fame recognizes the lasting achievements of outstanding Delaware women and their contributions to communities across the state. Members represent a variety of professional fields and backgrounds, including artists, athletes, community advocates, military personnel, public servants and scientists.
"Over the course of her impressive career, Holland dedicated herself to helping children develop literacy skills and serving our broader education communities," said Gary T. Henry, dean of the CEHD and professor in the School of Education and the Joseph R. Biden Jr. School of Public Policy and Administration. "I'm thrilled to see that the Delaware Women's Hall of Fame has recognized the broad impact of her many educational initiatives and her continued dedication to the education of children, families and community members throughout Delaware."
Holland received her bachelor's in art history from Swarthmore College, her master's of education in reading from CEHD in 1978 and her doctorate in education from Harvard University in 1991.
Article by Jessica Henderson. Photo illustration by Jeffrey C. Chase.